Posted on
Fri, May 20, 2011 : 4:53 p.m.
Ann Arbor DDA approves parking agreement and repayment of $473K in excess tax revenue
By Lizzy Alfs
The Ann Arbor Downtown Development Authority voted today to approve a new parking agreement with the city of Ann Arbor that will include a broad transfer of duties from the city to the DDA regarding parking management in Ann Arbor.
The board also voted to return about $463,000 in excess tax revenue to local taxing jurisdictions.
The parking agreement approval came with an amendment: the city will get 17 percent of parking revenue from the DDA if the city agrees to underwrite DDA obligations, providing a financial backstop if the group's fund balance gets too low.
Concerns arose regarding the DDA fund balance—a reserve fund containing money that has not been budgeted—after a discovery in early May that the DDA owed money to local taxing jurisdictions from excess tax revenues.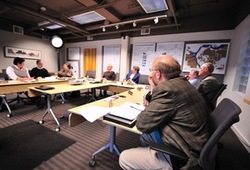 According to an unobserved city ordinance, the DDA, which is partially funded through tax-increment financing downtown, collected more money through TIF than it should have been allowed to keep.
The city code reads, "If the captured assessed valuation derived from new construction, and increase in value of property newly constructed or existing property improved subsequent thereto, grows at a rate faster than that anticipated in the tax increment plan, at least 50 percent of such additional amounts shall be divided among the taxing units in relation to their proportion of the current tax levies."
According to a previous report, DDA officials acknowledged TIF income has grown to nearly $4 million annually since 2002 due to new developments downtown.
This prompted an excess TIF capture of over $1 million, which the DDA will now partially return to three local taxing jurisdictions. Washtenaw County will receive about $242,000, Washtenaw Community College will receive about $156,000, and the Ann Arbor District Library will receive about $75,000.
Although the DDA would also owe the city about $700,000, the resolution acknowledged that the city of Ann Arbor has already effectively been paid through grants the DDA has given to the city amounting to more than $7.5 million.
The payment will occur before the end of June, according to the resolution.
The term of the parking agreement that was approved by the DDA is through June 2033, with a clause that allows either the DDA or the city to opt out after 11 years. The agreement still has to be approved by the Ann Arbor City Council.
Lizzy Alfs is a business reporter for AnnArbor.com. Reach her at or 734-623-2584 or at lizzyalfs@annarbor.com. Follow her on Twitter at http://twitter.com/lizzyalfs.