Posted on
Mon, May 2, 2011 : 2:24 p.m.
Deal on parking agreement stalled as Ann Arbor DDA discovers it may owe $2M in excess tax revenue
By Ryan J. Stanton
The Ann Arbor Downtown Development Authority could owe $2 million to local taxing jurisdictions from excess tax revenues the DDA captured over the last decade and should not have kept, city officials said today.
The news came as a surprise to the DDA and caused the authority's governing board to delay voting on a new parking agreement with the city this afternoon.
"There certainly are going to be financial implications," said DDA board member Roger Hewitt, adding DDA and city officials have been "crunching numbers furiously all morning and there is uncertainly of exactly what that financial impact would be."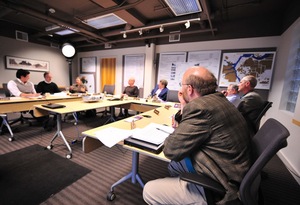 Ryan J. Stanton | AnnArbor.com
DDA and city officials still are looking into the situation, but they agree it seems the DDA since 2002 has collected more money through tax-increment financing than it should have been allowed to keep under a forgotten section of the city code written in the early 1980s.
The taxing jurisdictions that potentially could be owed money include the city and Washtenaw County, as well as entities like the Ann Arbor Transportation Authority, the Ann Arbor District Library and Washtenaw Community College.
The DDA is partially funded through tax-increment financing, also known as TIF, meaning it captures the incremental increase in taxes that result from new construction and improvements in the downtown area. The DDA's last TIF plan was adopted in 2003, amending the original 1982 TIF plan from when the DDA was first created.
The portion of the city code from 1982 that city officials are trying to interpret reads, "If the captured assessed valuation derived from new construction, and increase in value of property newly constructed or existing property improved subsequent thereto, grows at a rate faster than that anticipated in the tax increment plan, at least 50 percent of such additional amounts shall be divided among the taxing units in relation to their proportion of the current tax levies."
The code further states, "If the captured assessed valuation derived from new construction grows at a rate of over twice that anticipated in the plan, all of such excess amounts over twice that anticipated shall be divided among the taxing units. Only after approval of the governmental units may these restrictions be removed."
DDA officials acknowledge TIF income has grown substantially since 2002 due to new developments downtown. It's nearly $4 million annually, up from less than $2.9 million in 2002.
Mayor John Hieftje said the city treasurer brought the issue to the city's attention on Friday, and the city put an assistant city attorney to work on it over the weekend. The DDA received notification of what the city had learned this morning, which is that TIF growth since 2002 may have hit trigger points where tax money should have been reverted to the jurisdictions.
"It has to do with the rate of growth in the TIF, and the TIF really wasn't growing much prior to that," Hieftje said. "So that would have been the trigger, when the TIF started to grow, which coincides with some of the newer buildings that have been built in the downtown area."
Hewitt said the language in the city code is not particularly clear.
"It's open to some interpretations," he said. "So at this point, we are completely uncertain about what impact this will have on our budgets and our 10-year plan going forward. But it will be significant, whatever it is.
"Therefore I think it is imprudent for us to potentially approve a new parking contract with a financial commitment out of the parking fund until we have a clear idea of what impact this will have on our TIF fund."
Hewitt said a large cash payout from the DDA's TIF coffers could deal a blow to the authority, which is running deficit budgets and getting by with limited cash reserves in the coming years as it pays off the new underground parking garage on South Fifth Avenue and other improvements that are being paid for at least partially out of the TIF fund.
"I think we need to sit down with the city and come to a clear understanding of exactly what this means," Hewitt said. "And it's too early to be able to do that at this point."
Hieftje agreed it's unclear what the actual implications will be, but he said it makes sense for the DDA and city to temporarily step back from voting on a new parking agreement.
The agreement that was expected to be voted on today called for the DDA to share 17 percent of downtown parking revenues with the city through 2033.
Given that the city needs to adopt its budget before the end of May, Hewitt said the DDA may need to call a special meeting sometime later this month to get the situation resolved.
Hieftje doesn't think it puts the city in a bind.
"We need to vote on our budget by the end of May, but our budget doesn't start to take action until July 1 so there's certainly time there to amend things," he said. "In any event with this new wrinkle, the city comes out in about the same condition."
Financial figures for the period ending March 31 show the DDA brought in $3.7 million in TIF income in the first three quarters of this year, about $191,589 below budget. Parking revenues came in at $11.3 million, about $660,584 below budget.
Ryan J. Stanton covers government and politics for AnnArbor.com. Reach him at ryanstanton@annarbor.com or 734-623-2529. You also can follow him on Twitter or subscribe to AnnArbor.com's e-mail newsletters.