Posted on
Wed, Sep 26, 2012 : 12:31 p.m.
Ann Arbor firefighters use soon-to-be-demolished apartments to conduct training exercises
By Ryan J. Stanton
Ann Arbor firefighters spent part of their day Wednesday conducting training exercises in a set of soon-to-be-demolished apartments on the city's west side.
They said they planned to be there until 4 p.m. each day through the end of this week, and after that Avalon Housing plans to move forward with its latest affordable housing project.
Avalon, a local nonprofit housing provider, received approval from the Ann Arbor City Council in February 2011 to develop 32 new affordable housing units and a community center on the site, located just east of Arbordale Street at 1500 Pauline Boulevard.
It will be a net loss of 15 affordable housing units since a 47-unit apartment complex is being demolished to make way for the new project.
Avalon officials are planning to move forward soon with demolishing the four existing apartment buildings and constructing six new buildings containing a mix of apartments and townhouses.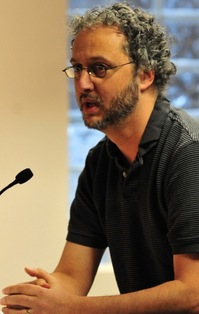 Ryan J. Stanton | AnnArbor.com
Also included in the plans are 39 surface parking spaces.
"They'll all be supportive housing," Michael Appel of Avalon Housing said when the project was approved last year.
An employee of Avalon said the agency is getting ready to move forward with the project soon and appliances and other fixtures have been removed from the apartments.
Wendy Carty-Saxon, Avalon's director of real estate development, said the agency hopes to be able to start demolition sometime next week, provided all utilities have been shut off.
Avalon sent a letter earlier this week to neighbors with information on what is happening, saying the entire process from demo to new construction is should take 15 months.
The project team includes Phoenix Contractors Inc. and Cornerstone Design. Avalon has worked with both companies on previous projects, Carty-Saxon said.
Now called Parkhurst Apartments, the current complex features 47 apartment units that are home to federally subsidized low-income residents.
The 32 new units are expected to include 6 one-bedrooms, 14 two-bedrooms, and 12 three-bedrooms in five buildings. A community center and a playground with commercial play structures is proposed to be located in the center of the site.
Though it's a reduction of 15 units — including most of the one-bedrooms — the project preserves all of the two- and three-bedroom apartments, Avalon officials previously stated. The development is expected to primarily house families, including about 40 children.
The current buildings are believed to have been constructed in the late 1950s or early 1960s. The Washtenaw Affordable Housing Coalition purchased the apartments in the late 1990s, and Avalon took over management in 2009.
Avalon Housing was one of the partners in the Near North affordable housing project proposed for North Main Street. The project fell apart recently, but the agency said it remains committed to expanding the availability of affordable housing in the community.
Ryan J. Stanton covers government and politics for AnnArbor.com. Reach him at ryanstanton@annarbor.com or 734-623-2529. You also can follow him on Twitter or subscribe to AnnArbor.com's email newsletters.