Posted on
Sat, Oct 13, 2012 : 3:37 p.m.
School and police officials investigating Ann Arbor high school football brawl
By Paula Gardner
Previous coverage:
Officials at Ann Arbor Public Schools are spending the weekend investigating the on-field brawl between Pioneer and Huron high schools teams on Friday night.
The district's investigation - led by both principals and athletic directors - coincides with an Ann Arbor Police Department investigation into the incident, which resulted in claims of assault and at least one student injured.
"This is a really appalling situation," said Liz Margolis, spokeswoman for the Ann Arbor Public Schools. "This is not how a coaching staff should lead student athletes."
The district's investigation started immediately after the game, Margolis said, since the officials were on-site.
The group will meet with administration on Monday to determine the next steps.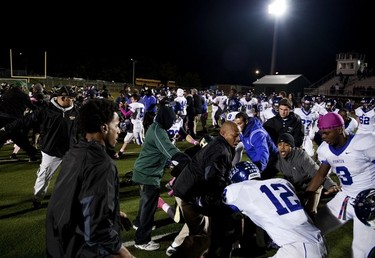 Daniel Brenner | AnnArbor.com
"We'll be taking appropriate action with students and staff," Margolis said.
Information on whether any employment circumstances have been changed among staff involved in the situation was not available Saturday.
"We don't comment on that," Margolis said. "I don't believe any action will be taken until Monday. ... after the investigation is compete."
One student sought treatment for a cut to his face after the game, and no additional complaints of injuries from the incident have been brought to the district's attention, Margolis said.
Meanwhile, Ann Arbor police are reviewing the incident for possible criminal charges. At least four officers were stationed at the game, Margolis said, which is typical for the size of the crowd anticipated for the game.
"What we're doing right now is we're going to actively investigate and look at the various footage and photos like that to see what started this," Ann Arbor police Lt. Renee Bush said following Friday's game.
As of Saturday morning, Bush said no new information was available concerning the investigation, only that investigators would be reviewing the tapes of the fight early next week before proceeding with any sort of criminal charges.
Following the fight, Bush and other officers took statements from witnesses including the young man injured in the brawl and his family.
Videos of the fight have not been made available.
The stands for the game at Riverbank Stadium were not filled. Margolis said an official count for attendance was not available.
Huron came into the game without a victory this season, while Pioneer was expecting a win as it headed toward possible playoff contention.
Yet the two teams still feel a hometown rivalry, Margolis said, dating from the years when they were the district's only two high schools fielding sports teams.
"They're crosstown rivals, but also friends crosstown," she said. "It's a sad situation to see something like this get out of hand."