Posted on
Thu, Nov 18, 2010 : 6:04 a.m.
Ann Arbor's police-courts building welcomes first tenants as project nears completion
By Ryan J. Stanton
Ryan J. Stanton | AnnArbor.com
The first tenants of Ann Arbor's police-courts building have moved into their new digs, and dozens more are scheduled to make the transition in the coming weeks.
The city's information technology staff is now up and running with a new data center on the first floor of the city hall addition. And a handful of police department employees have moved in on the second and third floors, including the police chief, deputy chiefs and other top brass.
"I'm very grateful to be here. This is a very nice facility and will serve this community and the department for years to come — long after I'm gone, I'm sure," said Deputy Chief Greg Bazick, who was among the first police employees to move in last Friday.
The building formally known as the Ann Arbor Municipal Center is "99 percent done" after 20 months of construction, according to Bill Wheeler, a city engineer who retired in May but remains under contract to oversee the project until its completion.
"It went really well," he said. "We had a very good contractor and very good subcontractors, and the team that did the design, the architects and their engineers, all did a good job."
The $47.4 million, five-story addition is being constructed by the Lansing-based Clark Construction Co. It was designed by Quinn Evans Architects of Ann Arbor.
The top two stories will be home to the city's 15th District Court, which is being forced to move out of the Washtenaw County Courthouse. The second and third floors will be occupied by the police department, which is vacating cramped quarters inside city hall.
More police employees, including the detective bureau, will move into the third floor next week, followed by the patrol division on the second and third floors in early December.
The city's probation department will move out of leased space at 206 E. Huron St. and begin its transition into the fourth floor in mid-December. And lastly, the court staff will vacate the county courthouse in mid-January and move into the fourth and fifth floors.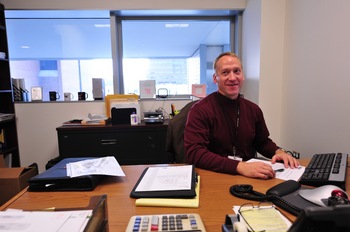 Ryan J. Stanton | AnnArbor.com
In addition to the police-courts building, renovations inside city hall — which are included as part of the project — are under way and will last through May.
"Given the circumstances of our revised move schedule, it's going reasonably well," City Administrator Roger Fraser said of the move. "Getting all of the pieces to fit — because it's somewhat accelerated from our original plan — has taken a little time, but certainly our folks are excited to be going in."
Fraser said the project remains under budget.
One component of the project city officials are excited about is the landscaped area that will go in front of the building, along with a $750,000 water-based art installation.
"We're excited about what's going on on the south side along Huron Street with the entranceway, but also the underground storage and the park-like setting that will be available to the community," Fraser said. "And the dramatic change in the appearance of this entire complex, which will turn it from something that was just hard and sort of old into something that's kind of fresh and nice looking that will be a community asset."
Fraser said he expects the area will be a draw to people. "They'll want to come and spend time there," he said. "It will be a nice respite in the middle of our town."
Lt. Spring Tremaine, project manager on the police side, said the police department is waiting on a certificate of occupancy but expects to be able to open for business inside the new building by the second week of December. She said the transition has been smooth and much of the move has gone on behind the scenes.
Keith Zeisloft, administrator of the 15th District Court, said his staff already is gearing up for the move. He called it a "once in every 50 years" opportunity.
"It's going to be a superb working space for the court," he said. "We think we'll be able to work a lot better, a lot more effectively, a lot more efficiently. I think customers will like it, litigants will like it, attorneys will like it, and I'm certainly sure the judges and magistrate will like it."
The court staff will begin its move on Jan. 14. After a staff orientation day on Jan. 18, during which employees will be trained to use all of the high-tech electronics and a new security system, the courts will open to the public Jan. 19.
"There are tens of thousands of details involved in a move like this," Zeisloft said. "It's astonishing how very few things have surfaced that have caused a problem. It's so far pretty smooth and I hope it goes just as smoothly through December and January."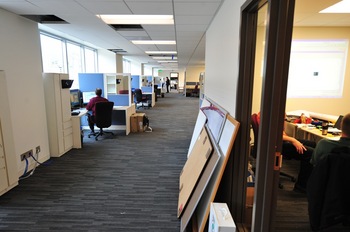 Ryan J. Stanton | AnnArbor.com
Wheeler took AnnArbor.com on a tour of the new building on Wednesday, showing the progress made in recent months, including installation of electronic keycard systems and gun lockers for police. The building houses six different elevators, including non-public ones specifically for transporting offenders up to the police department and courtrooms.
Courtrooms on the fifth floor are near complete with judges' benches, witness and jury boxes and spaces for court reporters, bailiffs and lawyers. A thin section of cut stone is fixed to the walls behind the judges' benches and sound-absorbent wooden panels line the back walls.
The carpeting is a puzzled system of grayish "carpet squares." Wheeler explained that if one square gets damaged, the city can peel it up and put a new one down.
Cubicles have yet to be installed in the detective area on the third floor, but those are expected to go up quickly and detectives will be working there in about a week.
The second floor now features interview rooms and holding cells, which are sterile with cinderblock walls and concrete flooring. Nearby is one of multiple evidence rooms and a booking room where police will run a fingerprint machine.
A second-floor squad room for morning briefings looks out over the fire department across the street. A piece of paper taped to the wall indicates a TV will be mounted there.
In another month, a garage space, which shares the first floor with IT, is expected to be operational. It includes limited parking for employees.
Crews are putting finishing touches on the first-floor lobby space, where blue glass panels will line the walls, along with kiosks with TV screens telling visitors what's going on in each courtroom. Those still need to be installed, along with front entrance security equipment, including one X-ray belt scanner and two walk-through magnetometers.
The city's IT department has its work cut out for it in the coming weeks, with dozens of phones and computers that need to be hooked up as each employee moves in.
Ryan J. Stanton covers government and politics for AnnArbor.com. Reach him at ryanstanton@annarbor.com or 734-623-2529.