Posted on
Tue, Oct 30, 2012 : 5:57 a.m.
Ann Arbor officials eye West Park as location for new dog park near downtown
By Ryan J. Stanton
Ann Arbor officials are responding to citizen demand and exploring the idea of creating a more centrally located dog park just west of downtown.
The city's parks staff and Park Advisory Commission members are zeroing in on West Park as the location for Ann Arbor's third off-leash playground for pooches.
For dog owners who live in or near downtown, options for off-leash recreation with their canine companions are limited right now and usually require driving to the outskirts of town.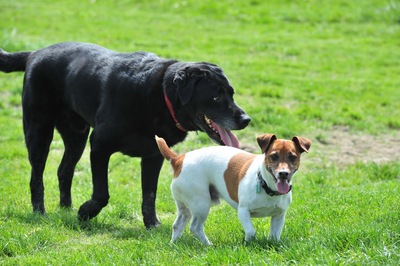 Ryan J. Stanton | AnnArbor.com
The city has
two dog parks
: the 10-acre
Swift Run Dog Park
at Ellsworth and Platt and the smaller off-leash dog play area located at
Olson Park
off Dhu Varren Road.
West Park is in the middle of a neighborhood about three blocks west of Main Street and is bound by Miller, Huron, Chapin and Seventh streets.
Colin Smith, the city's parks and recreation manager, said the new off-leash dog play area city officials have in mind for West Park would be about half the size of the one at Olson Park. The idea is to fence off a grassy area just north of the entrance off Chapin Street where the city bought and demolished a house in recent years.
"We'll obviously take the feedback from neighbors into consideration," Smith said. "We've already gotten some pretty positive feedback on the idea of it."
City officials are inviting residents to learn more about the proposed dog park and give feedback at a public meeting from 6:30-7:30 p.m. Nov. 7. The meeting will take place inside a conference room on the first floor of city hall, 301 E. Huron St.
Those who cannot attend the meeting or would like additional information can contact park planner Amy Kuras at akuras@a2gov.org or call 734.794.6230 ext. 42590.
Smith said it wouldn't be a significant expense to create a small dog park at West Park. He said it definitely would cost less than $25,000.
"What is potentially nice about it is the site itself has some trees, so it's got some shade, which is something we've heard owners ask for at the other dog parks," Smith said. "There are also drinking fountains that have a human level and a dog level, and there's also lighting because of the parking lot, so it has a number things built in that the other locations can't or don't."
A more centrally located dog park is recommended in Ann Arbor's Parks and Recreation Open Space Plan, which was adopted by the City Council in March 2011.
In a citizen questionnaire that helped shape the PROS Plan, city officials asked about park initiatives that should be prioritized for future implementation and residents identified the need for an additional off-leash dog park, especially one more centrally located near the downtown area.
"We heard it in the PROS plan process over and over again that this was a desired amenity, and I think it's also been an interest of a number of commissioners," said PAC Chairwoman Julie Grand.
City officials said the idea of creating an off-leash dog park at West Park isn't a response to the crackdown on a weekly neighborhood "unleashed hour" where dog owners gathered on Saturdays at nearby Slauson Middle School up until they were asked by police to leave earlier this year.
Grand said PAC could vote on the project at its next meeting after getting input from residents. If it's supported by residents, she thinks it will pass through PAC easily.
"Staff seems to be behind it as well, so it's just a matter of going through the public process at this point and making sure we're not missing anything," she said.
If all goes well, Grand said she's optimistic the gates to a new dog park at West Park could be open by next spring.
Grand said PAC had a dog park subcommittee that looked into several different potential sites and recommended West Park. She said another site that's been suggested by members of the community is 721 N. Main St., a city-owned property where city officials have plans for a greenway anchor park. A large portion of the site can't be developed because it's located in a floodway.
Grand said having another off-leash dog park at 721 N. Main — even in addition to one at West Park — would be a way to activate the space, address visibility issues and "get a lot of eyes on it" if the city does put a path on the floodway portion of the site.
Ryan J. Stanton covers government and politics for AnnArbor.com. Reach him at ryanstanton@annarbor.com or 734-623-2529. You also can follow him on Twitter or subscribe to AnnArbor.com's email newsletters.