Posted on
Wed, Jun 27, 2012 : 5:57 a.m.
Q&A with Jane Lumm on being back on City Council: 'I do think it's quite a bit different now'
By Ryan J. Stanton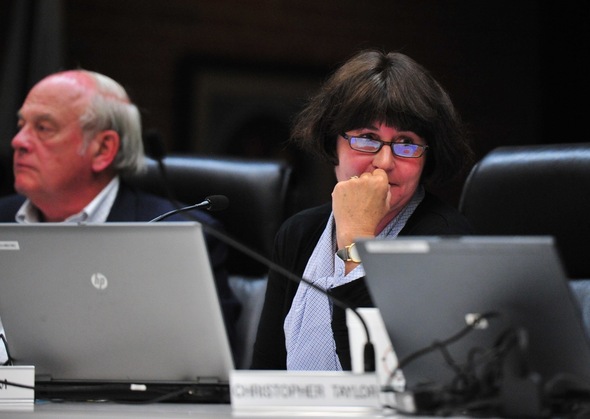 Ryan J. Stanton | AnnArbor.com
Jane Lumm
served on the
Ann Arbor City Council
as a Republican in the 1990s, a different era when the council was infamous for bickering well into the night.
Monday night council meetings still last into the early morning hours sometimes, but Lumm, who recently returned to her seat after a 13-year hiatus, says things have changed.
"Now it seems as if debate isn't necessarily welcomed or encouraged," Lumm lamented in a recent interview with AnnArbor.com. "And particularly with positions like some of mine that are contrary to the views of the majority of council members."
After a little more than seven months back on council, Lumm has found little support for many of her proposals related to the city budget, public art, transit and safety services.
She's been on the losing side of 10-1 and 9-2 votes and characterized as a naysayer. On a number of occasions, the only people in her corner have been one or more of the council's three wild cards: Stephen Kunselman, Mike Anglin and Sabra Briere.
Lumm, who rocked the boat by taking on Democratic incumbent Stephen Rapundalo and beating him in November as an Independent, spoke candidly with AnnArbor.com about what it's like to be back at the council table, and being a minority voice going against the grain.
AnnArbor.com: What is it like being back on council after all these years? What do you think has changed between your time on council in the 1990s and now?
Lumm: I do think it's quite a bit different now. In the 1990s, council was often accused of bickering. There were Ann Arbor News editorials written about that. But I think that's because we did debate issues and alternative approaches publicly, often passionately, sometimes heatedly. But in the 1990s, all the information on an issue was provided to us in advance — the pros, the cons, alternative approaches, etc. It was easier then to engage on the front end and shape policy. And now we tend to receive a more completed product and I would say that alternatives are left to the imagination. So now it's more difficult to help shape policy.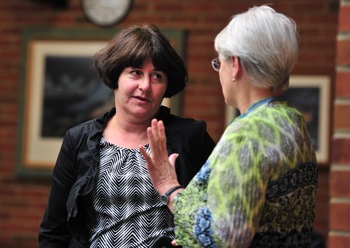 Ryan J. Stanton | AnnArbor.com
It was a much different dynamic when I was on previously and I think some of that has to do with the leadership styles of the mayors. I think Mayor Sheldon led from a perspective that she was one of 11 and she erred on the side of inclusion and sharing information with everyone in advance. And Mayor Hieftje's style, I think, is different. I don't believe the mayor thinks of the role as one of 11, so the information flows through his office and it seems to be filtered and parsed out on a need-to-know basis. The mayor's office is a bit of a clearing house now.
And then there's been a significant shift in terms of what we're spending so much time focusing on. Most of the meetings since I've been back, there's an agenda topic related to transportation or the environment, whether it's AATA, pedestrian ordinances, idling ordinances, changing the configuration of streets to eliminate lanes for vehicles, stormwater mitigation proposals, the Greenbelt, train stations. Clearly that is a focus of the mayor and council and I think some other issues are not treated with the same degree of focus. When I was on council before, our primary focus seemed to have to do with housing and human services issues.
AnnArbor.com: Would you say council is more or less efficient now?
Lumm: I don't think it's good governance. Before there was more of an opportunity to get involved in things on the front end and to help shape policy. And when you come in on the back end and you can only amend things, you look like a bit of a naysayer and there are so many examples of this. I mean, I'm living it. It's just the way things are done now.
AnnArbor.com: Do you feel you're treated fairly as a minority voice on council? Do you feel your ideas are taken seriously by your colleagues or are you just getting stonewalled?
Lumm: You saw what happened with the budget. I think that there's nothing council does that's more important than setting priorities for city services. Through the budget, we establish priorities where we're going to be investing the taxpayers' money. And there wasn't a whole lot of back and forth on the budget, just at the meeting itself. Leading up to it, there was very little exchange between council members. The discussion side of it was certainly not robust and this is something I think we should be more proactive about.
AnnArbor.com: What proposals have you brought forward since being back on council that you wished had gotten through but were defeated?
Lumm: I brought forward the resolutions for police and fire. I asked for the magic number for police and fire because I wanted to know from the experts what was necessary for adequate levels of police and fire protection. So for police, I believe we should have started fiscal year 2013 on a three- to five-year plan to restore staffing to the chief's magic number. He said 150. At the time of the budget, that was 32 higher than the 118 we had. And I think with the addition of the one sworn officer, we're going to be at 119. The council didn't agree with me, so we added one, and I think the 30-year pace to the magic number is too slow.
AnnArbor.com: The police department fared positively in this budget compared to years past when the city was still cutting. Do you believe Ann Arbor is still a safe community? Does it have the best police department it can afford at the moment?
Lumm: Ann Arbor has a great police department and they do a great job with the staffing that we have. Can we do better? Absolutely. I'm not an expert, nor are my colleagues. That's why I asked the chief what his magic number is and he said 150 sworn officers, and we're at 119 today and I don't think that's adequate. It's all a matter of choices.
I agree with the principle that we shouldn't be adding expenditures that we don't support with recurring funding sources. And in my budget amendment, 83 percent of the funding offsets were permanently recurring, and 17 percent would have come from the rejection of the high-speed rail match, and that would be recurring for three-plus years.
AnnArbor.com: What about the fire department? What's your take on staffing levels over there and the proposed reorganization that would result in closing two fire stations?
Ryan J. Stanton | AnnArbor.com
Lumm:
On the closing of the fire stations, we're going to have some neighborhood meetings. I am hearing from residents who are concerned about the reorganization plan, particularly the plan to close the station on Huron Parkway because that does serve a lot of folks in this part of town. We're going to have some neighborhood meetings for some of the neighborhood associations. The proposed reorganization is primarily for fighting fires, but I think people are also concerned about what this will mean for other emergency responses, medical responses primarily, that the fire department is responsible for. But with more staffing, perhaps this can be avoided and we can manage to continue with the current setup.
AnnArbor.com: You've continued to bring up for debate the issue of public art. Your colleagues have scoffed at you, rolled their eyes and argued it's an issue that's been debated and settled several times in the past. Why keep bringing it up?
Lumm: My budget amendment on public art was to temporarily suspend for fiscal year 2013 the transfers from water, sewer, stormwater and the street millage. That was a little over $300,000 when you add up all those dollar amounts. This goes back to 2007 when council first approved this earmark, and since then $2.2 million has been diverted.
So I think it's a simple question. Should a portion of the money the taxpayers are paying for these capital improvements for water and streets and sewer and solid waste be diverted from the projects themselves to public art? The issue isn't whether it's of value. We all agree it is. It's just how it should be paid for — public dollars versus other dollars. And I don't believe that public dollars — tax dollars or dollars from the water or sewer payments — should be used for this purpose, especially tax dollars from millages that are approved by voters who didn't contemplate this diversion. I mean, if the voters had a chance to weigh in on this diversion of funds, that would obviously be a different story, but they didn't.
There should be opportunities for private funding for public art and I see that as a largely untapped opportunity. I think if any community ought to be able to pay for a quality public art program privately and without public dollars, I think it would be Ann Arbor. So I'm sure these questions will continue to be raised and posed and you'll see the eyes roll.
AnnArbor.com: It's probably fair to say that you have an inquisitive mind. Observers of city politics have noticed you've made meetings last a little longer and I know you regularly fill the email inboxes of city staff with questions on a lot of issues. Some would argue you're trying to micromanage city departments. Others would say you're just asking the tough questions no one else is really asking. How do you see it? And are those efforts worthwhile?
Lumm: I do ask a fair amount of questions. I think I'm doing my job. If other council members asked similar questions, I would be more than OK with that. I know, like during the budget, someone came over to me and spoke to me about speaking too much and dragging out that meeting. But that's the most important thing we do, approve the city budget. But I do submit questions for each council agenda. That's something I did in the '90s. I just see it as part of doing my job. I'm actually surprised that other council members don't because, when I was on council before, that was something we all did. I also want to give staff a heads up about what my concerns are, so I always submit my questions in advance, and I will continue to do that.
AnnArbor.com: What are your priorities on council for the next year? I know you have a couple of budget-related issues you're still hoping to address.
Lumm: I think the city needs to transition from its defined benefit retirement plan to a defined contribution plan, and my resolution that I'll be bringing forward is to target placing newly hired nonunion employees on that plan effective in July 2013. And why is this important? Most employers have transitioned from defined benefit to defined contribution 401(k) sorts of plans. And with defined contribution plans, the costs to employers are lower, they're more predictable and sustainable, and the employer doesn't bear the financial risk.
And then in terms of the budget process, I'd like the budget committee to be a more robust group and to look at what has been happening over the last however many years where the city has essentially established these across-the-board targets for activities in the general fund. I just think we need to be more strategic about this and I think now is the right time.
And then I've been thinking about introducing nonpartisan elections and perhaps bringing forward, with some other council members, language to tighten up the city charter that speaks to parkland and when a voter referendum is required for repurposing of city parkland.
AnnArbor.com: Where would you say you stand right now on the vision for expanded public transit services in Washtenaw County?
Lumm: Expanded transit is a positive, but it's more a question of how and when. I think we can achieve expanded transit in a number of ways and the simplest, least-risky approach is for the out-county entities to adopt purchase-of-service agreements under the existing Act 55 authority (AATA). And it's far riskier to move to the new countywide authority under Act 196, and of course that's the path we're headed down. Equity for Ann Arbor taxpayers has been my primary guiding principle. Under any funding mechanism that anyone could envision under the new transit authority, Ann Arbor provides a majority share of the local funding and it doesn't have a majority control of the governing board. We've got seven of the 15 seats. I think there should be proportional representation based on local funding share.
AnnArbor.com: And what about a new train station?
Lumm: Of course I didn't vote for accepting the $2.8 million federal grant or putting forward the additional $196,000, even though that's not local tax dollars, because I was not convinced we would be getting a clean sheet look at the alternatives. I support upgrading the existing station and I'm not convinced that's going to be looked at in a clean sheet approach. I contacted Dearborn to find out how their system works, because the mayor has referred to the Dearborn train station, and basically theirs was built with $28.2 million in surplus money, and I found out also their operating costs are covered by federal dollars for the next 20 years.
AnnArbor.com: And you're afraid that our train station would not be fully covered by federal dollars? That we'd be pumping a lot of local dollars into it?
Lumm: I think we'd have to because right now the latest legislation that prevailed in Congress has no money set aside for this. There's a big fat zero. That takes a crystal ball that I don't have, but I think it would certainly require an infusion of local dollars.
AnnArbor.com: Give me the broader picture. How do you see the dynamics on council changing and what could this election year mean?
Lumm: It could change in a fairly significant way. We have two incumbents who are not running for re-election. I am more familiar with Sumi Kailasapathy who is running in the 1st Ward and Vivienne Armentrout in the 5th Ward. I have known them for a few years and I think you would just in general see more discussion at the council table with them, which would be great. I think they'd be great additions. I really do.
Ryan J. Stanton covers government and politics for AnnArbor.com. Reach him at ryanstanton@annarbor.com or 734-623-2529. You also can follow him on Twitter or subscribe to AnnArbor.com's email newsletters.