Posted on
Tue, Nov 20, 2012 : 5:59 a.m.
Ann Arbor considers task force to reassess public art efforts after defeat of tax proposal
By Ryan J. Stanton
Now that Ann Arbor voters have rejected a proposal to tax themselves to pay for public art, city officials are reassessing the city's existing Percent For Art Program.
The issue took center stage at Monday night's City Council meeting, which was the first meeting for three new members: Sumi Kailasapathy, Sally Hart Petersen and Chuck Warpehoski.
Ryan J. Stanton | AnnArbor.com
Multiple council members expressed interest in forming a task force that would be charged with coming up with a new direction for the city on public art. That could involve everything from revising the current program to starting a completely new program or having no program at all.
"What I think we're talking about is a council task force, so to speak, of five members, and it would be important for them also to receive input from community members and members of the Art Commission," said Mayor John Hieftje.
The council considered three separate agenda items related to public art, all of which ultimately were tabled or postponed Monday night.
That included Council Member Jane Lumm's proposal to terminate the Percent For Art Program effective July 1, 2013. She argued city voters have spoken and it's time to listen.
"The reality is voters finally had a chance to vote on public art, over 50,000 of them did, and it was rejected by a 56-44 margin," Lumm said.
Other council members said they can't be so sure what was going through the minds of voters when they shot down the proposed public art tax on Nov. 6.
Some argue a no vote on the tax just as easily could be translated as support for continuing the Percent For Art Program since that's effectively what it did.
"They rejected the millage, not art in public places," said Petersen, D-2nd Ward. "I'm hesitant to interpret the no vote on Proposal B to be a no vote for art in public places."
The tax rejected by voters on Nov. 6 would have raised close to $460,000 a year in new revenue to fund a new art program that would have replaced the controversial Percent For Art Program, which was established by the City Council in late 2007.
Under the existing program, the city takes 1 percent of the money budgeted for city capital projects and sets it aside for public art. That has resulted in diverting well over $2 million from dedicated millages for streets, parks and solid waste, as well as water and sewer utility funds.
Council members have expressed concerns the city is too restricted in what kinds of art projects it can undertake given the constraints of the Percent For Art Program. According to the city, the installations have to be permanent and they have to somehow relate to the source funds.
"There's no flexibility to have the kind of cultural art we want, so it's really problematic," Kailasapathy, D-1st Ward, said Monday night. "I think we should repeal this. Nobody is questioning whether art is valuable or not, whether art should be funded or not. No, that's not the issue."
The council voted 8-3 to table Lumm's proposal with only Kailasapathy and Mike Anglin, D-5th Ward, joining her in calling for a vote on the program's termination.
After tabling Lumm's proposal, the council considered a proposal from Council Members Sabra Briere, D-1st Ward, and Marcia Higgins, D-4th Ward. They wanted to significantly narrow the scope of the program and increase the involvement of the public and the council in deciding art projects.
After some discussion, the council voted 9-2 to table that proposal, too, with only Lumm and Kailasapathy in favor of putting it up to a vote.
More than $300,000 a year is being channeled into the art fund through the current program. The city's staff estimated the proposed revisions would eliminate about 90 percent of that revenue.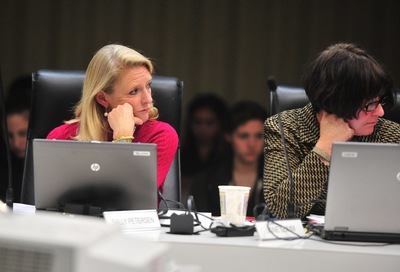 Ryan J. Stanton | AnnArbor.com
Lumm said the program has been plagued by too many challenges and has resulted in reduced funds for much-needed capital infrastructure projects.
"If we are honest, the projects funded through the program have had less than universal acceptance," she said, calling the program "flawed from the start."
Lumm said it's not her priority, but if the council wants to publicly fund art then it at least owes it to taxpayers to find a better mechanism than the Percent For Art Program.
Briere said the Nov. 6 election results only tell city officials that 56 percent of voters decided they did not want to be taxed for public art, but 44 percent actually did want to be taxed.
"When we represent our constituents, we don't represent only those who agree with us. We represent those who disagree with us," Briere said. "We don't just represent the majority. We represent all the minority voices as well. I would really like an opportunity to hear those minority voices."
Higgins said she'd like to see council establish a public art task force at its next meeting Dec. 3 and have the task force report back with recommendations in February or March.
"I think the charges of that committee or task force would be very important. I think looking at the funding is imperative," Higgins said. "Making a decision on whether or not we go forward at all is also something this committee is going to have to wrestle with."
Petersen said she thinks it's important for the city to demonstrate its commitment to art in public places in order to "raise the tide of all artistic endeavors in Ann Arbor."
"I think we all need to go back to our constituents and ask how they feel about how the city of Ann Arbor should demonstrate its commitment to art," she said.
After the first two proposals were tabled, Higgins brought forward a resolution to suspend use of funds set aside through the Percent For Art Program until April 1. She said that would allow council time to decide whether or how to amend the public art ordinance. But after a brief discussion, the council decided to postpone consideration of that resolution until Dec. 3.
Margaret Parker, former chairwoman of the city's Public Art Commission, appeared before council members Monday night and cited statistics that show four other Big Ten college towns have percent for art programs and another four fund public art through a mix of public/private dollars.
"This funding mechanism may not be perfect, but it works," Parker said of Ann Arbor's Percent For Art Program, which she helped launch. "The last five years that we've had it, we've had more public art than ever before, and at least 10 more projects are ready to go."
Marsha Chamberlin, the current chairwoman of the Public Art Commission, agreed there's a lot in the pipeline. That includes public art projects at Argo Cascades and the new Stadium bridges.
She advised council members to avoid rushing to make a decision on public art that could negatively impact the work that's being done by the Art Commission.

Source: City of Ann Arbor
Ryan J. Stanton covers government and politics for AnnArbor.com. Reach him at ryanstanton@annarbor.com or 734-623-2529. You also can follow him on Twitter or subscribe to AnnArbor.com's email newsletters.