Posted on
Thu, Aug 25, 2011 : 5:59 a.m.
Ann Arbor planning several public art projects, including $250K installation at Fuller Road Station
By Ryan J. Stanton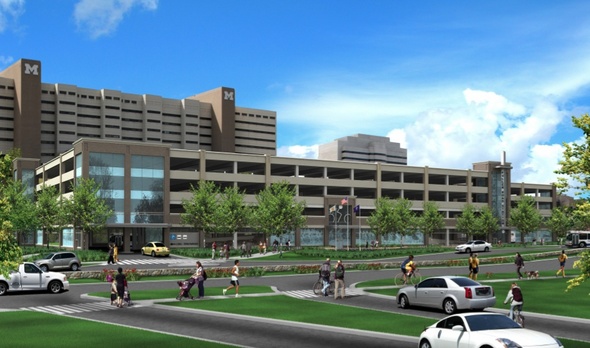 Courtesy of City of Ann Arbor
Ann Arbor
officials have set a budget of $250,000 for a public art installation as part of the proposed
Fuller Road Station
project.
The potential for public art on the future site of what city officials hope will be a new transit center welcoming thousands of visitors to Ann Arbor daily was discussed by the Ann Arbor Public Art Commission at its meeting Wednesday.
The commission has a task force working on drafting a request for qualifications from artists, and city staff member David Dykman is managing the project.
Aaron Seagraves, the city's public art administrator, said the Fuller Road art project is still in the planning stages, but he expects to put out a call to artists before the end of the year. He said the artwork is dependent on what City Council decides.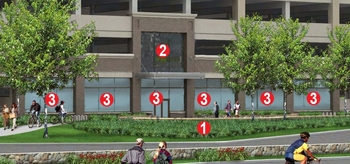 Courtesy of City of Ann Arbor
"It's still being developed, so we're talking about where public art would go in the space," Seagraves said. "The space is basically where the area for bicycles will be in a little plaza in front of there. There's glass that could be used as a potential art piece in front of the plaza, the plaza itself, and then above the entryway."
Fuller Road Station is a partnership between the University of Michigan and the city that calls for an intermodal transportation facility centered around a new train and bus station. A dominant element of the first phase is a large parking structure in front of the U-M medical campus, and that's where city officials want to see public art.
The task force is recommending $20,000 be set aside for project management, another $25,000 in contingency, and $5,000 for stipends for up to five final artist candidates. That leaves a total of $200,000 available to the selected artist to complete the installation.
The city pays for public art through its Percent For Art Program. Under an ordinance approved by the City Council in 2007, 1 percent of the budget for all city capital projects — up to a limit of $250,000 per project — is set aside in a special public art fund.
According to a budget summary from July, the city's public art fund had more than $1.8 million available for public art in the city.
Mayor John Hieftje, one of the leading supporters of the Fuller Road Station project, recently stated publicly that he was concerned there isn't more public art in the city.
The city's spending on public art when it's making deep cuts to public safety has angered some residents. But Hieftje argues the city's public art money is set aside in its own fund that legally can't be tapped to pay for general fund items like police and fire services.
Marsha Chamberlin, chair of the Public Art Commission, announced at Wednesday's meeting a public dedication ceremony is being planned for another large public artwork being installed in front of city hall within the next month. The piece was designed by German artist Herbert Dreiseitl, who is expected to be in Ann Arbor from Sept. 25 through Oct. 5.
Chamberlin said it's her understanding from talking to Ken Clein of Quinn Evans Architects that the art installation should be substantially complete at that point. She said Dreiseitl is expected to be in Ann Arbor at that time to do final testing on the lighting.
About $770,000 in public art funding is earmarked for the project, according to a report handed out Wednesday. The metal and glass sculpture is integrated with a water system.
Courtesy of City of Ann Arbor
The piece is expected to start close to Huron Street and follow the west edge of a new rain garden toward the main entrance of the Ann Arbor Municipal Center, which includes city hall and the new Justice Center building. The focal point of the piece is a standing bronze sculpture with blue glass pearls that light up in computerized variations as stormwater from the Municipal Center building circulates over the sculpture's surface.
Commissioners noted the sculpture will be complete in time for this year's Art Walk, which takes place Oct. 21-23 in Ann Arbor.
Commissioners are still finalizing plans for the upcoming dedication, but they generally agreed a date in early October while Dreiseitl is in town would work best.
In light of his concerns about the city's public art program, Hieftje earlier this month nominated Council Member Tony Derezinski to join the Public Art Commission.
At his first meeting on Wednesday, Derezinski told his new peers that he has fought twice on council to protect funding for public art when it was under attack in budget talks.
"The arts are such an important component in Ann Arbor and we have to preserve that," Derezinski told fellow commissioners.
In other action Wednesday, the Public Art Commission voted to accept the recommendations of its mural task force regarding a donation from the Richard P. Walker Charitable Fund. The commission plans to put $7,200 of the donation toward a mural at Allmendinger Park.
Along with another $5,000 in pooled public art funds, the commission now has set aside $12,200 for the mural project at the park.
Seagraves said he's working with CultureNOW.org, an online gallery of artworks, to include Ann Arbor's public art collection in an interactive database. He said he now has a spreadsheet of all the public art pieces in the city's possession, including everything from paintings hanging on the walls of city hall to outdoor installations in public places.
Commissioner Margaret Parker reported that she recently met with city park officials and discussed options for public art at the Gallup Canoe Livery and near the Argo Dam headrace, two spots along the Huron River where the city has capital projects planned.
Parker said park officials suggested three options at Gallup. The first would be a wall that combines art with the names of park donors on the north side of the livery. She said it could have a river theme and noted animal sculpture already is part of the building and playground.
Another potential location for public art at Gallup, Parker said, would be directly across the river from the livery where there is a bridge connecting two small islands. A third possible location, she said, would be the walkway leading from a set of new docks to the livery.
As for public art options at Argo, Parker said a public area with an amphitheater is being planned at the Broadway end of the Argo headrace, which is being reconstructed. She said park officials suggested that could be a good location for a public art installation.
Other options, Parker said, include a wayfinding system along the walking path on Argo's earthen embankment featuring the history of the area. She said a longer "River Art Walk" following the Huron River through the city also has been discussed.
The city also announced recently it is seeking an artist to create a piece of public art — or multiple artworks — for the lobby of the new Justice Center building. The city has set a $150,000 budget for the project to cover design, lighting, artist travel, fabrication, transportation, insurance and any subcontractor expenses and installation.
Ryan J. Stanton covers government and politics for AnnArbor.com. Reach him at ryanstanton@annarbor.com or 734-623-2529. You also can follow him on Twitter or subscribe to AnnArbor.com's e-mail newsletters.