Posted on
Mon, Jun 20, 2011 : 6:19 p.m.
Ann Arbor police officer who caught Dream Nite Club shooter among those facing layoff
By Ryan J. Stanton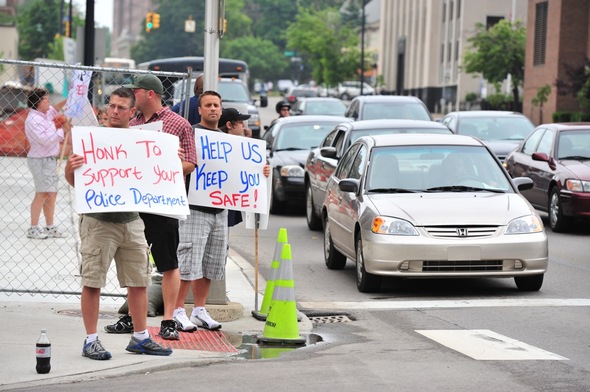 Ryan J. Stanton | AnnArbor.com
When
gunshots rang out
near the
Dream Nite Club
last month, Ann Arbor Police Officer
Brad Rougeau
was already on the scene — and he risked his life to catch the shooter.
Two days later, he received a pink slip from the city and was told he'd be losing his job effective July 1 due to city budget cutbacks.
That move prompted him to join an informational picket before tonight's City Council meeting to inform the public about the impending layoff of four officers on July 1.
Rougeau, standing in front of city hall, told his story at the picket organized by the Ann Arbor Police Officers Association.
"My partner and I were on patrol in front of the club because we know there's frequently fights and parties there at closing time," he said. "And just after 2 a.m., we heard gunshots."
As he went to radio for backup, Rougeau said there was another volley of gunshots. In fact, the man shooting into the crowd ran right in front of his patrol car.
"I got out of the car, ordered him to drop the gun. He looked at me, and took off running," said Rougeau, who chased down the 20-year-old suspect and apprehended him with the assistance of a state police trooper behind the Beer Depot on East William Street.
Rougeau was one of about two dozen officers and residents who gathered to protest cuts to public safety services.
"I feel like I come to work every day and I give 110 percent and it just comes down to numbers," said Rougeau.
In all, 13 positions in the police department are being cut as the city heads into its next fiscal year.
"Nine years ago we had 191 sworn officers and now we're going down to 118 July 1, and it's just time to take a stand and say we're tired of it," said Aimee Metzer, acting union president.
"I think the misconception with City Council and the rest of the citizens is that we can still maintain the same services, and we just can't anymore," she said. "We're just too thin and we cannot maintain the same services and get to calls on time. We're already at an anemic level."
The union also claims city officials want to lay off all 21 city dispatchers and outsource the work to the Washtenaw County Sheriff's Office. But city officials say consolidation of dispatch services with the county is still being worked out and for now only two dispatchers are being laid off through the budget cuts slated to take effect July 1.
The union argues further reductions to the police department will affect response times and negate a proactive police presence in Ann Arbor.
Ryan J. Stanton | AnnArbor.com
Metzer said the cuts are hard to stomach when the union sees the city engaging in "wasteful spending." She points to the fact that the City Council voted to give $1.2 million to nonprofit human services agencies as an example of the city's misplaced priorities.
"It's basically time to embrace safety services as something that's necessary and something that the residents of Ann Arbor deserve and need," she said.
Elizabeth Patten, an Ann Arbor resident and patrol officer with the department, stood along Huron Street with her son, Andrew, holding a sign that read: "Stop the bleeding — no more cuts." She said she considers the staffing levels, particularly the number of officers on patrol, "dangerously low" — to the point where many times the department isn't able to handle more than one serious incident at a time.
"I'm concerned for both us as employees in the emergency services, as well as those of us who live here and rely on them," she said.
"When you actually see how low we are during the day, what the response times are, when we're getting help out, it scares me," she added.
Police Chief Barnett Jones, who hasn't returned multiple phone calls by AnnArbor.com in the last two weeks, has consistently said he'll find a way to move officers away from desk jobs to maintain patrol numbers. But union members believe the city's administration has perpetuated a misconception that there's not going to be any drop in services.
Rougeau, for instance, works in the department's Crime Response Unit, a proactive policing unit that works to reduce serious crimes like robbery, rape and home invasion.
"And we're also primarily responsible for fugitive apprehension, so when the bad guys need to be found, it's our job to go out and find them," he said. "Our unit is going to lose one position and that will not be refilled."
Tom Crawford, interim city administrator, relayed a written statement when asked about the city's decision to go ahead with the cuts. City officials note the police officers union could stop the four officer layoffs by agreeing to share more of the cost of their health insurance, but the union has been unwilling to budge, citing health concerns related to the condition of city hall.
"The city has talented and dedicated employees serving the citizens of Ann Arbor each day and has not pursued this course that results in layoffs with any enthusiasm," he said. "The fact is the city needs to reduce its cost of providing health care to all employees, and that includes police, in order to meet its financial constraints."
Ryan J. Stanton covers government and politics for AnnArbor.com. Reach him at ryanstanton@annarbor.com or 734-623-2529. You also can follow him on Twitter or subscribe to AnnArbor.com's e-mail newsletters.