Posted on
Wed, Oct 24, 2012 : 2:44 p.m.
Ann Arbor Public Schools fall enrollment: 2 students more than in 2011
By Danielle Arndt
Ann Arbor Public Schools saw a two-student increase in the number of children enrolled for the 2012-13 academic year, according to district-wide totals reported Wednesday to AnnArbor.com.
The district tallied 16,546 students this fall, an uptick from the 16,544 students it recorded in 2011.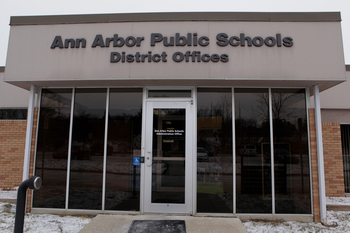 AnnArbor.com file photo
This number is still preliminary and is strictly K-12, district spokeswoman
Liz Margolis
said Wednesday. It does not include AAPS students enrolled in the
Early College Alliance
,
Washtenaw International High School
or the district's preschool program. So 16,546 may not be the total number used to determine state aid payments.
The Center for Educational Performance and Information reports AAPS' fall enrollment for 2010 as 16,496 and 2011 as 16,639. These numbers include ECA, WiHi and preschool students.
CEPI is the entity within the State Budget Office that facilitates data collection and reporting for Michigan school districts to comply with the federal No Child Left Behind Act. The data submitted to CEPI also is used to determine state aid payments.
CEPI officials told AnnArbor.com Tuesday that school districts have until Nov. 16 to submit enrollment data. After that, CEPI processes and "cleanses" the data and uploads it to its website. Officials said this information should be available by early January at the latest.
AAPS currently receives $9,020 per pupil.
"What we're saying is that we're flat," Margolis said. "We of course always want to see an increase. But declining enrollment is the trend we've definitely been seeing across the state. So we're happy to be at a point where we're not losing students.
"We're not going to be lackadaisical. We still need to work on attracting students to this district. … But our data shows we're not losing and a lot of that probably has to do with Ann Arbor being a viable, desirable place to live."
Ann Arbor's enrollment was not available on Fall Count Day, which was Oct. 3, or in the weeks following, due to the district's vetting of the numbers, Margolis said.
In an earlier interview, Margolis stated the sheer size of AAPS makes it more difficult for the district to release these numbers. AAPS staff at the district level and at the building level work to double check and crosscheck enrollment in the weeks following count day to make sure everyone is accounted for.
Most often staff are following up on truancy issues, illnesses, families that have moved out of the district that AAPS was not informed about upfront and hasn't received notification from the receiving district yet, families that have moved to another school within AAPS that the district wasn't notified of, students leaving or coming via Schools of Choice for whom the paperwork hasn't been finalized for "whatever reason" and students now going to a private or charter school, Margolis said.
"Because we're larger than any other district in the county, it just takes longer to make sure everything is correct," Margolis said.
She said Wednesday that AAPS is still analyzing the data.
"We have Schools of Choice numbers that aren't official yet."
Margolis said Schools of Choice data would not be available until December. The district will prepare a presentation on Schools of Choice for the Board of Education at that time.
Ann Arbor Public Schools opened 170 seats to students residing outside the district for the 2012-13 academic year. This was only the third year AAPS has offered Schools of Choice spots.
For 2011-12, AAPS enrolled 95 students via Schools of Choice, up from the 72 students enrolled in 2010-11.
In total, Washtenaw County public school districts experienced a loss of about 1,005 students this fall. Meanwhile, the county's charter schools gained about 1,103 students this fall.
Read this previous story for more information and to compare AAPS' enrollment trends to other county districts:
Danielle Arndt covers K-12 education for AnnArbor.com. Follow her on Twitter @DanielleArndt or email her at daniellearndt@annarbor.com.