Bid to privatize Ann Arbor schools noon-hour supervisors would save district $55K
Posted on Tue, Sep 18, 2012 : 5:58 a.m.
Ann Arbor Public Schools could save about $55,000 per year by privatizing its noon-hour supervisors by awarding a contract for the jobs to Professional Contract Management, Inc.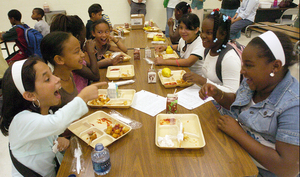 File photo | The Ann Arbor News
The Board of Education will discuss the proposal during its meeting Wednesday.
The district issued a Request for Proposals on Aug. 8 and received one bid for the services. The request was for a three-year contract with the option to renew the contract on a yearly basis for two additional years beginning in fiscal year 2012/13.
The proposed bid to provide the services was 25.83 percent of gross wages, about 7 percent higher than the district than bids seen for similar services, according to the board packet. District leaders previously estimated privatizing the noon-hour workers would save Ann Arbor $75,000.
"Per discussion with PCMI representatives, the cost of providing these services has grown significantly over the years. This will impact the overall projected savings anticipated by the school district," the packet said.
The anticipated savings would be generated from AAPS not having to pay in to the state's retirement system for each of these workers, according to previous reports.
The Professional Contract Management bid would save about 6 percent, or $55,000, of AAPS' current expenditures. In addition to the direct financial savings, there are indirect administrative savings that will be realized due to reduced process and placement services, according to board information.
Ann Arbor's approximately 400 noon-hour supervisors work anywhere from one to two hours per day, and many work only a few days per week. The board voted in June to privatize the positions, but workers were told to report to their jobs as usual when school started.
District spokeswoman Liz Margolis previously said a transition plan addressing what could happen to the current lunchtime employees would be developed at the time that a bid is accepted.
The district has contracted with Professional Contract Management for the past several years for substitutes and coaches.
The first reading of the proposal will be held Wednesday, with a second briefing and vote scheduled for Oct. 10.
Learn more about Professional Contract Management.