Posted on
Sat, Feb 2, 2013 : 5:59 a.m.
Ann Arbor residents recall Super Bowl coaches as loyal friends and competitors
By Ben Freed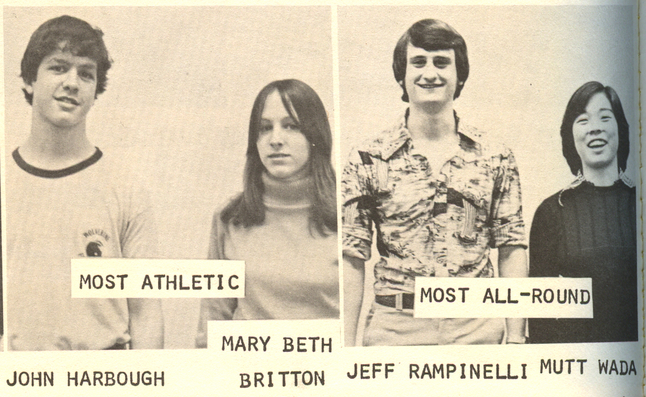 Editor's Note: This is the third in a series of articles about the Harbaughs' time in Ann Arbor. Check back Sunday for the final installment of the series.
John and Jim Harbaugh will be the first brothers to vie for the ultimate prize in football on Sunday as they lead the Ravens and 49ers onto the field in New Orleans. Forty years ago, the two competed with and against each other in Ann Arbor while their father coached under Bo Shembechler.
Neither Jim nor John was born in Ann Arbor, but both were shaped by their time in the city. Here for middle and high school, they did what teenagers do everywhere — played sports, made friends, and chased girls. But when you talk to the people they came in contact with — teammates, friends, coaches, and even opponents — it is clear that through their loyalty and competitiveness, both left lasting impressions.
The Harbaugh brothers' careers, and their impending showdown in Super Bowl XLVII, has re-connected a community of Ann Arborites who knew the would-be coaches in their earlier glory days.
Photo Courtesy John Hendershot
"Their success has actually gotten a lot of us back in touch that hadn't spoken in years,"
Jeff Rampinelli
, who played basketball and football with John at
Tappan Junior High
, said.
"It's really been great reminiscing about them and just about our times together."
As we have covered the brothers this week, a number of those memories have made their way to us here at AnnArbor.com. We could not publish every great story or anecdote, but here are a few that we felt represented the pair and offered a glimpse into what they would become.
Jeff Michlin, The brothers' pee wee hockey coach:
"Back in the 1970s I was a student at Eastern Michigan University . I had a passion for hockey and coaching, so I volunteered to coach youth hockey in Ann Arbor. I coached the pee wee level (11-12 year olds) there for several years.
"I had this one kid on my team whose main sport was not hockey, but he was a natural athlete and very enthusiastic... Many times between periods, after I gave my usual speeches and critiques, I would have him stand up and talk. Here was this 11-year-old kid standing up, encouraging his teammates, saying 'Let's go get 'em. How bad do you want it? You have to have the killer instinct!!'
"I loved this guy because he played hard, even though he was just learning to skate, and he led by example with intensity but not arrogance. His teammates respected him and I was lucky to have him (and his older brother) on my team.
"His name was Jim Harbaugh. I coached many more years, many sports, had the joy and privilege of coaching my own son and daughter, but I will never forget Jim Harbaugh leaning on his stick, standing on his skates, pumping his fist, excoriating his teammates, firing them up — 'You have to have the killer instinct!!'
"So, am I surprised he was one play away from being in the Super Bowl as a quarterback and is there next week as a coach? Not surprised at all."
Don Dufek, former University of Michigan football player, remembering the brothers' and their father, former U-M defensive backs coach Jack Harbaugh: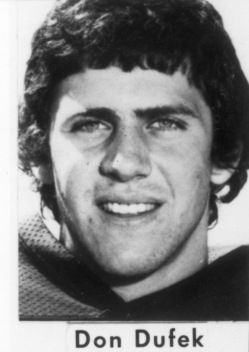 Grand Rapids Press file photo
"[John and Jim] they'd come down to see their dad and they were I think about 11 or 12 years old, so they were just at the age where they were old enough to be able to understand football and so they'd come down and they were like two little rug rats here having fun, so it was fun. …they'd be rumbling around like kids do.
"What I saw [of Jack Harbaugh as a coach] I think is reflected in his sons getting into coaching, it's that he loved what he did. He came into work every day having fun and making it really fun for you and I'm sure that's why those guys both coach."
Jeff Minick, family friend and teammate:
"We met them through the Junior Packers [football team.] There was a lottery and there were too many players and not enough positions and John wasn't picked. He was an alternate.
"But even though he couldn't play, He was always there supporting his brother, supporting his team, wearing his jersey. He would just come to every practice and watch.
"…We would get kicked out of [the U-M practice facility] because Jim would be throwing the ball to us and we'd get in the way and Bo would kick us out.
"We'd all go to Michigan stadium and we would emulate what it was like to play at Michigan stadium for the wolverines and Jim would throw passes to us and we would mimic Bob Ufer calling touchdowns for us."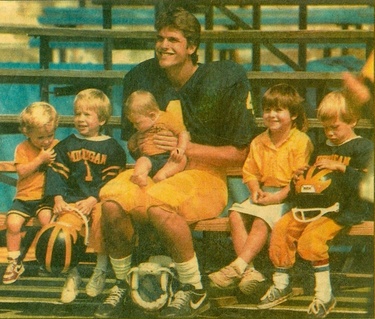 Courtesy Detroit News, which allowed this online use of the image
Mike Bertoia
, Jr. Packers teammate:
"I was Jim's age but went to Scarlett instead of Tappan. I only knew them through Jr. Football at first, but competed against Jim through Jr. High sports and into High School. "Jim always remembered me though. I saw him several times in Ann Arbor when he was at U-M and he even remembered me when he tried to catch on with the Lions at the end of his career before he retired….
"I took my kids to Lions training camp that August (in Saginaw in those days) and following the afternoon scrimmage, the players walk down a fenced walkway to the locker room. The fence separated them from the fans. The players would sign autographs though and that day, Jim was mobbed for 30 minutes but we waited.
"I finally yelled in his direction, "Hey Jim, remember the Jr. Packers?" He looked right at me and came right over. He talked to my kids and me for about 20 minutes. My kids thought (and still think) that it's cool that I know him."
Pete Cunningham contributed to this report.
Ben Freed covers business for AnnArbor.com. You can sign up here to receive Business Review updates every week. Reach out to Ben at 734-623-2528 or email him at benfreed@annarbor.com. Follow him on twitter @BFreedinA2