Posted on
Thu, Apr 21, 2011 : 12:50 p.m.
Ann Arbor saw slight increase in crime last year, but overall trend is down over last decade
By Ryan J. Stanton
Total crimes reported in Ann Arbor increased by about 2.6 percent last year, according to newly released figures from the Ann Arbor Police Department.
However, major crimes — known as Part 1 crimes — were down slightly, and the overall trend for the past decade shows illegal activity inside the city limits has dropped off.
As the city ponders cutting 25 positions from the police department to close gaps in its budget over the next two years, Mayor John Hieftje has pointed to crime being on a downward trend.
Ryan J. Stanton | AnnArbor.com
But the police department saw an uptick last year.
The department logged a total of 7,911 incidents, up from 7,714 in 2009. That's still down nearly 19 percent from 2002 levels.
Of the total incidents reported in 2010, 3,223 were Part 1 crimes. That's down slightly from the 3,255 reported in 2009, and it's a nearly 15 percent drop from 2002 levels.
Part 1 crimes include aggravated assault, arson, breaking and entering, larceny, auto theft, robbery, criminal sexual conduct and murder.
Ann Arbor saw Part 2 crimes go up from 4,459 to 4,688 from 2009 to 2010, but that's still down nearly 22 percent from 2002 levels.
Part 2 crimes include incidents like fraud, stolen property, vandalism, sex offenses, drugs, disorderly conduct, simple assaults, weapons and drunken driving.
The most recent FBI Uniform Crime Reports show Ann Arbor remains the second safest of Michigan's six largest cities, trailing only Sterling Heights.
Lansing has 4.4 times the amount of violent crime per capita compared to Ann Arbor, Grand Rapids has 3.5 times, Detroit has 7.7 times and Warren has 2.5 times.
Ann Arbor has 124 sworn officers, a little more than half the numbers it had a decade ago. Hieftje said it's possible there could be smaller numbers of less serious crimes reported due to fewer officers on the job, but it's unlikely that's the case for major crimes.
The Ann Arbor City Council will meet May 16 to vote on the city budget for the next two fiscal years and to decide what level of police services to keep. In addition to cuts in the police department, the fire department faces losing 12 firefighter positions.
Safety Services Administrator Barnett Jones, who is now both the police chief and fire chief, expressed hope earlier this month that cuts can be minimized.
"We're in the hands of the politicos and it's a process, and I'm hoping at the end of this process we can resolve it without laying off firefighters and police," he said. "If confronting this is a reality, we will come up with a plan to make sure that response time is not affected and also that the number of officers on the street is not decreased."
City Administrator Roger Fraser's budget proposal for the fiscal year starting July 1 includes $78.9 million in general fund expenditures, down $2.5 million from this year. He proposes drawing $1.7 million from cash reserves over the next two years to help close the gap.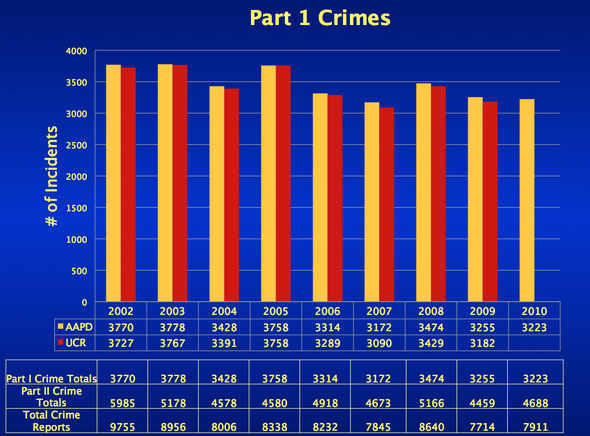 Ryan J. Stanton covers government and politics for AnnArbor.com. Reach him at ryanstanton@annarbor.com or 734-623-2529. You also can follow him on Twitter or subscribe to AnnArbor.com's e-mail newsletters.