Posted on
Tue, Apr 12, 2011 : 5:59 a.m.
Deep cuts to police and fire included in Ann Arbor city administrator's final budget proposal
By Ryan J. Stanton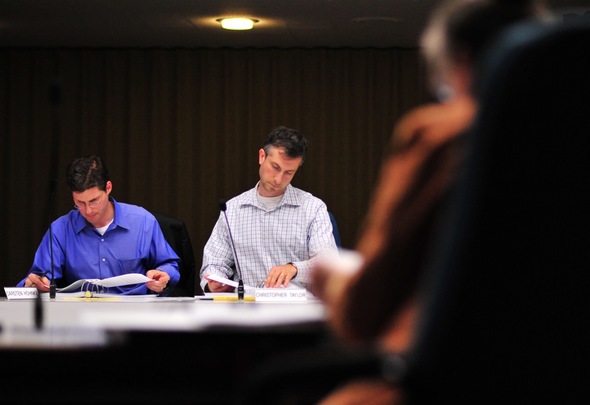 Ryan J. Stanton | AnnArbor.com
(This story has been revised to reflect that the budget now includes cutting one less firefighter than previously stated in 2012-13 and instead cutting one additional police officer. The cost for bathroom renovations in city hall also was changed to reflect the fact that the actual total is $345,000 when both budget years are added together.)
Deep cuts to police and fire services are on the way if the Ann Arbor City Council agrees with budget recommendations laid out by City Administrator Roger Fraser.
Fraser unveiled his two-year administrative budget proposal Monday night during a special work session of the City Council. It includes some of the deepest cuts to employee counts the city has seen in recent history, many of them in public safety services.
Over the next two years, Fraser proposes eliminating 48 full-time positions, reducing the number of city employees from 736 this year to 706 next year to 688 the year after.
On the chopping block for next fiscal year, which starts July 1, are 13 positions in the police department and seven firefighter positions. Various other positions in areas such as forestry, facilities, solid waste, accounting and administration would be gone as well.
"This year, more than any we've had recently, we're talking about dramatic reductions in the number of FTEs," Fraser acknowledged.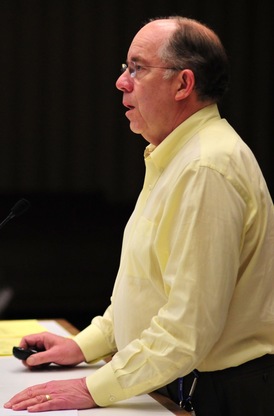 Ryan J. Stanton | AnnArbor.com
Of the additional 18 positions Fraser proposes for elimination in fiscal year 2012-13, 12 are in the police department and five are firefighters.
The cuts would drop the city's firefighter ranks, which the firefighters union and recently resigned Fire Chief Dominick Lanza argue already are too low, from 89 to 77. Fraser noted two of the seven firefighter positions to be cut effective July 1 are vacant already.
The 13 positions in the police department that would be eliminated effective July 1 include two vacant dispatch positions, one vacant telecommunicator position, one vacant police professional assistant position and one vacant officer position. Five officers, two dispatchers and one police service specialist would be laid off.
The police department has 124 sworn officers, including Police Chief Barnett Jones, who as of last month also serves as the city's fire chief. Jones expressed hope Monday night that cuts to both police and fire can be minimized.
"We're in the hands of the politicos and it's a process, and I'm hoping at the end of this process we can resolve it without laying off firefighters and police," he said. "If confronting this is a reality, we will come up with a plan to make sure that response time is not affected and also that the number of officers on the street is not decreased."
Fraser last year proposed eliminating 40 positions in police and fire, but the City Council used some last-minute budget balancing measures to stave off most of the cuts. In the end, just five positions in each department were eliminated.
Mayor John Hieftje said the administrator's budget proposal is about what he expected, and the city's budget woes are similar to those playing out in cities all across Michigan. He said the council still will take a close look at what Fraser has proposed over the next month.
"I think there's a whole bunch of stuff here that myself and other council members would rather we didn't have to go that far," he said. "But it's another tough budget year in Michigan and, as you look at our income adjusted for inflation, I think that really tells the tale about what's happened, so we're just going to do our very best to preserve the vital services."
Hieftje referred to a set of pie charts Fraser presented, showing the city's general fund spending has dropped since 2000, when adjusted for inflation. He said the city spent $69.8 million in 2000, and those same operations — though accounted for differently today — now cost about $78.4 million, or $64.4 million if adjusted for inflation.
When city officials began looking at the 2011-12 budget several months ago, they predicted general fund expenditures of $80.7 million and revenues of $78.3 million, which left a $2.4 million gap to close. Fraser's budget doesn't entirely close the shortfall, instead showing expenditures of $78.9 million and revenues of $77.9 million. That means the city would dip $1 million into its fund balance next year, lowering cash reserves to $9 million.
The 2012-13 budget, as proposed by Fraser, also would draw another $700,000 from reserves, with expenditures of $78.5 million and revenues of $77.8 million.
Fraser, Ann Arbor's city administrator since 2002, is leaving at the end of this month to start a new job as deputy state treasurer in Lansing. He acknowledged during Monday's meeting he won't be around for the council's adoption of his budget next month.
"Obviously this year is somewhat unique in that I'll be presenting this budget that I'm responsible for and I'm bailing out at the end of the month of April," he said.
A town hall meeting on the budget is scheduled for 7 p.m. Wednesday at CTN studios. A formal public hearing is set for May 2, followed by council adoption of the budget on May 16.
The staffing cuts outlined Monday night would trim nearly $1.1 million from the police department's budget next year, and about $756,000 from the fire department's budget.
This year's city budget strategy targeted an initial 2.5 percent cut to all departments, with a potential 1.5 percent additional cut in departments staffed largely by union employees who have not agreed to switch to the city's new health care plan, which includes police and fire.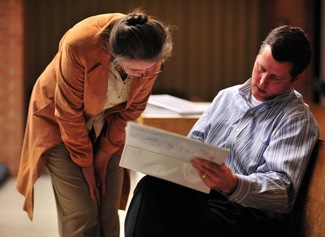 Ryan J. Stanton | AnnArbor.com
Several city officials, including Jones and Hieftje, said they hope members of the police and fire unions will step up and agree to concessions to help avoid some of the cuts.
"I'm looking toward 2013," Jones said. "We're in negotiations and I'm hoping that if we get to 2013, there may be some savings of the FTEs by the contract negotiations being resolved, or retirements."
Council Member Stephen Rapundalo, D-2nd Ward, asked how much of the cuts to public safety could be mitigated if the police officers and firefighters agreed to concessions, particularly on their health care benefits. Fraser said he didn't have that information available.
Council Member Stephen Kunselman, D-3rd Ward, asked if Fraser was concerned about a potential increase in overtime with so many positions being cut. Fraser said the presumption is overtime, which records show totaled $2.7 million last year, will be virtually eliminated. The city already started addressing that this year.
"We have two things we believe will assist us in the coming year," Fraser added. "One is the completion of the study taking a look at the operations of fire, and a fresh look at how we deploy our firefighters within our existing contract. And we believe each of those things has the potential to enable us to make these reductions without an increase in overtime."
Hieftje pointed out crime is down 18 percent in Ann Arbor since 2003 and the trend is continuing in that direction. Fraser said that's hard to explain but it's true.
"Our already relatively low level of crime has continued to decrease, particularly in the areas of major concern," Fraser said. "Our folks are doing a great job still of making the arrests that are needed, particularly in the areas of larcenies and burglaries."
Hieftje pointed out safety services has gone from being 41 percent of the city's general fund budget in 2000 to 51 percent today. Since it's half the budget, he said, it's hard to avoid making cuts to police and fire when confronted with multimillion-dollar deficits.
The totality of the cuts outlined Monday is actually greater than the actual deficit because of a number of one-time capital costs that are accounted for in Fraser's budget.
For instance, Fraser is budgeting $76,000 so the fire department can replace a generator and acquire a thermal imager. He also is budgeting $345,000 for bathroom renovations in city hall.
Some unknown variables also are accounted for in Fraser's budget. He's assuming the city will see a decrease of $400,000-plus in payments from the Downtown Development Authority next year, that the city will lose 33 percent of its statutory revenue sharing payments from the state, and that property tax collections will be down 1.3 percent next year.
Fraser's budget reduces the level of support to nonprofit human services agencies by about $116,000 next year, with another $49,000 being cut the following year.
Combined, that equals a nearly 13 percent reduction in the money the city gives each year to community groups like Food Gatherers, Avalon Housing, Big Brothers Big Sisters of Washtenaw County and the Women's Center of Southeastern Michigan.
Fraser proposes saving another $158,000 by using temporary labor to maintain service levels in park operations. Another of the biggest proposed savings to the general fund is not actually a cut but a shift of $474,000 in forestry expenses to the stormwater fund.
Fraser noted the budget does not include a property tax increase. The city will continue to levy about 16.5 mills of taxes. About 10.3 mills of that goes to the general fund, of which a little more than 2 mills is passed through to the Ann Arbor Transportation Authority.
Fraser highlighted the fact that 41 percent of the property in Ann Arbor is tax-exempt. That includes land belonging to the city and its parks system (16.1 percent), the University of Michigan (11.9 percent), K-12 schools (5.7 percent) and churches (1.8 percent). Various other state, federal and county government properties make up a smaller percentage.
Despite the cuts the city must make, Fraser said the city remains relatively healthy financially. He said the city's per-capita debt is $2,199, which he said is not high compared with other communities. He showed the per-capita debt figures for six other communities:
Sterling Heights — $284
Troy — $469
Kalamazoo — $1,261
Lansing — $2,356
Grand Rapids — $2,713
Detroit — $3,482
Fraser also noted the city's pension system is 90 percent funded, though the trust that funds retiree health care benefits is only about 30 percent funded.
Ryan J. Stanton covers government and politics for AnnArbor.com. Reach him at ryanstanton@annarbor.com or 734-623-2529. You also can follow him on Twitter or subscribe to AnnArbor.com's e-mail newsletters.