Posted on
Thu, Jun 10, 2010 : 5:48 a.m.
Ann Arbor school board adopts budget that cuts 90 teaching positions
By David Jesse
The Ann Arbor school board formally adopted next year's budget early today without much comment, following months of conversations about cuts needed to close a $20 million budget gap.
The cuts included eliminating nearly 90 teaching positions and several dozen other support staff and administrative positions. But whether all 90 teaching positions remain axed when school restarts in the fall is still up in the air.
Despite the $183 million budget being passed, a number of issues are yet to be resolved that will greatly impact it.
Chief among them is how much the state will give school districts in per-pupil foundation grants that make up the bulk of a district's revenue.
In addition, the budget remains dependent on how negotiations with the teachers union concerning concessions are resolved. The board earlier voted to issue layoff notices to 191 teachers.
The district likely won't know how much it's getting from the state until July at the earliest - or well into the school year.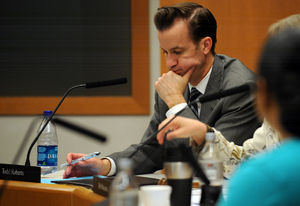 Superintendent Todd Roberts said he's hopeful talks with the teachers union will lead to an agreement in the next couple of weeks. No details of the talks have been released by the district or the union.
"We're very actively engaged in talks," Roberts said.
The district is still compiling a list of teachers, administrators and staff members who are taking advantage of a state incentive to retire this school year. Filling those vacated positions will help determine how many of the 191 laid-off teachers will be called back before the start of classes.
Another factor influencing the budget is the lower than anticipated interest in Ann Arbor's schools of choice program. The school board agreed to participate in schools of choice for the first time in the fall - opening Ann Arbor up to students from other districts - in the hopes of bringing in 170 students. But only 95 applied during the application window.
Administrators have contacted the state to see whether they can open up another window for registrations in the late summer. But if no more students are added, that would cost the 2010-11 budget between $400,000 and $500,000, said Robert Allen, the district's chief financial officer.
David Jesse covers K-12 education for AnnArbor.com. He can be reached at davidjesse@annarbor.com or at 734-623-2534.