Posted on
Fri, Nov 30, 2012 : 2:55 p.m.
Ann Arbor schools' Pat Green, other local leaders oppose school reform bills, EAA
By Danielle Arndt
Editor's note: This story has been corrected to note that EMU College of Education Dean Jann Joseph was appointed to the EAA board.
Ann Arbor schools Superintendent Patricia Green issued an urgent statement to the Ann Arbor community Friday morning opposing a package of bills that is being pushed through the State Legislature during the lame duck session.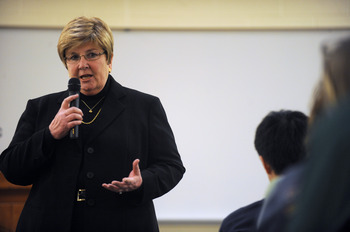 Green joins a growing number of school leaders to speak out against the bills,
House Bill 6004
,
Senate Bill 1358
and
House Bill 5923
, which would drastically change the definition of public education in Michigan.
The bills propose reforms such as "any time, any where, any place education" and a voucher system that would call for funding to follow the student to any district or educational entity. Ann Arbor school board Vice President Christine Stead said essentially, the law would allow parents to send their children to one district for math, another for language arts and another for some completely different program, all within the course of a single school year and even a single school day.
The package of bills also would give more authority to an entity called the Education Achievement Authority (EAA).
The EAA was unveiled in June 2011 as a way to redesign public education in some of Michigan's lowest performing districts. The bills would allow the EAA to take over schools in the bottom 5 percent of schools academically.
Currently, there are 146 schools in the bottom 5 percent and the EAA already has assumed control of 15 in the Detroit Public Schools system. The bills would allow for the expansion of the EAA.
K-12 school leaders in Washtenaw County are scrambling to express their disdain for these education reforms. Chelsea, Dexter, Milan and Ypsilanti superintendents have sent letters to their staffs about the bills and have discussed them with their school boards, as well. All are encouraging parents and community members to contact their legislators.
In a letter published on Patch.com, Dexter Superintendent Mary Marshall called the expansion of the EAA "dangerous" and "reckless."
"The absolute worst part of the plan is that some of these schools will be managed by for-profit operators and even corporations," Marshall said. "And only some of our state's students will be allowed to attend some of these schools."
The legislation also could have an impact on Eastern Michigan University. In establishing the EAA, Gov. Rick Snyder chose EMU to partner with Detroit Public Schools to reform the lowest-performing schools. The idea was that EMU would help organize and operate a laboratory or "university school" at one of the 15 DPS schools that the EAA is operating and possibly appoint or assign faculty and other staff to assist the education authority on a limited basis.
None of these steps yet has been taken, as EMU waits for the state to flesh out the exact role of the university and its agreement with the EAA, said EMU Spokesman Walter Kraft.
EMU also was asked to appoint two representative to serve on the 11-member governing board for the EAA. It appointed Dean of the College of Education Jann Joseph and Regent Mike Morris.
Stead has testified in Lansing twice on the bills. Her testimony was read before the House Education Committee on Nov. 19 on behalf of 50,000 students and the Washtenaw Alliance for Education. The alliance was established in early 2012 and includes both school board member and superintendent representation from the county's 10 traditional districts.
She also testified in the State Senate on Tuesday.
It was announced the same day that the EAA is one of 41 finalists eligible for a portion of nearly $400 million in federal funds from President Barack Obama's Race to the Top program. The program was intended for school districts that agree to implement specific school reforms, but this year's finalists also include the EAA, some public charter schools and charter school networks.
The Washtenaw Alliance for Education signed
a letter written to Obama and U.S. Secretary of Education Arne Duncan
opposing the possibility that the EAA could be awarded millions in federal grant funds.
Stead said she is disgusted with how quickly the new reform legislation is being pushed through the Michigan Legislature. She said it appears the Republican leadership doesn't want the public to be aware of the EAA or to have a chance to digest the bills and respond to them.
Stead said the EAA is remarkably similar to an emergency manager situation, yet almost scarier. She noted voters passed Proposal 1 on Nov. 6, which repealed the emergency manager law.
"It's interesting. Voters just gave feedback to the state saying they think the state overstepped its bounds with (the emergency manager law). … So here we sent a message, or so I thought, to Lansing saying we're opposed to these types of takeovers. And in just a rapid amount of time, this is being rushed through the Legislature," Stead said.
Green highlighted in her letter the financial difficulties public school districts already face and stressed the negative impacts the government-run EAA would have.
"These bills completely bypass our constitutionally created and publicly elected State Board of Education, leaving the Education Achievement Authority with no elected oversight," Green said.
Read Green's message to the community below, or on the district's website to see contact information for local legislators.
Dear Ann Arbor Parents and Citizens:

As Superintendent of the Ann Arbor Public Schools, I want you to be aware that as our district and others across the state continue to face enormous fiscal challenges, three bills are being rushed through the legislature that will have significant impact on the future of local public education. The bills are:

A. House Bill 6004 and Senate Bill 1358

These two bills will establish an Education Achievement Authority (EAA) in Michigan that would operate entirely outside the authority of the State Superintendent of Schools and the State Board of Education. Funding would go directly to the EAA district without any oversight from the legislature. The bills are clear that this new government-run statewide "super district" has the ability to take any school in the state into the new EAA district. These schools could then specify which students they would serve. The EAA can seize unused school buildings built and financed by local taxpayers and force sale or lease to charter, non-public or EAA schools. These bills completely bypass our constitutionally created and publicly elected State Board of Education, leaving the Education Achievement Authority with no elected oversight.

If these bills are approved there would be negative impacts upon the funding of existing local public school districts as well. Local districts like AAPS are already financially compromised and legislation like these two bills could further impact AAPS, and with the legislation moving so quickly, not all citizens are aware of it. I urge each of you to notify your representatives of your opinion about these bills.

B. House Bill 5923

This bill creates several new forms of charter and online schools with no limit on the number. Selective enrollment policies could lead to greater segregation and the bill creates new schools without changing the overall funding available, further diminishing and compromising resources for local public schools and providing unequal access to quality programming.

C. What Can We Do?

Our School District has signed testimony to the State Legislature opposing these bills as part of the Washtenaw Alliance for Education (WAE) and we have written to our state legislators opposing the proposed legislation. We are on record as opposing these bills with both the House and Senate Education Committees. As part of the Washtenaw Alliance for Education, we have also sent a signed letter to President Barack Obama and U.S. Secretary of Education Arne Duncan opposing statewide support being given to the EAA in the form of a Race to the Top federal grant. This letter appears in today's edition of the Washington Post. The link is below. School Superintendent Mike Flanagan and State Board of Education President John Austin have also expressed concerns.

With less than 10 days of the legislative session remaining this year, there appears to be a rush to pass this legislation through the lame duck session. Passage of these bills could impact public education as we currently know it and most of the state residents are unaware. Please contact your legislators and voice your opinions regarding this legislation as soon as possible. I am providing you with links below to our state legislators and hope that you will also share this information with others.

Sincerely,
Dr. Patricia P. Green
Superintendent of Schools
Ypsilanti reporter Katrease Stafford contributed to this report.
Danielle Arndt covers K-12 education for AnnArbor.com. Follow her on Twitter @DanielleArndt or email her at daniellearndt@annarbor.com.