Posted on
Thu, Nov 8, 2012 : 5:59 a.m.
Ann Arbor schools receives clean audit; board asks for more consistency, transparency in financial reporting
By Danielle Arndt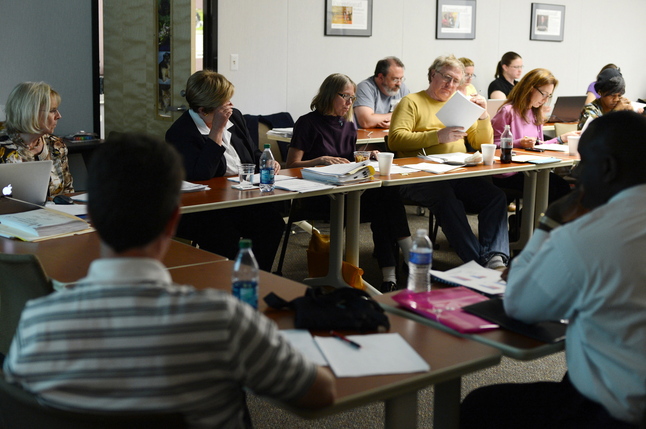 AnnArbor.com file photo
Ann Arbor Public Schools
received a clean audit Wednesday night, but
Board of Education
members were not satisfied with the financial picture they were presented.
Trustees, after honing in on the budget woes facing the district for the upcoming school year, demanded more consistency and transparency from administrators when reporting the district's finances.
Plante Moran conducted the district's annual audit report, which consists of three parts: a financial statement audit, required by the state of Michigan; an audit of the district's federal grant programs, required by federal law; and an audit of the district's sinking fund, which is included in the financial statement and is required by the Michigan Department of Treasury.
In each one of these three areas, the Ann Arbor schools received an unqualified opinion, which is the highest level of assurance an auditor can offer, said Eric Formberg, a partner with Plante Moran.
Formberg and Account Manager Nevra Kreger gave a presentation to the board on the district's audit report at Wednesday's meeting.
Download the PowerPoint presentation that accompanied the audit here.
"It's something you should take some pride in," Formberg told board members of Ann Arbor's clean bill of health. "…And it's something that you should really appreciate because not every school district receives it. (An unqualified opinion) indicates financial integrity and being able to rely on the financial data you have been given… If you know it's reliable and dependable, then that empowers you to make good, effective decisions for the future."
The financial audit report submitted to Plante Moran shows that AAPS had $334.6 million in total assets on June 30 of this year, compared to $319.5 million in total assets a year ago. In total liabilities, AAPS had $232.1 million in June 2012, compared to $211.2 million in liabilities in 2011.
This brings its total net assets, as of June 30, 2012, to $102.5 million, whereas AAPS had total net assets of $108.3 million a year ago.
The audit report said the $5.8 million decrease in net assets was primarily due to the end of the EduJobs Grant and the ARRA (American Recovery and Reinvestment Act) Stabilization Grant, which totaled $3.6 million, and nearly $2.5 million lost property tax revenues.
Also according to the report, AAPS has approximately $29.117 million in unspent bond proceeds and related interest, $975,000 in unspent debt service property taxes levied and $9.623 million in unspent sinking fund property taxes levied, for a total of $39.716 million in restricted assets.
The audit report also states AAPS has used approximately $24.3 million from fund equity, or its main savings account, since the 2003-04 academic year to balance its budget. The audit shows the district's fund equity was $40.9 million as of June 30, 2003, and is $16.6 million as of June 30, 2012.
Formberg said the one thing he wanted to highlight was that for the 2011-12 academic year, Ann Arbor's projected expenditures were "almost spot on" compared to actual expenditures. And what the district budgeted for in revenue was "very, very close to what actually came in," he said.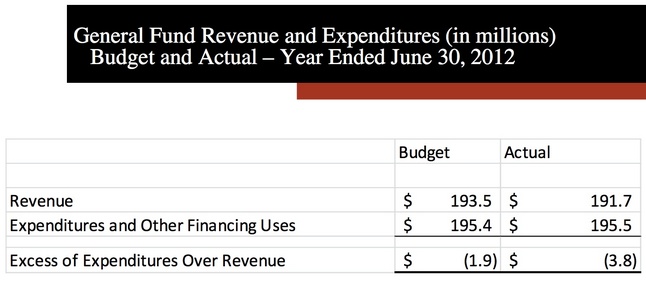 Formberg said AAPS budgeted to spend $1.9 million more than it received in revenue for 2011-12. However, the district's revenue projection was off by $1.8 million, so it ended up spending a total of $3.8 million more than it budgeted to.
But school board members immediately pointed out a discrepancy between the numbers that appeared in the audit report and the numbers that appeared in the district's budget report for 2011-12.
Trustee Glenn Nelson brought his budget report with him and said according to the documents, the original general fund budget the board passed in June 2011 had projected revenues of $182.8 million and expenditures of $183.6 million, for a planned use of fund equity totaling $800,000.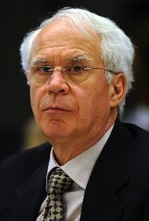 Nelson added by his record keeping, the district generated $1 million more in revenue ($183.8 million) than it budgeted for, while its expenditures were $3.5 million greater ($187.1) than the original budget.
Nelson asked why he did not see these numbers in the audit report.
Formberg said the numbers in the audit report refer to the combined general fund, which is in accordance with generally accepted accounting principles. The combined general fund includes both operations and athletics and grant programs, he said.
Deputy Superintendent of Operations Robert Allen said historically, when the district administration puts the budget book together that the board approves, the grants portion is not included.
Secretary Andy Thomas said reporting the financial data in inconsistent ways makes it difficult to gage how the district actually did in its budget projections and preparation from one year to the next.
"This is not just a technical issue," Nelson said. "The importance of this cannot be downplayed. I want our budget to be really transparent to the public."
He said currently, the public would not be able to switch back and forth from last year's budget to the first-quarter financial report, which was also presented Wednesday, to the audit without finding differences in the numbers and the stories they tell.
"It's like comparing apples to oranges, to use that phrase," Nelson said. "It gives a distorted picture of the year.
"Our expenditures were not close to the budget we passed, unless one thinks $3.5 million is close… We're worse than we intended… That's the story we need to understand as a board to then have the right diagnosis for the next year."
Vice President Christine Stead seconded Nelson's remarks, adding the board needs financial information on the grant components going forward. "So that combined we have a picture that we think reflects what our true experience is going to be."
She said these grant programs contribute a significant amount of money to the district, which it relies on.
Stead also clarified that this commentary was not directed at Plante Moran.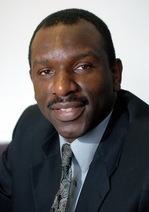 "I think you've done a fine job of presenting the audit," she said. "This is council for our own administrative team… There are layers of lessons to learn here and No. 1 is that we need to do better."
Allen said the board made some excellent points and the department will work toward putting together a format that can incorporate the grant components of the budget for the future.
Allen and Nancy Hoover, director of financial operations for AAPS, presented the district's first-quarter financial report Wednesday as well.
The total budgeted revenues and expenditures remained unchanged for the first quarter, they said. But they forewarned board members that some changes could arise in the second-quarter report.
Among those items that could amend the district's current operating budget for 2012-13 were:
An increase in expenditures due to the retirement contribution rate possibly jumping from about 24 percent to 25 percent of the district's total payroll.
An adjustment to reflect the audited fund balance amount.
A negative revenue adjustment for the audited October student count. Allen said this could be about 80 students, which would equal $721,600 in lost revenue.
A revenue adjustment for an increase in the district's special education reimbursement from the state.
Minor adjustments to school districts' budgets throughout the school year are not uncommon.
Stead asked why the first-quarter report still shows AAPS' fund equity at $18.5 million when the audit showed the account at $16.6 million.
Hoover said it has been the district's past practice not to make the adjustment in Ann Arbor's financial statements until the board approves the annual audit.
"Well, I guess I would urge us to at least make that adjustment for anything we share with the public from today forward," Stead said.
Several board members also called for the administration to put together estimates of what the district's second-quarter financial report could reveal now, rather than later.
The board will begin the task of looking at the budget for the 2013-14 academic year at its Nov. 14 Committee of the Whole meeting. November is when the board typically likes to start engaging the community in discussions on the deficit and how to reduce expenditures, President Deb Mexicotte said.
Board members encouraged Allen and the rest of the administration to communicate information to the public on the district's changing financial situation as soon as possible and not to wait until they can make a formalized report to the board.
Allen said he would work on putting some estimates together to better reflect what could happen in the second quarter.
The audit and first-quarter financial report will be up for acceptance and approval at the board's next regular meeting Dec. 5.
Danielle Arndt covers K-12 education for AnnArbor.com. Follow her on Twitter @DanielleArndt or email her at daniellearndt@annarbor.com.