Posted on
Thu, May 10, 2012 : 6:37 a.m.
Here are your chances to weigh in as Ann Arbor Public Schools budget talks continue
By Danielle Arndt
Related story: Audience demands answers from Ann Arbor school administration, board members on proposed budget cuts
Editor's note: This story has been updated to reflect a location change from Tappan Middle School to Balas for the May 16 Committee of the Whole meeting.
New Ann Arbor schools Superintendent Patricia Green has called this year the "tipping point" for the district.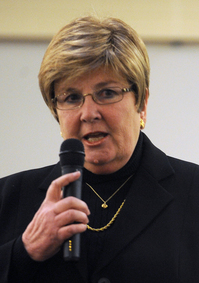 In an
interview following her first six months
at AAPS, she said students and community members are really starting to feel the strain from multiple years of cuts.
The 2012-13 proposed budget does not break from the trend of harsh realities but in fact "tips" the scale as AAPS deals with a $17.8 million shortfall by possibly eliminating more busing, cutting more staff and closing a building, among other things.
The Ann Arbor Board of Education has outlined its schedule for deliberating on and eventually approving the proposed 2012-13 academic year budget. There will be opportunities for the public to weigh in at each meeting as well as at a budget forum May 14.
Here is a breakdown of the budget discussions coming up:
6:30 p.m. May 14 @ the Huron High School Cafeteria — Budget forum
The public can come and hear the proposed budget details and offer opinions, advice and solutions.
5:30 p.m. May 16 @ the Balas Administration Building — Board Committee of the Whole meeting
The board will discuss at length the budget reduction and revenue enhancement strategies for the coming school year and into the future.
7 p.m. May 23 @ the Ann Arbor District Library — First briefing and public hearing on the budget
Community members can comment specifically on the budget during this public hearing, which serves as a second 45-minute public comment period in addition to the period at the start of the meeting. However, issues other than the budget cannot be addressed during the public hearing. Audience members do not need to sign up in advance of the meeting, unlike regular public comment periods; anyone who is moved to comment during this portion of the meeting can do so.
7 p.m. June 13 @ the Ann Arbor District Library — Second briefing and potential approval of the budget
The board could choose to adopt a resolution approving the budget.
To learn more about the proposed reductions, download a PDF of the budget presentation here, which Deputy Superintendent for Operations Robert Allen gave to the board on April 25.
Staff reporter Danielle Arndt covers K-12 education for AnnArbor.com. Follow her on Twitter @DanielleArndt or email her at daniellearndt@annarbor.com.