Posted on
Mon, May 7, 2012 : 5:57 a.m.
Longtime educator Joyce Hunter retiring from Ann Arbor schools
By Danielle Arndt
Joyce Hunter, a longtime educator, administrator and community advocate, will retire at the end of June after 37 years with Ann Arbor Public Schools.
She is one of 34 staff members who have given notice to AAPS that they will be leaving or retiring after the current school year.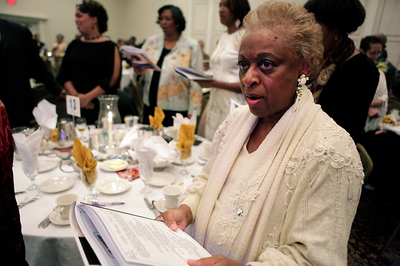 Chris Asadian | AnnArbor.com
Hunter, the assistant superintendent for secondary education, started in the district as a special education instructor at both
Huron
and
Pioneer
high schools in 1974. However, she quickly became a leader for women in a less gender-traditional area of study, said district spokeswoman
Liz Margolis
.
In the 1980s, when computers began to revolutionize the American household, Hunter went back to college to obtain her teaching certificate in computer science. She then developed and taught the district's first ever computing, programming and accounting classes at Huron High School.
Hunter later became the assistant principal of Huron and transitioned into her current role at Balas Administration Building.
Her retirement leaves AAPS with a fairly new top administrative staff.
Of the seven members of the district's executive cabinet, including Superintendent Patricia Green, five will have been hired within the past three years. Elaine Brown, assistant superintendent for student intervention and support services, joined the team in 2009, while Deputy Superintendent of Instruction Alesia Fyle and Assistant Superintendent for Elementary Education Dawn Linden were hired prior to the current school year.
Margolis said Hunter will be hard to replace because she not only is highly regarded in the Ann Arbor community, but also because the nature of her position is very challenging.
"It's a heavy work load," Margolis said, adding Hunter is very organized and, as such, was fit for the job.
She explained at one point, the job was divided between two people, an assistant superintendent for the high schools and one for the middle schools. The positions eventually were combined.
Margolis said despite facing a $17.8 million budget shortfall for 2012-13, the district will not consider cutting Hunter's position.
"The idea hasn't even been entertained," she said. "There would be too many responsibilities to shift to someone else."
Joetta Mial, who worked with Hunter at Huron, said Hunter's dedication and commitment to giving back to the community are what made her so special and irreplaceable to the district.
"Joyce is one of those low-key unsung folks that goes about getting things done without much attention or fanfare," said the former Huron principal. "She has a real passion. … She's at the bottom of a lot of stuff and people don't realize it."
While Hunter was at Pioneer, she started the Sisters' Club to help a group of African American girls who, at the time, had a number of challenges and difficulties in their lives, Mial said. She also was inducted into the Huron River Rat Hall of Fame in 2003.
Each time Hunter changed roles professionally, she went back to school to obtain the proper endorsement, she said. Prior to becoming an administrator, she obtained her master's degree in administration from the University of Michigan.
"At that time, you didn't have to," Hunter said. "It wasn't a requirement. … But I wanted to be sure I was official so if down the road the state decided to make you go back and learn (a subject) in order to teach it, I was covered."
She also enjoys learning and considers it a privilege, she said.
Her true joy was working with the students, so even when Hunter became an administrator, she made certain she could make a difference in their lives, she said. She became an advocate — in addition to the district liaison — for the Student Homebuilding Program after its founders died.
The program provides Ann Arbor high-schoolers with the opportunity to learn the trade skills of construction, project management, plumbing, heating, cooling, electrical work, design and carpentry.
"She is the hub of our program," said Harvey Berman, a longtime leader with the group. "She is so well-regarded and so well-respected by everyone involved and especially the business professionals and builders and contractors."
School board Trustee Glenn Nelson said one of Hunter's strengths was community relations. She worked on the achievement gap through her role with The Links, Inc. and is a cheerleader and supporter for minority students.
"It was not in a formal role through the district, but she just did it because she loves the community and being involved and feels it's important," Nelson said. "I hope that continues (in her retirement) because the problems are there and I believe that the community benefited from her devotion."
And, true to form, Hunter plans to be very busy in her retirement. In addition to reading, traveling and spending more time with her 85-year-old mother, she plans to continue working on a comprehensive community plan for closing the achievement gap through The Links, as well as helping the African American Cultural and Historical Museum, of which she was a co-founder, find a permanent home.
In addition, Hunter remains active with her sorority, Alpha Kappa Alpha, and her church, Bethel AME.
Hunter's position, which was advertised both internally and externally, pays $112,000 to $122,399, according an online listing on the Washtenaw Area Schools Consortium. The application period closed Tuesday.
AAPS did not hire a search firm to assist its hunt for a new secondary education superintendent, although it did pay to post the position on three additional websites: the Michigan Association of School Personnel Administrators (MASPA), the Michigan Talent Bank and K-12 Job Spot.
Margolis said the district's Human Resources and Legal Services Department does not release how many applications were received for the position, but staff will begin narrowing down the candidates immediately. After which, a committee will interview the candidates and narrow them down some more.
"I would anticipate Dr. Green will want someone in place before (Hunter) retires, so this will probably happened very quickly. Within a month," Margolis said.
Staff reporter Danielle Arndt covers K-12 education for AnnArbor.com. Follow her on Twitter @DanielleArndt or email her at daniellearndt@annarbor.com.