Posted on
Thu, Apr 26, 2012 : 5:59 a.m.
Ann Arbor student: 'Without Roberto Clemente I would be dead'
By Danielle Arndt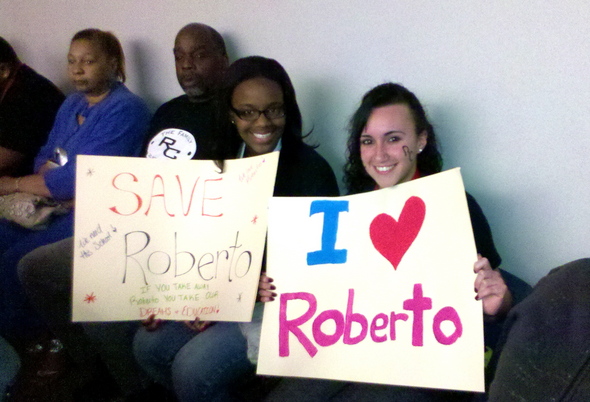 Danielle Arndt I AnnArbor.com
Related story: Painful choices: Ann Arbor school board wrestles with need to cut at least $7 million
More than 170 people filled the fourth-floor meeting room of the Ann Arbor District Library Wednesday to fight for school programs and services that are on the chopping block as Ann Arbor school leaders look to address a $17.8 million budget deficit.
The overwhelming majority of the standing-room-only crowd at the Ann Arbor school board meeting was made up of students, parents and educators, donning white and black T-shirts and speaking out as members of the Roberto Clemente family.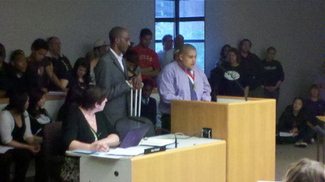 Danielle Arndt I AnnArbor.com
The district has proposed closing the
Roberto Clemente Student Development Center
for a budget reduction of $508,000, and that possibility stirred a hearty helping of emotion among audience members Wednesday.
Of the 34 individuals who addressed the board, 25 pleaded with trustees not to close Roberto Clemente.
Other proposals residents vocally opposed were eliminating transportation for Ann Arbor Open school and slashing the district's $60,000 contribution to summer band camp.
But these proposals just begin to scratch the surface of the administration's three options for reducing the deficit.
The first would require $7.364 million in cuts and using $4.436 of the district's $19.7 million in fund equity. The second calls for $9.759 million in cuts and $2.041 million in equity, and the third would favor $13.455 in cuts while restoring $1.65 million to savings.
Six million in estimated revenue from Schools of Choice, Medicaid reimbursement and Gov. Rick Snyder's Best Practices and proposed funding to offset teacher retirement costs also would contribute to reducing the deficit.
Chris Miller, a Roberto Clemente parent, said Wednesday the idea of AAPS closing Roberto Clemente and merging the program with Ann Arbor Technological High School concerns her. She said the small class sizes and dedicated staff at Clemente continuously challenge her son to do more.
"My son deserves a chance," she said. "He is not a number. He is not a statistic. He is not a dollar sign."
Roberto Clemente teacher Mike Smith shared with the board and others in the community a brief history of the program. He said the Ann Arbor school district originally named the program The Alternative School for Disruptive Youth. School leaders worked tirelessly to have the name changed, he said.
The name Roberto Clemente was selected after the famous Puerto Rican baseball player with the Pittsburgh Pirates, Smith said. Clemente died during a rescue mission on New Years Eve in 1972 when his plane, which was delivering relief supplies to earthquake victims in Nicaragua, crashed.
"That's what Roberto Clemente is for its students — past, present and future — a rescue mission ... for the students who were lost and forgotten by this district and this community," Smith said. "So this program should not be shut down, but others should be started to help do what it is we … claim we do, which is educate all of our children.
"Because the dirty little secret is we do not care about educating everyone. If we did, I wouldn't have a ninth-grader reading at a fourth-grade level and a 12th-grader reading at a second-grade level. … The real question is: Is the district sincere about equality, equity and closing the achievement gap, or are these just buzz words for public consumption?"
A number of students gave emotional appeals before the board about how their lives have been impacted by Roberto Clemente. They told stories about how they were able to improve their GPAs from less than a 1.0 to a 2.5 or a 3.7 or better.
Alexzandra Botello, a freshman at Roberto Clemente, said if she had stayed at Pioneer High School, she probably would have dropped out of school by now. She was getting straight Es, she said.
"My test grades are now in the B-range and — I still have a long ways to go — but the Roberto Clemente family has made me realize how important education is and what could happen if I don't get my grades up," she said.
Marcus Buggs, who watched his father get shot when he was 9 years old and whose mother is in jail, said he owes going to college and a whole lot more to the alternative high school and especially to Principal Ben Edmondson.
"I'm going to get straight to the point: I would be dead or in jail if it weren't for Roberto Clemente," he said, repeating it. "I say that twice, once so you can understand how devastating it would have been for me to be a statistic and once for myself because I need to know I am past it."
In a recent article in the Detroit Free Press, Buggs was depicted as slipping and was fearful he would not attend college after all, as his responsibilities at home mounted. He announced at Wednesday's meeting he will go to Western Michigan University on a scholarship in the fall and credited Roberto Clemente for his success.
"Without my Roberto Clemente family, coming where I come from where I don't have any family — Roberto Clemente made me a man, helped me to take care of my family and now I can take care of other families because I have the opportunity to go to college and change the world."
Joseph Merrick, another student, said at his home high school, he could get away with not paying attention and with not learning the material. At Roberto, teachers have more time for one-on-one instruction.
In particular, Roberto is a positive place for African American males who are the primary students in the achievement gap, said student Xavier Lawson.
"Dr. E puts many successful faces in front of us. So we were a part of the achievement gap, but we are not any longer."
Macenzie Caddell and Tevin Cole, also students, said if Roberto closed and students had to return to Ann Arbor's comprehensive high schools, many of their peers likely would fall back into the same habits of bullying, not paying attention, skipping classes, getting poor grades and having poor attitudes.
"A month before coming to Roberto Clemente, I thought of it as a punishment," Caddell said. "Now I can't imagine being anywhere else. ... My poor attitude was not tolerated, my disrespectfulness was not acceptable and I have realized my behavior was only hurting myself."
Whenever a Clemente student came up to the podium to speak, Edmondson followed and stood behind him or her to show support.
"That's how it is in our family," he said after the meeting. "Nothing about that was for show."
Student Meghan Lau fought back tears while speaking to the point that Edmondson took over reading her remarks for her.
"If you consolidate Roberto Clemente, it's like closing the road to success for people who have finally found their way there," she wrote. "It's like someone shutting the door to your house and you never being allowed back in."
Staff reporter Danielle Arndt covers K-12 education for AnnArbor.com. Follow her on Twitter @DanielleArndt or email her at daniellearndt@annarbor.com.