Posted on
Thu, Apr 26, 2012 : 12:50 p.m.
Painful choices: Ann Arbor school board wrestles with need to cut at least $7 million
By Danielle Arndt
Related story: Ann Arbor student: 'Without Roberto Clemente I would be dead'
The Ann Arbor school board began poking, prodding and prioritizing Wednesday as it considers how to cut at least $7.364 million from the budget for next year, en route to eliminating its $17.8 million shortfall.
Before the discussion began, a number of community members made impassioned pleas to preserve programs and services they value, in particular the Roberto Clemente Student Development Center, which the district has proposed merging with Ann Arbor Technological High School, another of the district's alternative high schools.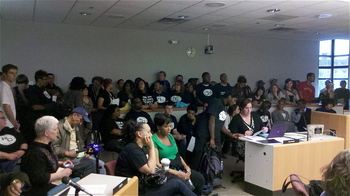 Danielle Arndt I AnnArbor.com
The lengthy discussion was still taking place at 2:30 a.m. as the
Board of Education
wrestled with the choices, all of them unattractive.
"We don't want to pursue any of the reduction plans we are putting out there," said Ann Arbor Public Schools Superintendent Patricia Green. "But we are being forced … due to severe funding reductions from the state level over a series of years.
"It has created a situation where everything on the table hurts deeply. All of the reductions before us are undesirable and causing great pain and great loss."
Green added innovative learning is in danger of being further eroded by this system. She said in the past five years, the district has cut $55 million from its general fund budget.
The item weighing most on the board's mind is the potential closing of Roberto Clemente school and what would become of its model.
"I am sick about this," said Board Secretary Andy Thomas. "What bothers me most is that we are allowing a financial decision to drive a programmatic decision for kids.
"And we are now in the last week of April, with six weeks left in the school year and we are looking at implementing something new for fall."
Thomas said this does not give families much time to prepare or adjust, nor does it give the district much time to make changes. He said he would like to see administration present a plan for how the merging of Clemente and Ann Arbor Tech would work and how the merger would be communicated to the public.
"There is a huge climate and philosophy gap between the way they do things at Clemente and the way they do things at A2Tech," he said.
Trustee Simone Lightfoot was adamant about the integrity of Clemente's program being maintained.
"I am less wedded to the fact that it's the building," she said. "But I think we saw here tonight that the thing that makes this program work is the individuals that are out there doing it and implementing it. But again, still, it troubles me that we are willing to take our most vulnerable kids in the district, pack them up and put them off somewhere together."
She asked why closing Community High School was not on the table. Deputy Superintendent of Instruction Alesia Flye said in short, because of capacity.
Community enrolled 477 students in the fall and currently is 101.9 percent full, according to recent data released by the district. Flye said if AAPS closed Community, essentially there would be no place to put those students. Huron, Pioneer and Skyline are operating at 99.75, 100.31 and 94.49 percent capacity, respectively.
Lightfoot said the perception in the district is that Community is a "sacred cow that can't be touched," Lightfoot said.
"It bothers me, not being fair," she said, adding if the district is going to tout that everything is on the table and is going to look at alternative programs, then that review should include all alternative schools.
Thomas said he would be in favor of possibly eliminating high school transportation this year over closing Roberto Clemente. He said based on the dramatic cuts AAPS already has had to make with regard to busing and the budget projections for the next two years, the finances do not appear to be getting any better.
"We talk about ripping the Band-Aid off and I think it's not a matter of if, but when," he said.
Lightfoot supported giving this idea serious consideration as well.
"I'm in favor of it, if it cuts across the board."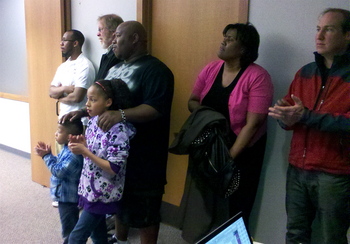 Danielle Arndt I AnnArbor.com
But, she added, whatever the district does, it must make its transportation more sustainable and seamless this year. And if there are more cuts, it must work to create solutions for parents, she said.
"Our mission is education … but if we don't get the kids there, that defeats the purpose."
A group of parents from Ann Arbor Open attended Wednesday's meeting to voice their concerns about cutting busing to their school. Jill Zimmerman said the savings will not be as great as the district anticipates, considering students get on their neighborhood bus that takes them to their geographic school and from there they ride one bus to Ann Arbor Open.
Another argument made was that primary transportation to the other schools that serve K-8 students is not being cut. Most of the cuts are proposed at the secondary level.
Sascha Matish, a parent, said it is public perception that Ann Arbor Open is an elitist school for privileged students. While that is not true right now, the board essentially would cause it to become true if busing were eliminated, she said.
"Then it would be only those families that live on the west side and the people that can afford to drive their kids that could continue to attend," she said.
Thomas said Ann Arbor Open parents are very determined and he has no doubt that if the board did eliminate busing to the "choice" schools as is proposed, the AAO parents would organize carpools to get all of the children to school when needed.
"I think back to when, 30-some years ago, I would walk by there and I would see Ann Arbor Open parents out there with tents and barbecues, standing in line for days and weeks to be assured of registering their students," he said. "Maybe that sounds like a cop-out, but I am convinced that's what would happen. Those parents would find a way."
But Trustee Susan Baskett agreed with Matish's evaluation that economically disadvantaged and minority student participation in the school would decline.
Zimmerman added Ann Arbor Open's learning model is similar to those of local charter schools, so the school helps the district compete with the charters and keep families within Ann Arbor Public Schools. With transportation no longer an incentive, some families may choose to educate their children at a charter, Zimmerman said.
"We welcome a detailed breakdown of the (transportation) costs," she said. "We will willingly buckle down and suggest cuts with less damage to the instructional integrity of our school."
Thomas said in addition to pushing back merging Roberto Clemente and A2Tech for another year, he would be in favor of cutting the $5 million district-wide departmental budget, or discretionary budget, by 15 percent rather than 5 percent. That would reduce that fund by another $500,000 than the proposed $250,000 in central administration's least aggressive option for reaching $17.8 million.
He is still opposed to cutting any teachers.
"We would see a deterioration in the quality of education for everyone. That's my line in the sand."
While several band parents and students attended Wednesday's meeting to ask the district not to cut the $60,000 contribution from the schools for summer band camp, Thomas was very vocal about kids being able to earn the extra money to go.
Students reported about 850 kids participate in band camp at Interlochen each year. Thomas calculated that the $60,000 divided among the participants would equate to an additional $70 per kid.
"That's one bottle of pop a week," he said. "I realize for some people (an extra $70) would be a genuine hardship, but those people would probably be getting scholarships anyway. ... There are many ways for a healthy, able-bodied teenager to make money ... mow a lawn, babysit ... this should not be a major issue. I respect the passion that the people have expressed for band camp, but we can still (have band camp) with the proposed budget cut."
Deputy Superintendent for Operations Robert Allen said the students already contribute some money to attend band camp. He said he would find out what that amount is. In the past, the district's contribution has gone toward transportation and staffing costs for teachers to attend the five-day camp with the kids, he said.
The Ann Arbor Board of Education's next regular meeting will be at 7 p.m. May 9 at the Ann Arbor District Library. The board is required to have a public hearing on the budget prior to approving it. Allen also said AAPS generally has two community forums as well. These have not been scheduled.
The board is required to approve a budget for next year by June 30.
Staff reporter Danielle Arndt covers K-12 education for AnnArbor.com. Follow her on Twitter @DanielleArndt or email her at daniellearndt@annarbor.com.