Posted on
Thu, Aug 1, 2013 : 5:59 a.m.
Ann Arbor superintendent-elect talks moving, community strengths, board's split decision
By Danielle Arndt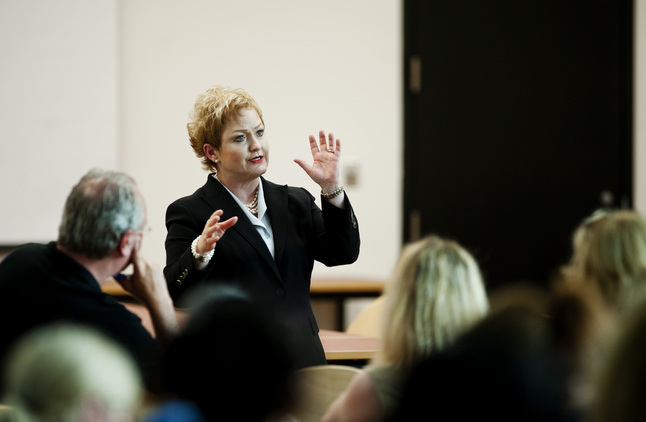 Daniel Brenner | AnnArbor.com file photo
Previous coverage:
The Ann Arbor school board tagged Jeanice Kerr Swift of Colorado to be the district's next superintendent Wednesday night and within a matter of hours, Swift had accepted and began talking about how she is prepared to "hit the ground learning" this fall.
"I am just extremely honored to have been chosen and delighted to begin the transition period with the district," Swift told AnnArbor.com in an interview early Thursday morning.
Swift already has one of Ann Arbor's new luxury downtown apartments pegged as a great place to rent for a year, while she and her husband, John, look for a neighborhood in which to establish a long-term home for them and their two cats.
"That's what we did when we came here (to Colorado Springs) 15 years ago. I feel like it's best to find someplace you can get into right away, to get settled on the job. And once it relaxes, we'll take our time and shop for a house," Swift said, adding she plans to be working a lot right at first.
"I'm very excited about some of the possibilities right there in the center of town," she said of future home prospects. But many of the different neighborhoods in the townships excited her, as well, when she drove around on her trips to Ann Arbor to be interviewed, Swift said.
While she doesn't have a date in mind yet, Swift is targeting to be in Ann Arbor prior to the first day of school. "It's really important for me to be there when the kids are there."
Swift said she and board President Deb Mexicotte will discuss start dates next week and she also will need to talk things over with the leadership in Colorado Springs School District 11, where she currently is the assistant superintendent of instruction, curriculum and student services. Although, Swift has started working on a transition plan for leaving her current district, she said.
Swift is the second person the Ann Arbor Board of Education has offered the superintendency to in a two week period. However, the vote and outcome of this offer were drastically different than the first.
Swift was a finalist for the position alongside Brian Osborne, a superintendent from New Jersey.
School trustees voted 7-0 to extend the job to Osborne on July 19. But after eight days of considering the chief's spot, he declined to come to Ann Arbor and opted to stay with his East Coast district, as the result of concerns about moving his wife and two children and a desire to finish the work he started there.
The vote to extend the job offer to Swift was split 4-3 with some trustees worried about Swift being a first-time superintendent, who lacks budget experience, and a community that might struggle to let go of the fact that she was the runner up, the board's second choice.
Trustee Simone Lightfoot said during Wednesday's meeting she has an issue with "inviting the second girl to dance" and said the board did not vote for Swift before for a reason. Trustees Susan Baskett and Christine Stead, who rounded out the three board members that voted against the motion to enter into negotiations with Swift, echoed Lightfoot's sentiments and said the community viewed Osborne to be a far superior candidate.
Mexicotte said the board selected two candidates as finalists that stood out from the pack, and she personally would not have selected any candidate to make it to that stage without believing he or she could succeed in the position, she said.
But being No. 2 doesn't bother Swift, and she's eager to begin working with the Ann Arbor community, to get to know them and to earn their trust and respect.
Swift said being able to read a live feed from Wednesday's meeting allowed her to see where the board members were coming from with their opinions and concerns, and allowed her to understand the scope of the discussion that lead to the board's 4-3 decision.
"It was a big decision and it involved lots of perspectives, not just the board's," she said. "It was important for me to listen to that dialogue. ... I believe concerns voiced by knowledgeable leaders informs our work. ... I appreciated being able to hear what their concerns were. And I've already gained some beneficial information to guide my work in the district through (those concerns).
"To me, that's what public discourse is all about. Realizing that different perspectives and diversity of thought come to the table in any decision. ... It's the collective decision that's the most solid decision."
Swift said despite the board's 4-3 vote, by the end of the meeting she felt a "strong echo" of support from the trustees and is confident she and the board will be able to team up and work together toward the shared vision of providing excellent educational opportunities for all kids.
Lightfoot told reporters after Wednesday's meeting that she thinks the vote just demonstrated some concerns a few board members had and "us trying to urge our colleagues to slow the process down and take a different approach."
"But again, Dr. Swift was on all of our lists as one of the top contenders and … around the budget, I think she is a quick enough study to come in and do it. My support was for us to look broadly and be very specific about the type of candidate we wanted," Lightfoot said. "But (Swift) won't have any problem, either doing it or getting support from us; us guiding, showing, helping (her). And she seems to have the type of personality that is very amenable to that and welcoming to it. So I'm fully happy with the choice overall."
The diversity in the AAPS district was one of the reasons Swift was attracted to Ann Arbor, she said, explaining she had a very specific type of district in mind that she wanted to run and Ann Arbor was a good match.
She said she likes that Ann Arbor is a university town in the respect that education is part of the community's makeup, and the community has a history of supporting quality education.
"I also like the size of Ann Arbor because it is small enough to know people yet it is big enough to have a wide variety of programs an opportunities that really meet the needs of kids all across the spectrum," Swift said. "I was also looking for a district that already had that history of success and achievement."
Swift's current district in Colorado Springs is larger than Ann Arbor with about 28,500 students and 3,900 employees. Ann Arbor has about 16,600 students and 3,000 employees.
Upon coming to the district, Swift would engage with the community by hosting forums at every school building, complete a thorough analysis of every department in the district by digging into as well as getting briefings from the division and department heads, and conduct a deep study of the budget. Swift said some of this work she has already started.
"I call it hitting the ground learning because you have to understand what's gone on before in order to leverage that work and move it forward," she said.
Swift has history with zero-based budgeting, financial constraints and redistricting and closing buildings. She said Colorado Springs has spent the past five years realigning its budgets to the district's current funding reality and the district also just underwent its second major school building "reutilization process."
Ann Arbor schools could face a number of similar tasks and challenges during the 2013-14 academic year and budget cycle, but Swift said this does not intimidate her, yet she also understands the gravity of these issues, she said.
"I know these challenges and I know we can leverage our strengths, some of which are a strong, involved community that will provide input; a strong staff to do the homework and set the table; and a courageous board that will do the leadership and make the tough decisions to move the district forward," Swift said. "These issues are not unique. Ann Arbor is one of many districts across the county experiencing these kinds of challenges. But we have the public support and involvement that quite frankly lots of cities don't."
Danielle Arndt covers K-12 education for AnnArbor.com. Follow her on Twitter @DanielleArndt or email her at daniellearndt@annarbor.com.