Posted on
Wed, Jul 10, 2013 : 5:59 a.m.
Recap: How the Ann Arbor school board picked 2 superintendent finalists
By Kellie Woodhouse
Ann Arbor is likely to have an out-of-towner with district administration experience as its next public schools superintendent.
In a five-two vote, the Board of Education chose a New Jersey district superintendent and the assistant superintendent in Colorado Springs as finalists for the top leadership position in Ann Arbor's public school system.
After sifting through 61 applications, the board interviewed six candidates, including three from Michigan, and narrowed the pool to two: Brian Osborne, the superintendent of the South Orange-Maplewood School District in New Jersey who worked for the New York City Department of Education, and Jeanice Kerr Swift, the assistant superintendent of instruction, curriculum and student services for the Colorado Springs School District in Colorado.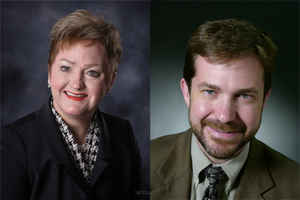 Courtesy
Interviews took place Monday and Tuesday and the board chose finalists Tuesday evening.
The board expects to visit the finalists' school districts later this week. Then early next week the board plans to bring candidates to Ann Arbor for further questioning. During those days, there will be a session where constituents can ask the finalists questions.
The chosen candidate will replace Patricia Green, who resigned Tuesday after serving two years as Ann Arbor's superintendent.
The board did not choose local candidates Sandra Harris, Benjamin Edmondson or Henry Hastings, or Richard Faidley from Hershey, Pa. Edmondson is the principal of Roberto Clemente High School and Hastings is a business instructor at Eastern Michigan University; both were contenders for a third finalist spot if the board had agreed to one.
The two nay votes Tuesday, offered by Simone Lightfoot and Susan Baskett, were in part cast because the two trustees wanted a third candidate brought into the finalist stage.
Lightfoot and Baskett wanted to see a local candidate on the short list. Baskett implored board members that the board would have "hell to pay" with the community for not choosing a local face as a finalist. Lightfoot said her inbox has been flooded with messages from supporters of Edmondson.
Yet trustees such as board president Deb Mexicotte, Irene Patalan and Andy Thomas said they felt like the four other candidates -including the local ones- weren't qualified and said they wouldn't feel comfortable hiring those candidates into the district's top role.
"We considered local candidates. We considered them for the process, we considered them at the table, we gave two local candidates interviews," Mexicotte said. "... There reaches a point in the search where other factors come into play and the reason that you want to have a broad range of candidates is to see all of those kinds of interplays, to figure out how much does "local" help the candidate versus an experience piece."
Mexicotte said she would like to see Edmondson offered a role within AAPS with more responsibility, which would prepare him for a superintendent role. Edmondson has made it to the finalist stage when applying to be the superintendent of other districts, but has not been selected.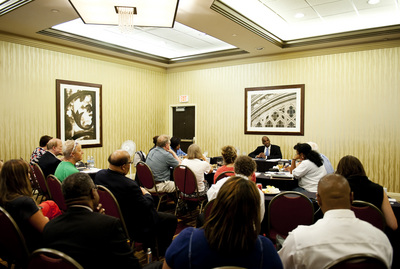 Daniel Brenner I AnnArbor.com
Brian Osborne
Five of the seven BOE members ranked Osborne as their top choice in their individual assessments. Board members said his responses to questions were thoughtful. The board was impressed that Osborne thoroughly researched AAPS before the interview and offered detailed answers to questions about tackling the district's problems, such as AAPS' declining revenue. Trustees were satisfied that Osborne has experience in redistricting and in leading a school district.
Trustees also remarked on Osborne's honesty. During his interview, Osborne acknowledged the difficult issues facing the school district and the turnover the superintendent position has seen in the past decade. He asked the board how long a superintendent could last in Ann Arbor. He questioned whether the board is ready to make difficult decisions. Trustee Glenn Nelson said Osborne is aware of the dynamics of the board and superintendent relationship.
"I just thought he had the whole package," offered Mexicotte.
Trustees were also impressed with Osborne's take on the superintendent's role.
"Visibility is a huge and important part of the job and at the same time it's not the job. The job is systems improvement," he told trustees when he interviewed Monday. He also said Ann Arbor needs a multifaceted approach it its problems. "There is no silver bullet."
Trustees were concerned with the district's budget problems -the district has incurred an average 10 percent budget gap each year over the past five years. In his interview, Osborne said his financial acumen was a key strength. Trustees agreed. Trustee Christine Stead said Osborne was the only candidate who emphasized creating new revenue streams for the school, instead of mainly emphasizing cuts.
Jeanice Kerr Swift
Meanwhile, board members said they were impressed by Swift's enthusiasm. Lightfoot joked that Swift is reminiscent of the Duracell Bunny. Baskett said she appeared genuine and heartfelt.
Trustees said they felt comfortable with her experience as one of the top leaders in a large district. That experience, they said, gives them confidence Swift can tackle challenging, complicated issues, such as the district's achievement gap and dwindling reserves. Trustees also agreed that Swift was a concise communicator.
"She's from a district twice our size," Mexicotte said. "She manages a fairly large budget and has a proven track record of student achievement."
Thomas said Swift "gave the best responses regarding issues having to do with establishing trust, accessibility to the community." In their interviewing of candidates, board members asked several questions pertaining to communication, visibility and media relationships.
"Even when people don't agree with your decision, they will respect when you have a full, open, transparent and robust process," Swift told the board during her interview.
Swift is also applying for superintendent jobs in other districts.
Mexicotte says that while some constituents might be unsatisfied with the board's choice for superintendent, the "proof is in the pudding."
"Can we bring the best possible candidate to this district?" she said. "If we do then the community will see that we took a path and did the right thing."
Kellie Woodhouse covers higher education for AnnArbor.com. Reach her at kelliewoodhouse@annarbor.com or 734-623-4602 and follow her on twitter.