Posted on
Thu, Jul 25, 2013 : 5:58 a.m.
Ann Arbor's Cafe Marie hosts weeklong bone marrow drive for cook with leukemia
By Danielle Arndt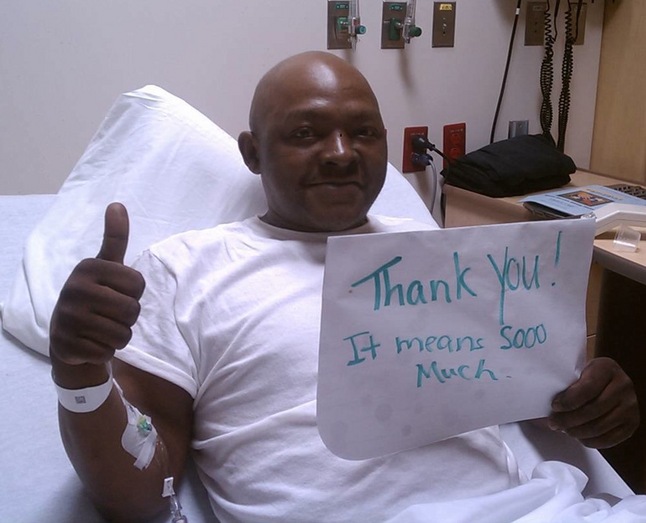 Courtesy of Facebook
Previous coverage:
Percy Pryor, a longtime cook at Ann Arbor's Cafe Marie, is waiting for a bone marrow transplant to complete his treatment cycle for an aggressive form of cancer.
After more than 12 years of frying up the "best darn eggs and omelets" customers say they have ever tasted and never missing a day of work, Pryor found himself isolated to a hospital bed, faced with chemotherapy for acute lymphoblastic leukemia.
The waiting game for Pryor, as a black man, to receive a bone marrow transplant could be a long one. Doctors say matching rates for individuals of minority ethnicities are significantly lower than for individuals of Caucasian descent.
Pryor already had one possible match fall through.
Dr. Dale Bixby, Pryor's primary hematologist at the University of Michigan Comprehensive Cancer Center, said that one reason matching rates are so low is because African Americans and other minorities have lower participation rates on the National Bone Marrow Registry than whites.
Cafe Marie — which Pryor calls his extended family — is not much for waiting, and the staff plans to do everything it can to speed the process up and raise awareness of low participation rates among African Americans.
Starting at 7 a.m. Thursday through 3 p.m. Aug. 3, the cafe, located at 1759 Plymouth Road, will be hosting a bone marrow drive to support Pryor and hopefully add someone to the registry that could be a match for him.
Rebecca King, the marketing and promotions coordinator for Cafe Marie, said it's a completely painless, quick and easy process to join the National Bone Marrow Registry. "All it takes is a simple mouth swab."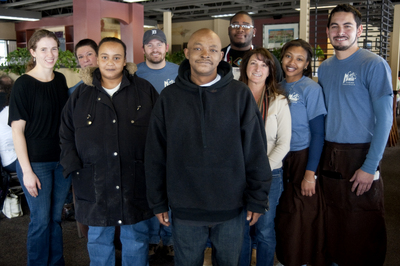 Joseph Tobianski | AnnArbor.com file photo
She said it's not messy and the swabs are immediately secured in an enclosed bag. People also will be swabbing themselves, so it's not awkward, King said.
King and other Cafe Marie staff have been trained by Delete Blood Cancer DKMS, the organization the restaurant received its cheek-swabbing kits from, on how to handle the swabs. The cafe's goal is 100 cheeks in a week, which is the Delete Blood Cancer DKMS' mantra.
King stressed that joining the registry is not the same thing as saying you will definitely be a donor, nor does it necessarily mean there is a match out there for you.
In addition to hosting the weeklong bone marrow drive, Cafe Marie has been raising money for Pryor, his lifelong companion Rachal Potter and their three children to help with medical and personal expenses. Pryor's cancer has taken a toll on the family's financial and living situation.
To date, the cafe has collected donations for Pryor amounting to $13,657.68. A fund was established for Pryor through the Ann Arbor State Bank: "The Percy Pryor Fund." A website also was set up at YouCaring.com.
The restaurant has worked to raise money to support leukemia research as well through the Leukemia & Lymphoma Society. It is selling red wrist bands that say "relentless" on them and raffle tickets for $10 apiece to win a seven-night vacation for two to Hawaii. The proceeds all go to LLS, King said.
Pryor was first diagnosed with adult acute lymphoblastic leukemia in November 2012. He began an aggressive treatment plan almost immediately and has since had about nine months worth of intravenous chemotherapy, Bixby said. Bixby, who has been with Pryor through every step of the process, was authorized to speak on Pryor's behalf.
Pryor has one cycle of chemotherapy remaining in his treatment plan, Bixby said.
Bixby said with his type of leukemia, there is "a giant unanswered question" around what the best method of treatment is because this form of cancer has such a high rate of relapse. But he said research does show that a bone marrow transplant and chemotherapy combined can increase a patient's chance of beating the cancer 20 to 30 percent over chemotherapy alone.
Patients with acute leukemia already will have to be on a chemotherapy pill, taken once a day, for the rest of their lives in an attempt to minimize the risk of relapse, Bixby said.
In addition to participation rates being low for minorities on the National Bone Marrow Registry list, Bixby said blacks have the highest diversity of all nationalities of the hereditary proteins that are needed to qualify someone as being a bone marrow match for another person.
"So it's a double whammy for people like Mr. Pryor," Bixby said.
He explained bone marrow matching is not based upon a person's blood type, but rather a set of 10 proteins, which are located on the surface of white blood cells and other tissues in the body. There must be a 10-out-of-10 match in order for someone to be an eligible bone marrow donor for another person.
People inherit these proteins from their parents, Bixby said, making siblings the best chance for a match. He said siblings have a 1-in-4 chance of matching.
Part of the dilemma with matches today is family sizes are smaller than they used to be, he said. People are having fewer children, meaning fewer chances for a match. Bixby said when you add in siblings from different mothers or fathers, the chances become much lower that a patient will have a match within their own family tree.
Patients have a one-in-10,000 chance of matching with their own offspring, Bixby said.
Bixby praised Cafe Marie owner Jeanne Loveland for how hard she has worked to help Pryor and to raise awareness of his cancer.
"Leukemia is not breast cancer," Bixby said. "There seem to be those cancers out there that a lot of individuals want to advocate for ... and that are in the limelight more often than others. Leukemia is one that is not understood as great and a significant amount of research and support is still needed."
He said joining the bethematch.org National Bone Marrow Registry is a way to get involved that requires minimal effort.
"There is a constant need and it's a beautiful way for those of us who are healthy and fortunate to help."
Danielle Arndt covers K-12 education for AnnArbor.com. Follow her on Twitter @DanielleArndt or email her at daniellearndt@annarbor.com.