Posted on
Thu, Sep 27, 2012 : 5:59 a.m.
Liberty Plaza: City leaders look for ways to end crime, vagrancy issues at park
By Kyle Feldscher
Courtney Sacco | AnnArbor.com
Movie stars
have played in fake snow
at
Liberty Plaza
. Hundreds of people go there on
summer Thursdays for lunchtime concerts
. Families have been drawn there by performances put on by the Ann Arbor District Library.
But this urban park in downtown Ann Arbor has earned a reputation that contrasts sharply with images of people relaxing at a summertime concert and children enjoying a library program.
Public drinking, drug use and fights aren't rare occurrences in the concrete park at the southwest corner of Division and Liberty streets. Set a few steps down from the sidewalk, the two-tiered park has gained a less-than-flattering reputation since it first opened to public use in 1978.
"The park has off and on been a problem for years," said John Teeter, property manager at First Martin Corp., the company that built and still maintains the park. "It's a wonderful park when there's programming. ... When there's legitimate users in the park visiting, it's wonderful."
He pointed to the Thursday Sonic Lunch concerts, sponsored by Bank of Ann Arbor as an example of programming that works. But often, the park doesn't work well, he said.
"When you have people drinking, doing drugs, defecating and urinating near buildings or harassing someone trying to eat lunch, it's a detriment to the area," he added.
Teeter said Liberty Plaza has had cycles of criminal activities over the years, giving the place a reputation as a hangout for vagrants that may drive other residents away. But, those who use it have cultivated their own community. Many who regularly visit the park play chess, loan money to each other and engage in lively discussions.
Roughly 20 people milled about Liberty Plaza on a recent afternoon and nearly all of them greeted each other with smiles, handshakes and warm words. Some were quietly eating their lunch in the early afternoon sunshine while others skateboarded around benches and trees. The scene was a far cry from Teeter's worst-case scenario of people being driven away by unruly park users.
"People down here are cool, man," said Jacob Dorsten, a homeless man hanging out in the park. "I've never seen any trouble here."
A problem of design
The park was built at the same time as 330 E. Liberty St., starting in 1977. The building and park were both owned by the First Martin Corporation, which donated the park to the city but continues to clean the area, trim the trees and do other maintenance work.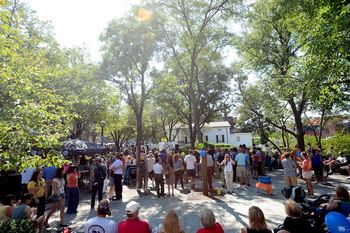 Melanie Maxwell | AnnArbor.com
The two-tiered nature of the plaza, with a seating area five steps below street level and another smaller area, and the bushes that used to line the edges immediately attracted behavior that could be hidden from police view.
Mayor John Hieftje said he took an interest in the park back in 2001, when he started eating lunch there every Monday. Hieftje emphasized the park's importance to then-police Chief Dan Oates and the Ann Arbor police made a number of arrests for drug sales in the area, helping to clear out a criminal element. New benches were put in, the bushes were cleared away and the park improved, Hieftje said.
Recently, however, the amount of illegal activity has been on the rise again, police say. They've been called to the park to deal with arguments and public drunkenness. One woman was accused of threatening a man with a knife.
Hieftje admits there's much more work to be done. "The place has really come a long way, but it's not where I'd like it to be," he said.
Hieftje sees a potential redesign of the park as one way to limit illegal activities in Liberty Plaza.
The lack of foot traffic generators around Liberty Plaza has long been a problem, Hieftje said. A newsstand and the Pan Tree restaurant that were in the First Martin building used to generate activity, but those have since gone away.
However, with the new underground Library Lane parking structure, which opened on Fifth Avenue nearby this summer, more people will walk through Liberty Plaza to get to the Liberty Street and the State Street area, Hieftje said. He pictures the parking garage as one of the new sparks leading to more foot traffic in the area, which could create an influx of new life into Liberty Plaza.
Among changes being considered are filling in the sunken areas so that the park is all on street level, Hieftje said. A specific timeline hasn't been developed yet for construction, but Hieftje said he would like to have a concept in the works by the spring of 2013.
"Urban parks need to be visible," he said. "We need eyes on the park."
One park user's story
Jacob Dorsten estimated he's hung out in Liberty Plaza 20 to 25 times during his time in Ann Arbor. He came to the city from Detroit because Ann Arbor was the closest place with a homeless shelter and provided him with safety, he said.
He's been all over the country, selling magazines door-to-door to make a few dollars and now mostly panhandling. He said he's honest about what he wants money for.
"When I was beginning, people would try and buy me food," he said, laughing. "I would be like … I want alcohol."
On a recent afternoon, he poured his pint of vodka into a water bottle when he saw an Ann Arbor police officer walk across Division Street. He's well practiced in the art of hiding his drinking from police, he said, having developed an addiction to alcohol during the last five years of his life when he said he started drinking to deal with life on the streets.
Dorsten shook hands and greeted numerous people while sitting in Liberty Plaza, chatting with them about their lives and the weather. He said there's a definite sense of community among the people who frequent Liberty Plaza.
He said his path to homelessness began five years ago when he was living in Ecorse and working at a local McDonald's. Dorsten said he was beaten by three men during a robbery and remembers being kicked in the face roughly 50 times before being lifted up.
"I thought they were going to let me go. One dude held me up and another guy pulled out a blade," he said.
Dorsten's left cheek still bears the scar that the knife left from his ear to the side of his mouth.
When he showed up to work a few days later, after being treated at a local hospital, Dorsten said he was fired because he didn't call in to tell his bosses he would miss a shift. He sold as many of his possessions as he could to pay for another month's rent and, when that ran out, he started driving south. Eventually, his car broke down in Atlanta and he sold what he could for scrap metal. He's been homeless since, moving from place to place before ending up in Detroit and then Ann Arbor.
Ann Arbor isn't his favorite city that he's stayed in during the last five years — that would be Los Angeles — but he's enjoyed his time here. The people here are friendly, he says, and he doesn't have to worry about people suddenly robbing him after putting on a friendly face. Despite the fact that he mentioned the social services in Ann Arbor as a reason for coming here, he hasn't sought treatment for his alcoholism yet.
"It's so hard to get into rehab," he said. "It's hard just to get in the shelter. A lot of transient people come because it's a college town and it's safe and that's why I came here."
He won't be here for long, though. The leaves on the trees are starting to change colors and the temperatures at night are starting to dip. Dorsten knows winter is on its way.
When asked what he's going to do, he simply says, "I'm goin' down south. Winter's coming."
Policing the plaza
Ann Arbor police officers are a regular fixture at Liberty Plaza. It's not unusual to see a police car parked on Division or Liberty or an officer walking through the area just to check out what's going on.
Ann Arbor police Chief John Seto said officers mostly respond to arguments or reports of intoxicated people in the park. There's no specific strategy to police Liberty Plaza that's different from other places in the city, but officers do pay extra attention to the park.
"We respond to calls for service like any other park or location," he said, "but, in addition, we dedicate time to do extra patrols in the park."
Seto said city parks regularly go through cycles of crime, some more severe than others. Currently, Liberty Plaza is going through a period when police feel there is a bigger need for their presence.
Teeter wants to see an even bigger police presence in the plaza and says the city as a whole needs to stop tolerating the behavior that goes on there.
"Police presence will resolve the issue," he said. "And, you don't tolerate people being drunk and doing drugs in public and defecating and urinating in the park."
The official hours of the park, as marked on multiple signs , are from 7 a.m. to 10 p.m. and it's quite obvious from other signs that alcohol is banned in the park. One sign reading "Alcohol is prohibited in the park" has a spray painted line underneath the word "prohibited" — perhaps a vandal's failed attempt to cross it out.
Seto said the department has worked to increase presence in the park — Hieftje pointed toward more police on bicycles and more foot patrols in 2012 as proof — and assured residents the park is an area the department emphasizes to its patrol officers.
"We have increased our presence through patrols, as we have in other parts of the city depending on the situation that's occurring or the time of day," he said. "We're doing extra patrols and telling people that's where we need to pay more attention."
In February, police forced the removal of the last tents from the Occupy Ann Arbor movement. Tents being used by — one man, who said a month earlier he was no longer associated with the Occupy movement — were torn down and the man was forced to leave the park.
Last month, a 40-year-old woman was arrested in the park, accused of pulling a knife on a man who was throwing coins at her.
The redesign of the park excites Seto and he said police are eager to lend their voices to the process. He said there haven't been any meetings for him to make suggestions on how the park should be laid out to make it safer, but he's looking forward to being included in that process.
"I would be eager to contribute input from the police standpoint," he said. "We have suggestions about how to make the park more user friendly for all people to use that park during all times of the day."
Part of that change might come from the redesign, but Teeter firmly believes a change in attitude toward the park is necessary as well.
Liberty Plaza might have a reputation as a place where vagrants and drug and alcohol users hang out but that shouldn't just be accepted by the general population, he said.
"This is not a homeless problem," he said. "This is a problem with us tolerating that behavior."
Editor's note: Below is a short video showing the park in relation to the street and nearby businesses.
Kyle Feldscher covers cops and courts for AnnArbor.com. He can be reached at kylefeldscher@annarbor.com or you can follow him on Twitter.