Posted on
Mon, Jun 18, 2012 : 5:58 a.m.
Library Green group: Ann Arbor has unique opportunity to create a downtown central park
By Ryan J. Stanton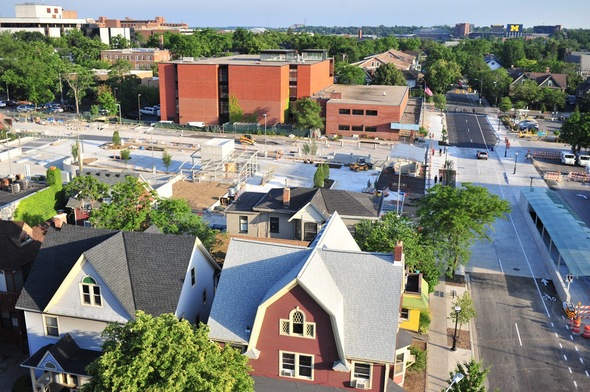 Ryan J. Stanton | AnnArbor.com
As construction of a
new underground parking garage
in downtown Ann Arbor inches closer to completion, the long-running debate over what goes on top is picking up again.
But at least for the foreseeable future, a surface parking lot — a vast sea of concrete — will stand atop the 700-space garage that extends four stories below ground.
The residents rallying behind the vision for a "Library Green" call that wasted space, and they're speaking out in full force.
"We're really trying to help the city not miss an opportunity," said Will Hathaway, a spokesman for the Library Green group. "They've built this remarkable underground parking structure there. It just seems like such a waste to put surface parking back on top of it."
Hathaway said the city has a unique opportunity to create something amazing and attractive right in the middle of downtown.
"There were proposals for a park on the Library Lot, but these were dismissed because it was claimed that they wouldn't create economic benefits for the city," he recalled. "But other cities have created spaces that have generated economic development."
The idea for a downtown central park — a large green space in the heart of the city — was first put forward by residents Alice Ralph and Alan Haber in 2009.
Their idea ultimately was rejected by city officials, who argued the so-called Library Lot is a prime piece of real estate that's fit for a large vertical development of some kind.
The city-owned site is located on the east side of Fifth Avenue, between Liberty and William, immediately north of the downtown library.
For a while, city officials seriously considered a private developer's proposal for a hotel and conference center, but that ultimately was rejected by the City Council.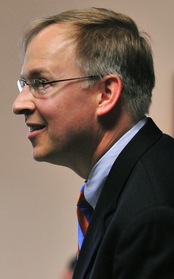 Hathaway recently gave a presentation on his group's vision at a Downtown Development Authority meeting, but he was criticized by DDA officials afterwards.
They mostly took issue with his comparison of Ann Arbor to larger cities that have downtown parks, and disagreed that Ann Arbor's downtown lacks green space.
Hathaway pointed to Campus Martius Park in Detroit, Post Office Square in Boston, the High Line in New York City, Millennium Park in Chicago and Discovery Green in Houston as examples of public plazas that work in an urban setting.
"Campus Martius is a thriving part of the center of Detroit with many outdoor performances. In the winter, there's skating," he said. "Post Office Square was built on top of underground parking in the center of Boston. The High Line is built on top of an abandoned rail line in New York City. All these parks generate economic benefits through placemaking."
Mayor John Hieftje and Council Member Sandi Smith, D-1st Ward, both serve on the DDA's governing board and called the Library Green group's presentation disingenuous.
"They're showing something in Detroit, Houston and New York City," Smith said. "And with each one of these, what you could kind of see at the edge of the pictures are very large buildings, and those all provide activators for these spaces. They provide eyes on the park and people who want to go and use that. We don't have that in downtown Ann Arbor."
Smith said what the Library Green group portrays is "just not possible on that block" due to a lack of density. She said Ann Arbor doesn't even have 5,000 people living downtown.
"We don't have the density of people," she said. "And we don't, in that particular block, have an opportunity for density to occur without new building, primarily because 90 percent of the surrounding properties are historic districts, so they will not be redeveloped."
There's a core group of about 20 people who are active in the Library Green discussions, and the group's overall membership totals about 80, Hathaway said.
Examples of attractive outdoor features that could be ideas for the Library Green, Hathaway said, include outdoor ice skating, interactive sculptures, and a place for live music.
"Sculpture Plaza in the Kerrytown area is an open space that relates to nearby businesses," he said. "The Library Green would do the same thing."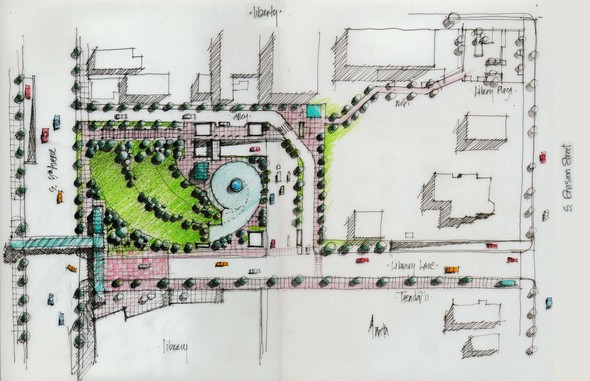 Illustration by Stephan Trendov
Members of the Library Green group are inviting the entire community to come join them at the site of the new underground garage on July 14 — two days after city officials celebrate its grand opening — for a gathering to talk about the vision for a large central park.
Hathaway said it will be sort of a block party or community picnic, lasting from noon to 5 p.m., with live music and other family-oriented entertainment.
"We're inviting the entire community to come and join us for an afternoon of celebration for the end of the construction, celebration of the businesses nearby that have endured all the turmoil during the past couple of years, and an opportunity to envision what a park or a plaza on this site might look like," he said. "The choice is a park or a parking lot."
In search of a town square
A 92-page report by consultants from Calthorpe Associates in 2006 recommended strategies the city could take in regard to downtown development. It encouraged the city to pursue and design a town square or central civic area that incorporates an outdoor meeting place, an art center, underground parking, an indoor facility and mixed-use buildings.
The report suggested the city consider using the Library Lot to achieve that vision with a combination of civic uses, including an outdoor amphitheater as well as mixed-use retail and office with upper-floor residential to add pedestrian activity and safety.
Hathaway said Ann Arbor used to have a town square in the form of a lawn at the old county courthouse before it was torn down, but that was decades ago.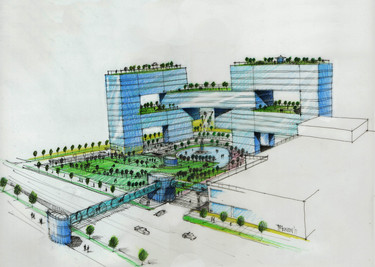 Illustration by Stephan Trendov
Embracing the Library Green vision, Ann Arbor architect
Stephan Trendov
has sketched a set of conceptual illustrations, including one inviting people to imagine what the Library Lot might look like with both a large park and a 13-story building — including office, residential and retail uses — sharing the site.
"If our ancestors were to come back here, they'd need to see some recognizable signs of the nature that was there that belongs to them," Trendov said, expressing hope for more green space downtown. "We've eradicated that. With that, we eradicate part of our history."
Hathaway said Liberty Plaza — a sunken, mostly concrete, pocket park at the corner of Liberty and Division — is the only true park in the downtown. Creating a pedestrian link between Liberty Plaza and the envisioned Library Green, he said, could be Ann Arbor's new "Downtown Diag."
Hieftje argues there's no shortage of green space in downtown Ann Arbor, and one example of that is the Diag on the University of Michigan's Central Campus.
"I'm downtown almost every day and I'm really puzzled why you wouldn't consider the Diag, which has families there playing frisbee, as a park that's available to everyone," he said. "It's populated by the people of Ann Arbor. It's populated by families having picnics on blankets."
He said Ingalls Mall looks similar during the Summer Festival.
"We'll see families spread out on blankets on University of Michigan parkland all the way to the fountain, and young people talking and throwing frisbees, having a great time, with bands playing right there," he said.
Hieftje also pointed to the green space next to U-M's newest residence hall on Washington Street just east of State Street.
"Go over there and have lunch," he said. "Sit down on a bench and read a book sometime and try to think that it's not a park. It's a very nice green space in downtown Ann Arbor."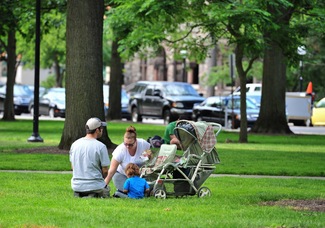 Ryan J. Stanton | AnnArbor.com
Hieftje said it's always been the plan that whatever is built on the Library Lot still would include some form of green space.
"And I hope to see a park there," he said. "I think the conversation right now is about the size of the park there and how it would be paid for."
Hathaway said he thinks the mayor and others are stretching the definition of downtown parks to include things most people wouldn't think of as being parks.
"The Diag is a wonderful resource, but it's the university's. It's not the city's," he said. "And it's not located downtown really. Most people think of the campus as separate territory."
Hathaway said it's also nice that events like the Summer Festival, which started Friday, can turn Ingalls Mall on U-M's campus into a community park. But he said it's not the same has having a town square in the center of the city.
Ann Arbor DDA officials have invited members of the Library Green group to participate in the city's Connecting William Street initiative, which is focused on coming up with redevelopment ideas for the Library Lot and four other city-owned properties in the area.
Ann Arbor officials also are in the early stages of planning a redesign of Liberty Plaza. Hieftje and Council Member Sabra Briere recently toured the site with city park officials.
"We hope to make improvements to Liberty Plaza to improve that park," Hieftje said. "And Liberty Plaza has come a long ways, and people should give it a fair shake. It's really looking pretty good right now. It's well-maintained thanks to First Martin."
Hieftje noted the city also is working on plans to transform two blighted properties near downtown — 415 W. Washington and 721 N. Main — into green spaces.
"We're applying for Natural Resources Trust Fund grants at 721 N. Main," he said. "And I've continued to work with the Greenway Conservancy, along with Council Member Margie Teall, on the 415 land, and so we've got a real effort there.
"Those are city-owned properties we have to do something with," he added. "They're in the floodway and really parks are the best use for them."
Hieftje also made note of the polluted MichCon site that abuts the Huron River just north of downtown. DTE Energy is working to clean up part of the site so it can become a park.
"That's a property the city has wanted for many years," Hieftje said. "So there's kind of a lineup of new park proposals and we have to figure out how that's going to all work in, and how it can be afforded without stressing the parks budget."
Ryan J. Stanton covers government and politics for AnnArbor.com. Reach him at ryanstanton@annarbor.com or 734-623-2529. You also can follow him on Twitter or subscribe to AnnArbor.com's email newsletters.