Posted on
Tue, Feb 1, 2011 : 3:17 p.m.
Ann Arbor area emergency responders prepare for blizzard; businesses advised to close if services aren't essential
By Cindy Heflin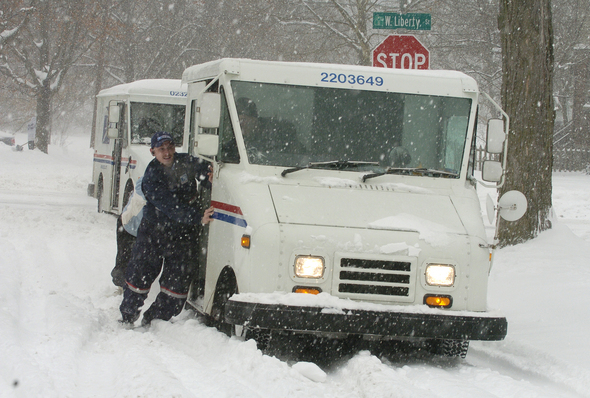 File photo
As a dangerous winter storm set its sights on the Ann Arbor area, emergency personnel are urging Washtenaw County residents to stay home tonight and Wednesday and advising businesses to close unless they provide a service that's critical to the community.
"Our advice for tonight and tomorrow is to close unless it is essential that they remain open. It's safer for their employees; it's safer for their customers; it's safer for the community," said Marc Breckenridge, director of the county's Emergency Operations Division.
The blizzard conditions are expected to include 10 to 15 inches of snow falling at a rate of 1-3 inches per hour, winds of 35 miles per hour and temperatures in the teens with wind-chill values near zero. That constitutes "a pretty serious forecast," he said.
The Emergency Management Division is responsible for monitoring conditions and developing and coordinating community response to emergencies. Breckenridge said the center will be manned 24 hours a day starting at about midnight tonight until the storm is over and residents are safe.
If residents stay off the roads so emergency responders don't have to deal with stranded motorists, their biggest worry becomes dealing with potential power outages caused by the storm, Breckenridge said.
"Young and middle-aged people can survive cold weather very well," he said, "but the very young and very old cannot."
Storms and power outages can also be challenging for low-income residents, he said.
Though DTE Energy said today it was not anticipating widespread power outages as a result of the storm, Breckenridge said the combination of wind, snow and cold temperatures could stress power lines.
The agency will work with the Washtenaw County Red Cross to set up warming centers if they are needed, Breckenridge said.
Hospitals and health services were also making plans today to deal with the storm.
Joyce Williams, Huron Valley Ambulance spokeswoman, said employees are on standby and dispatch will have additional staff on tonight.
Williams said administrative staff members will have the option to take personal days, work from home or have flexible hours Wednesday and possibly Thursday.
"We don't want employees driving their personal cars to come into work — it's just not worth it," she said.
The University of Michigan Hospital, C.S. Mott Children's Hospital and Von Voigtlander Women's Hospital will remain open — as will U-M's adult, pediatric and psychiatric emergency services, the Cardiovascular and Cancer Centers, and the Kellogg Eye Center.

Outpatient centers in Ann Arbor, Brighton, Canton, Chelsea, Dexter, Howell, Livonia, Saline and Ypsilanti also will remain open, U-M said in a press release.

According to the release, many employees are making special arrangements to be in-house or near the medical campus this evening and Wednesday to serve patient needs.
"We are preparing to provide accommodations (cots) and food to staff who serve extra hours due to the storm, and if needed, emergency transportation for essential staff who live in the immediate area," according to the release.

Patients with a scheduled appointment, procedure or operation for Wednesday should let the U-M Hospital know as soon as possible if they wish to cancel and reschedule, the release said.
At St. Joseph Mercy Hospital in Superior Township, officials have plans in place and are confident they will have enough staff to operate normally, said Pam Misener, direct of support services for the hospital and the incident commander when there is a disaster.
Some staff members are planning to stay at the hospital tonight so they won't have to drive in in the morning, she said.
"We've got staff who have called us today and said 'I work days, and I think it would be better if I could just find a place to stay at the hospital tonight.' So we're looking for empty beds we can give to staff," she said. "We have more staff asking us than we have beds."
The hospital is assigning sleeping rooms to various departments, she said, such as nursing, food service and pharmacy.
Misener said she is ready to meet the challenge posed by the storm and is eager to fill in where needed. "I actually find it kind of fun to work on these days," she said. "This is the time I get to bring my tennis shoes in ... and do whatever they tell me to do."
Meanwhile, area fire departments were also watching the storm.
Robert Vogel, battalion chief for the Ann Arbor Fire Department, said officials were monitoring the weather and had made plans to put an additional truck with three firefighters in service if needed. Firefighters are most worried about any problems that might be caused by downed wires, he said.
Mostly, however, fire officials were taking a wait-and-see approach, he said.
"I don't know," he said when asked whether he was worried about the storm. "You just never know. It could be real bad."
Ann Arbor Township Fire Chief Rick Ericson said as a precaution, the department will be double staffed through noon Wednesday.
"We're doing extra staffing ... just in case something actually happens," Ericson said.
But in Ypsilanti, Fire Capt. Michelle Stanbury said the department isn't taking any special steps to prepare for the possible storm.
"No extra staff on tonight," she said, adding that the department picked up extra salt and fuel for a snow blower.
Check AnnArbor.com for continued updates throughout the storm.
AnnArbor.com's Heather Lockwood contributed to this report. Contact Cindy Heflin at cindyheflin@annarbor.com.