Posted on
Fri, Sep 7, 2012 : 5:59 a.m.
As animal control service study nears end, Humane Society says cuts cannot keep coming
By Amy Biolchini
As months of policy and procedural discussions on the future of animal control services in Washtenaw County draw closer to the end of the county's contract with the Humane Society of Huron Valley, the organization is sending a clear message to county officials.
At the end of a working session of the county Board of Commissioners Thursday night, when commissioners received a preliminary update from the task force on animal control, Mark Heusel, vice president of the Humane Society's board, made a statement.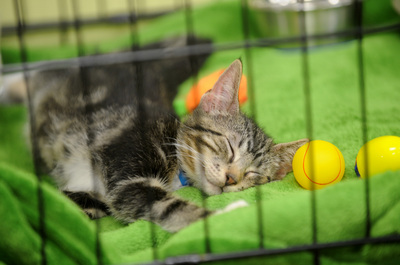 Melanie Maxwell I AnnArbor.com
"I think it's important for you all to know that the reason why we've accepted the cuts that we have over the years … is because we feel committed to the community. But make no mistake, we can't continue to do that forever," he said.
The county has contracted with the Humane Society for 47 years to provide state-mandated services for dogs. At the end of the county's 2011 contract with the Humane Society for $500,000, county officials re-evaluated their budget and proposed cutting their allocation in half to the organization — but the Humane Society board balked at the low figure.
The two parties worked out a deal for a $415,000 contract to run animal operations for 2012, but the county wanted a better way to evaluate how much it should be paying for the service in the future.
A task force led by the county sheriff was charged with determining the costs of the services provided in the current contract the county has with the Humane Society, while a policy work group led by Commissioner Conan Smith was charged with making a policy recommendation to the county board.
Thursday night, Smith presented three different options to the commissioners to gauge their reactions before final recommendations are made to the board by an October deadline. Present were Commissioners Dan Smith, Alicia Ping, Wesley Prater, Felicia Brabec, Yousef Rabhi and Rob Turner.
The first plan would provide the most minimal services that are required by law:
Dog and kennel licensing
Holding unlicensed stray dogs for a period of four business days and licensed stray dogs for seven business days
Holding dogs, cats or ferrets suspected of rabies for up to 11 calendar days
Holding dogs involved in cruelty investigations until a judgment is reached
Euthanizing animals showing symptoms of rabies and at the end of a holding period
Conducting only the basic, essential animal cruelty investigations
Medical care to manage only basic symptoms
A second plan, which Conan Smith called "optimal," would mainly add holding services for cats, as well as the following:
Door-to-door dog census
Enforcement of dog and kennel licensing, possibly through the implementation of a future civil infractions ordinance
A two-week holding period for all animals
Educational services and follow-ups in cruelty investigations
A third plan would include all of the services of the previous two plans, plus more:
Cat and exotic pet licensing
A requirement for a microchip in animals kept as pets
The holding of all animals until recovered or adopted
Commissioners Ping and Brabec expressed concern about the feasibility of licensing cats, especially in rural areas where farms have many cats running wild on their property.
There were few policy recommendations by the board members present Thursday night, but they asked many clarifying questions.

The Humane Society housed 1,418 dogs in 2011, which resulted in hard costs of $317,632. Also in 2011, the organization housed 1,638 cats, which equaled hard costs of $366,912.
The Humane Society currently accepts cats and other pets, has no holding limits and provide an educational form of cruelty investigations. Much of the organization's efforts are made possible even with its decreased budget because of an extensive volunteer program.
Coupled with other in-kind contributions, the county is receiving approximately $1 million worth of free services from the organization, it says
"The HSHV is a good deal," Turner said.
The Humane Society's mission and core values have gone above the state-mandated levels of services, making it an award-winning organization with an 85 percent save rate — the highest in the state of Michigan.
County officials have been using Oakland County's $2.8 million budgeted animal control program as a model. However, the save rate of that shelter is 50 percent, said Jenny Paillon, director of operations for the Humane Society of Huron Valley.
When it comes to the county's dog licensing program, the purpose is to ensure there is a record of the animal so law enforcement knows if a dog has had its rabies shot as a matter of public health and safety.
County officials state about 11 percent of the dogs in the county currently are licensed, according to metrics used to calculate the amount of dogs per capita.
When county commissioners began discussing impacts of licensing more of the county's dogs, the talks turned to using the license fees as a revenue stream.
Currently, about 4,000 to 5,000 purchases of a $12 annual dog license and $36 three-year dog license bring in about $52,800 for the county per year. Should enforcement be increased to 18 percent compliance, revenue could be increased to $84,780; an increase to 55 percent compliance would mean revenue of $259,044 — a move Conan Smith said could be a good future funding option for animal control services.
"I would have no problem with increasing compliance, but I am not in favor of adding burdens to pet owners," Commissioner Dan Smith said.
Countywide dog licensing options were also discussed.
About 65 percent of the stray dogs picked up and housed in the Humane Society come from municipalities that have their own dog license ordinance: Ann Arbor, Ypsilanti, Ypsilanti Township, Pittsfield Township and Superior Township.
The revenue from the licensing programs in those municipalities stays within their local governments, but the county has to foot the bill when dogs from their municipalities wander or are housed during cruelty investigations — something commissioners are adamant about fixing.
The municipalities should have to pay for the animals — at least in part, according to Commissioner Sizemore.
Because of the Humane Society's award-winning work and cost efficiency through in-kind services, Conan Smith made a strong case for doing away with a request for proposals process for animal control services before the contract with the Humane Society is up Dec. 31.
"The value we receive from the Humane Society for this service is quite extraordinary," Conan Smith said. "Our best bet is not an RFP, but to do negotiations with the Humane Society."
Washtenaw County Sheriff Jerry Clayton cautioned the commissioners Thursday that switching to another agency for animal control would disrupt the continuity of services currently in place. Submitting an RFP as a due diligence measure "makes sense," Clayton said, but stated time is getting tight.
However, due to the wording of the resolution that created both task forces, Commissioners Prater and Rabhi advised that a request for proposals process should be followed.
The animal control task force next meets 3 p.m. Sept 13 in the downstairs conference room of 200 North Main St. in Ann Arbor. The task force is required to submit a recommendation to the board by Oct. 15.
Amy Biolchini covers Washtenaw County, health and environmental issues for AnnArbor.com. Reach her at (734) 623-2552, amybiolchini@annarbor.com or on Twitter.