Posted on
Thu, Apr 1, 2010 : 10:15 p.m.
ATF records check triggered Hutaree anger, email shows
By Lee Higgins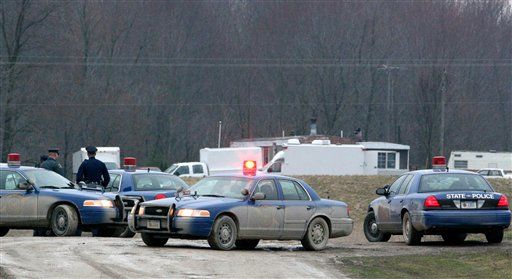 Madalyn Ruggiero | The Associated Press
A message sent 16 months ago from a Hutaree email address called upon militia members to fight the ATF - the same day the bureau's agents say they conducted a routine gun check in Lenawee County.
That email, obtained by AnnArbor.com, was sent on Dec. 8, 2008 after two ATF inspectors conducted a records check at the business of a federal firearms licensee.
The gun check kicked off the federal investigation into Hutaree, a Christian-oriented militia group prosecutors say is an anti-government extremist organization. Among other allegations, the nine members under indictment are accused of plotting to kill law enforcement officers and wage war in Washtenaw County.
The December 2008 email was read in federal court Wednesday, and prosecutors say it was sent by Hutaree leader David Brian Stone.
The email had the subject heading, ""FLASH,,FLASH,,ATF enforcers," and was sent to about 50 recipients, the email shows.
"OK,,here we go,,looks like the ATF enforcers are looking for a reason to start a firefight,,and WE WILL answer the call,,ALL Hutaree members, contact me immediatly!!!!!!!!!!!!!!!!"
ATF Special Agent Donald Dawkins, a bureau spokesman in Detroit, said the email was apparently in response to the records check. Dawkins declined to identify the business that was inspected, citing the ongoing investigation.
Dawkins said it's been alleged there may be a link between the licensee and Stone. He called it a routine ATF inspection, with no search warrants, no arrests warrants, and no agents backing inspectors up.
"We were out in the area doing checks, gun checks," he said. "There was no aggression shown. Nothing from ATF."
The son of the gun dealer was arrested about a month after the records check, prosecutors said in court Wednesday. Hutaree members made an offer to break him out of jail, but it was declined, prosecutors alleged.
According to Dawkins, other law enforcement agencies were notified about the threats contained in the Dec. 8, 2008 email. He did not know whether the Washtenaw County Sheriff's Department was among them.
The email address the threat was sent from is the same one AnnArbor.com used to send an email requesting a media interview on Feb. 23, 2010. The email address was obtained off the Hutaree Web site.
At the time, AnnArbor.com was researching a story about how a Bridgewater Township official twiced contacted local militia members for help this year to search for missing township residents. Hutaree had at least one member present at both of the searches.
The emailed threat showed Hutaree was not a stable group, said Michael Lackomar, a spokesman for the Southeast Michigan Volunteer Militia who received the email.
"We knew at the time that they were jumpy," said Lackomar. "We knew they seemed to be posturing themselves for a fight. The punctuation of the email struck me as a little odd. It struck me as someone who was being more emotional than logical."
Asked why he was on Hutaree's email list, Lackomar said his group trained with Hutaree in the past. He once emailed Hutaree to thank members for training with his group, he said.
Lackomar said he thought Hutaree was taking it too far.
"It told me that they had an alarmist attitude," he said. "That they overreacted in this situation and pretty much any alerts or requests they made should be dismissed as paranoid."
Ronald Gaydosh, the former commander of the Michigan Militia Corps Wolverines, was among those listed as a recipient of the email. Gaydosh, who has known Stone for 15 years, doesn't recall seeing the email, but wouldn't have thought much of it, he said.
"He was just shooting his mouth off," Gaydosh said. "I just don't think most people would take it seriously...He thought maybe they were coming after them and he wanted to notify everybody."
Prosecutors also discussed a message in court Wednesday they say was posted the day of the records check on a militia discussion board by defendant Joshua Clough, who also is known as "Azuurlin."
"ATF agents were at our local FFL today looking for all paperwork specifically relating to our commander," the message says. "We have and will return fire, the question is, will you?"
Dawkins, the ATF agent, said it's not uncommon for people to make threats to the agency because it investigates violent criminals.
"We just put it in our memory bank," he said. "We're not trying to violate anyone's rights. We're out there carrying on our business."
Lee Higgins is a reporter for AnnArbor.com. He can be reached by email at leehiggins@annarbor.com or by phone at (734) 623-2527.