Posted on
Thu, Apr 1, 2010 : 6:05 a.m.
Prosecutors say Hutaree militia plotted to take over Washtenaw, 2 other counties
By David Jesse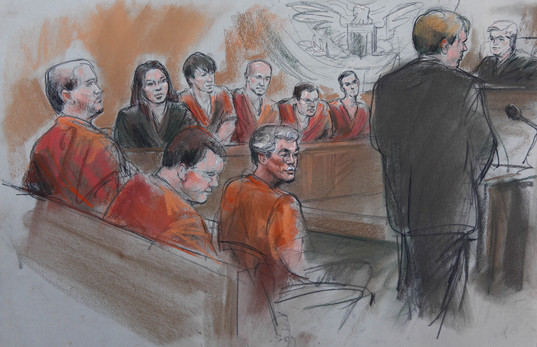 AP Photo | Carole Kabrin
DETROIT -- As part of their plan to overthrow the U.S. government, members of the Hutaree militia group wanted to take over three Michigan counties - including Washtenaw - and force federal authorities to wage war there, prosecutors alleged in court Wednesday afternoon.
In a detention hearing lasting nearly four hours, federal prosecutors painted the eight members of the Hutaree militia as moving closer and closer to that war, including stockpiling weapons, food, medical supplies and explosive devices at various points in southeastern Michigan.
The hearing in U.S. District Court in Detroit was adjourned late Wednesday before settling any issues of bond. It was due to reopen at 1 p.m. today.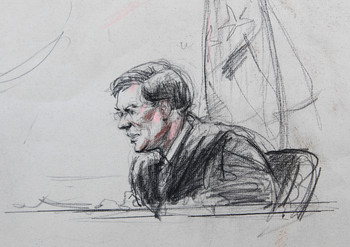 AP Photo | Carole Kabrin
On Wednesday, prosecutors sketched out the group's organization and walked the court through a series of meetings and trainings the group held in 2009 and 2010, many of which were attended by an undercover agent.
They also played a recording of group leader David Brian Stone Sr. of Clayton addressing other Hutaree members on a trip on Feb. 6.
"Now is the time to strike and take back our nation. The government should fear the people. They forget they live in our neighborhoods. We are everywhere."
Defense attorneys said the government can't prove the accused militia members committed any crimes and said they aren't flight risks.
"He has no capital. He has no resources. He has no connection with family or friends outside the eastern district of Michigan," Bill Swor, said of his client David Brian Stone Sr.. "He has no criminal history.
"What we heard today was that Mr. Stone talks a lot … that's he angry … that Mr. Stone thinks there's a lot wrong politically.
"There's still a First Amendment and the right of free speech. He talked. He trained. He didn't do anything with that training. There is no risk to the public in general. There is no risk to any person in particular."
Nine suspected members of Hutaree, self-proclaimed "Christian warriors" who trained themselves in paramilitary techniques in preparation for a battle against the Antichrist, were arrested after a series of raids across the Midwest.
All have been charged with seditious conspiracy, or plotting to levy war against the United States.
Eight of them were arraigned Wednesday in Detroit.
U.S. District Court Magistrate Judge Donald A. Scheer entered not guilty pleas on behalf of seven of them, who stood mute to the charges, including David Brian Stone Sr .
Stone's eldest son, 21-year-old Joshua Matthew Stone, was the only one who spoke up. He pleaded not guilty.
The ninth suspect appeared in court in Indiana but no plea was entered.
The investigation into the group began in December 2008, following an investigation by the ATF into a southeastern Michigan firearms dealer.
According to Assistant U.S. Attorney Ronald Waterstreet, as that investigation was ongoing, a member of the Hutaree, Joshua Clough of Blissfield, posted a message on a Web site saying that the Hutaree was ready "for war" over the investigation.
After the son of the gun dealer was arrested, the Hutaree offered to break him out of jail, prosecutors said. That offer was declined.
Over the next several months, the group stepped up its training to conduct its war against the federal government, prosecutors said.
They said the Hutaree believed a "new world order" was taking over the United States and a group of so-called elitists, including many from outside the United States, were running the United States.
They saw federal, state and local law enforcement officers as the foot soldiers of that group, and referred to them as the Brotherhood, prosecutors said. They saw the Brotherhood as their enemy and plotted ways to kill them.
That included making videos posted to YouTube showing the group "killing" blue-helmeted law enforcement and soldiers meant to represent the United Nations, prosecutors said.
"At the end of the video, the U.N flag is set ablaze on a flag pole," Waterstreet said. "Rather than raising a U.S. flag, they raise their (Hutaree) flag."
They often talked about building explosive devices, including some that would explode upwards until they were about waist high and then explode again, sending shrapnel 360 degrees, killing as many people as possible. They also worked to turn street signs into explosive projectile devices capable of penetrating armored vehicles, Waterstreet alleged.
In June of 2009, at the training, attended by the undercover agent, the group talked about "getting rid of the entire judicial system and all involved needed to die," Waterstreet said.
A couple of months later, David Brian Stone Sr. allegedly told the undercover agent that there were 650,000 members of the Brotherhood in the United States and that Stone thought he could get that number down to 150,000 quickly, through mass killings and also through fear, forcing many to quit.
The goal was to drive law enforcement into the cities only, then lure them out to the country with fake 9-1-1 calls and then kill them, the government alleged. They also said wives and children of law enforcement members were targets as well.
They also discussed plans to kill one law enforcement officer and then to blow up more in the following funeral procession, Waterstreet said
In mid-September, 2009, Stone allegedly said his plan was to take over Washtenaw, Lenawee and Hillsdale counties and force federal authorities to fight him there. The group also decided on various rally points they could fight from.
As early as January 2010, Stone told his group, which was divided up into two nine-man squads, that "a real operation was coming in April," Waterstreet said.
In mid-January Stone floated the idea of a summit of various militia groups in Kentucky to talk about how they could support each other in the coming war.
Members of the Hutaree, including the undercover agent, tried to drive to that summit in February, but bad weather forced them to turn around.
On the way back, Stone delivered a speech to his group while they drove in a van that he planned to give at the summit.
It was that speech that the agent recorded, Waterstreet said.
Training continued, until March 27, when federal authorities raided a memorial service being held in Ann Arbor and arrested several members of the group.
Those arrested on the 27th were Stone, Clough, David Brian Stone Jr, Jacob Ward, Tina Stone, Michael Meeks of Manchester, Kristopher Sickles and Thomas Piatek.
Joshua Stone, the oldest son, of leader David Stone Sr., was not arrested in that raid. When became aware he was wanted, he ran to a preplanned rally point in Hillsdale, where he was eventually surrounded by police and taken into custody.
But his attorney, James Thomas, said he ran out of fear of the government, not part of some plan to start fighting the government.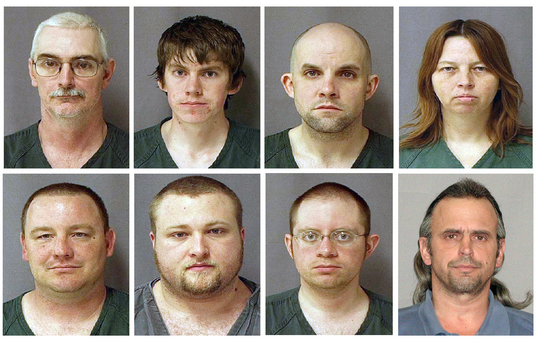 AP Photo | U.S. Marshall
Prosecutors said each members charged had clear roles within the organization.
David Brian Stone Sr. was the leader. Joshua Stone was the second in command and was the leader of one of two nine-man squads along with his father. David Brian Stone Jr. helped with the training, including often running the opposition force the group trained against and did various detonation work. Tina Stone was in charge of the communications, both between group members and with members of other militias. Sickle was a member of the Ohio militia and helped lead training. Clough was the information officer, responsible for maintaining the website, making training and recruiting videos and worked with explosives; Piatek and Meeks were both "heavy gunners" of the organization. Ward was also a member of the Ohio militia and "an active member" of Hutaree, Waterstreet said.
Defense attorney repeatedly objected to Waterstreet' presentation. He did not call any witnesses, but instead presented a summary of the evidence.
"My concern is that everything you've heard has been a summary through the eyes of the government," Swor told the judge. "There have been no facts. There has been no opportunity to confront the undercover agent."
During the hearing, the defendants sat beside their attorneys. Stone Sr. sat at the main defense table with Swor. The other seven sat behind him in a big L along the walls of the court well. The male defendants all wore orange St. Clair County jumpsuits. Tina Stone wore a green jumpsuit. All had shackles around their legs.
Throughout the hearing they read along with the charges, and often shook their heads no during Waterstreet's speech. They also whispered frequently to their attorneys.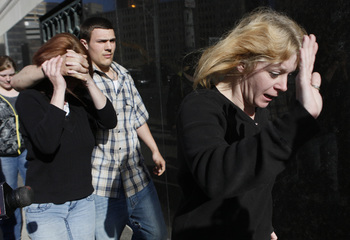 AP Photo | Paul Sancya
Several members of their families were in attendance at the hearing, staring straight ahead through most of the afternoon.
David Stone Sr.'s ex-wife, Donna Stone, left the hearing with Shannon Witt, who recently married Joshua Stone, and Brittany Bryant, David Stone Jr.'s fiancée.
They declined to comment.
Waterstreet said the charges "aren't about a religion or the militia. It's a group of like-minded people who decided to oppose authority and the United States by using weapons and force."
AnnArbor.com reporter David Jesse can be reached at davidjesse@annarbor.com or at 734-623-2534.