Posted on
Thu, Apr 8, 2010 : 6:02 a.m.
State police lab to test samples from fatal South State Street fire
By Lee Higgins
Samples from the remains of a fire at a South State Street home that killed one person and injured two others have been sent to a Michigan State Police lab to be examined for traces of accelerants, Ann Arbor Fire Chief Dominick Lanza said.
The blaze was among four suspicious fires Saturday morning that remain under investigation in a neighborhood south of the University of Michigan's Central Campus.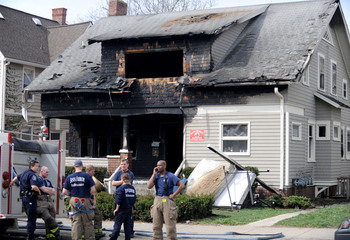 Samples from the other fires also were sent to the lab. Results could be available as soon as the end of next week, Lanza said.
The fatal fire appears to have started in a plastic trash can on the porch of the rental home at about 5:20 a.m., fire officials said.
"We're trying to be very thorough in the investigation," Lanza said.
Renden Lemasters, 22, of Dexter, who was a student at Eastern Michigan University, died of injuries he suffered in the blaze. A woman was taken to University of Michigan Hospital in critical condition, and a man was treated and released from the hospital. The woman was in serious condition Sunday, but no update was available on her condition Wednesday.
Investigators removed samples of the remains of the trash can, a couch next to it and wood from the porch to send it to the lab, Lanza said.
The string of fires began about 2 a.m. Saturday. A trash fire broke out on White Street near Arch Street. Shortly after, another fire burned three vehicles in a parking area beneath an apartment building in the 900 block of Church Street. Another trash fire occurred in the neighborhood that morning, but Lanza said he did not have details.
According to Lanza, Fire Marshal Kathleen Chamberlain spent much of Tuesday with Michigan State Police investigators working on the case. Chamberlain did not return phone calls seeking comment Wednesday.
Ann Arbor Police Detective Dave Monroe said police and fire investigators are working together on the case. He encouraged anyone who had information to call police at 734-794-6939.
Visitation for Lemasters will be held at St. Joseph's Catholic Church in Dexter from 2-8 p.m. today, with a scripture service at 7 p.m. A mass of the resurrection will be held on Friday at 11 a.m., followed by a private burial.
Contributions can be made to the Renden D. Lemasters gift fund c/o PNC Bank, 8123 Main St., Dexter, MI or any PNC National City Bank.
Lee Higgins is a reporter for AnnArbor.com. He can be reached by phone at (734) 623-2527 and email at leehiggins@annarbor.com.