Posted on
Tue, Oct 18, 2011 : 2:52 p.m.
New report: Eliminating personal property tax would deal $43M blow to Washtenaw County
By Ryan J. Stanton
Local governments and schools in Washtenaw County stand to lose about $43 million if Michigan's personal property tax is eliminated without providing replacement revenue.
That's according to a new report from Raman Patel, the county's equalization director, who says Washtenaw County government alone stands to lose $5.6 million.
Patel's analysis looks at the potential impact on the county, cities, townships, villages, schools, community colleges and other taxing authorities if state-level talks of eliminating the personal property tax — the tax businesses pay on equipment — pan out.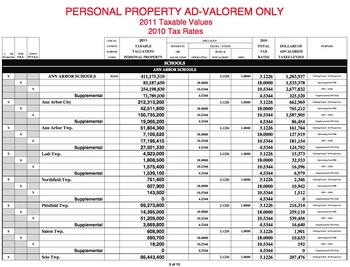 Five cities stand to lose a combined $8.9 million, including $3.57 million in Ann Arbor, $1.04 million in Saline, $600,046 in Ypsilanti, $348,469 in Chelsea and $97,570 in Milan.
About $4.1 million would be chalked up as a loss for state education, while libraries could lose $1.58 million and local school districts stand to lose $14.6 million.
Washtenaw Community College stands to lose another $3.5 million, and the Washtenaw Intermediate School District stands to lose $3.62 million.
According to the report, townships in Washtenaw County stand to lose a collective $1.57 million, with the biggest hit being to Pittsfield Township at $658,825.
The city of Ann Arbor's general fund currently takes in about $78 million a year in revenue, and personal property taxes account for about 4.6 percent of that. Cutting that much from the budget would be about the equivalent of 35 full-time police and fire positions.
All six lawmakers representing Washtenaw County in the state Legislature agreed at a forum last week that eliminating the personal property tax is worth considering, but they all stressed they don't want to deal another blow to local governments by not providing replacement revenue. Most agreed it should be a dollar-for-dollar replacement.
"I think it's important to mention that, when we talk about local governments depending on this revenue, that means public safety," said state Rep. Jeff Irwin, D-Ann Arbor.
Republicans characterize the elimination of the personal property tax as the second phase of a two-part overhaul of the state's business tax structure. That started earlier this year with the elimination of the Michigan Business Tax.
Gov. Rick Snyder told AnnArbor.com in an interview last month it could take up to a decade for the state to tackle personal property tax reform, though.
The Michigan Municipal League is among the groups that have come out in opposition of eliminating the personal property tax without replacement revenue. The MML calls the tax one of the last stable sources of revenue left for local governments and public schools.
The MML did its own analysis recently showing the potential impact of eliminating the personal property tax as a percentage of local government budgets.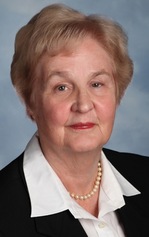 County Commissioner
Leah Gunn
, D-Ann Arbor, said in addition to the county's state revenue sharing trust fund running out in 2013, the loss of personal property taxes would be more than just devastating — it would cripple county government altogether, she said.
"We would not be able to maintain the mandated services we are required by state statute to do, so county government would essentially disappear," she said. "We are the ultimate safety net for the community, and I would hate to think of the consequences."
Saline Mayor Gretchen Driskell said it also could have devastating consequences in her city, which she said relies on personal property taxes for 17 percent of its revenue. She said elimination of the tax would mean the city would have to cut entire departments.
"It's a huge issue," she said. "It's very worrisome when we've already been cutting over the last 10 years. That's something we're going to have to be seriously looking at."
Driskell said 43 states have personal property taxes, so she's wondering why there's such strong emphases on eliminating it in Michigan.
Ryan J. Stanton covers government and politics for AnnArbor.com. Reach him at ryanstanton@annarbor.com or 734-623-2529. You also can follow him on Twitter or subscribe to AnnArbor.com's e-mail newsletters.