Posted on
Wed, May 30, 2012 : 3:33 p.m.
Developer Jeff Helminski talks about City Place and hints at his next project in Ann Arbor
By Ryan J. Stanton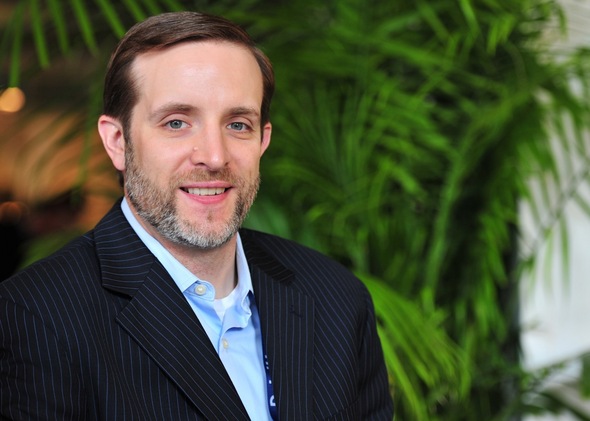 Ryan J. Stanton | AnnArbor.com
MACKINAC ISLAND — Among the faces in the crowd at this year's
Mackinac Policy Conference
is
Jeff Helminski
of Rochester-based
Campus Village Communities
.
That's the developer behind the City Place student apartments project taking shape in a neighborhood just south of downtown Ann Arbor on Fifth Avenue.
Helminski sat down with AnnArbor.com on Wednesday for a rare interview to talk about how the project is going. It's one of the most controversial in the city's recent history because it involved knocking down seven century-old homes that neighbors wanted to preserve.
The man behind City Place and another student housing project called The Moravian, which was voted down by the Ann Arbor City Council, confirmed on the island he's in the early stages of planning a new development either in or near downtown Ann Arbor.
"It'd be housing, maybe student, maybe just conventional multi-family," he said. "But just about anything in town that's new and high quality will appeal to a student market in some way, shape or form. If it's in the area of downtown, it's going to appeal to that crossover crowd."
Helminski said it's too early to disclose where the property is located, who owns it, or who might be involved in the development, but he's in close talks with the owner.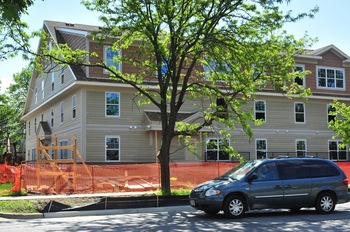 Ryan J. Stanton | AnnArbor.com
"I'm talking with the owners about what it could be and what parcels might be included," he said.
"I'm always looking for new opportunities, but the lead time on new projects like this is pretty long, and with a lot of the supply that's coming on at the top of the market with some of the high-rises that are being built, I'm taking a cautious approach to bringing more product into the market right now," he added. "And the university is talking about scaling back their enrollment."
Helminski said he wants to see how things shake out with some of the other housing projects that are coming online before proceeding.
Counting the already-built 411 Lofts and Zaragon Place, Ann Arbor will have welcomed more than 2,300 new beds in the downtown when six other housing projects come online.
That includes a 13-story student high-rise called The Varsity, which is adding 415 beds on Washington Street. Another 14-story student housing project called Zaragon West is nearing completion and will bring nearly 200 more beds to William Street.
Landmark, a 14-story student high-rise formerly known as 601 Forest, is transforming the skyline in the South University area and will bring more than 600 beds soon.
The Village Green project — officially known as Ann Arbor City Apartments — will bring another 194 beds at the corner of First and Washington when it's done. And a six-story project called 618 South Main is in the planning stages and could bring close to 200 more beds.
City Place, which includes two identical buildings separated by a surface parking lot, includes about 144 beds in 24 units.
"We're thrilled with both the way the buildings are turning out and the schedule that we're keeping, which was a little compressed because of some of the Heritage Row efforts last fall," Helminski said, referring to a last-ditch effort revive an alternative development proposal for the site that would have preserved the row of houses and added new buildings behind them.
"We're thrilled with what it's turned out to be," he said of City Place. "It's been really well received by the community, both from a leasing point, which has been primarily business school and law school students that are taking an interest in it, and we've even had a number of people who were former opponents of the project that have privately complimented our construction guys on how the buildings are turning out."
Asked whether her opinion of City Place has changed, Susan Whitaker, who lives across from the project, tweeted on Wednesday: "No. Still hate it. Gets worse every day."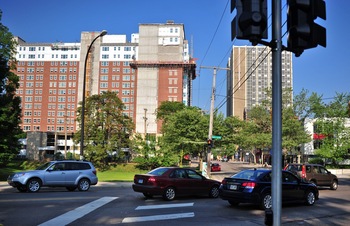 Ryan J. Stanton | AnnArbor.com
Helminski declined to disclose how many of the units in City Place have been leased but said it's been well received and Campus Village is on track to having all units filled by the time University of Michigan students return for the start of school this fall or shortly thereafter.
"The response we've seen from the people who have dug into what the units are and how they compare to other things in the market has given us a lot of confidence that it's a very unique product and one that's going to fill up at the end of the day," he said.
Asked whether he still has plans to develop the property where the Moravian site plan was rejected, just around the corner from City Place, Helminski said that's the goal, but that's not the other project he hinted at.
"The investment group that bought that after city staff determined that it met the PUD ordinance requirements and Planning Commission reaffirmed that it met the PUD ordinance requirements bought that with the expectation of redeveloping it," he said. "So I know they're considering a number of different options to move that forward. I'd expect that at some point in the future that would happen, the time frame for which is really up to that group."
As Helminski eyes the market, so are others.
Helminski said he knows other student housing developers who have looked at Ann Arbor, but he said they find some of the barriers to entry prohibitive.
"From comments I've heard, the taxes being terribly high is one barrier," he said. "And there's a lot of concern that high-end, high-rise product might be overbuilt with what's coming on.
"So I know there are a lot of people looking at it and a lot of people sitting and waiting to see how those absorb and at what price point they absorb," he added.
Helminski said he doesn't have any plans to do a high-rise right now.
"There are other people looking at it, but again, I think with a cautious eye toward that supply-demand balance," he said.
Former Ann Arbor City Council Member Stephen Rapundalo, who was on council when Helminski's last two projects were being considered, said he's been marveling at the number of apartment developments taking shape in Ann Arbor.
"Every time I see a crane and a new development going up in and around the downtown area, to me that translates to vitality, and vitality is exactly what all communities need," said Rapundalo, who is at the conference on Mackinac Island in his role as head of Ann Arbor-based MichBio, Michigan's life sciences association.
"Vitality means people, more economy, and everybody benefits from that, so I'm encouraged by any and all development in Ann Arbor," Rapundalo said. "It's obviously got to be done in the right way to meet community values and expectations, and that just comes through good dialogue, but the more the better."
The student housing boom in Ann Arbor comes as U-M officials have stated their intention of putting downward pressure on student enrollment growth starting next year. About 27,400 students are enrolled as undergraduates now, 2,400 more than the school would like.
Developers in Ann Arbor also could soon have a harder time demolishing homes and building large apartment projects in near-downtown neighborhoods. A report three years in the making has been released by the city's R4C/R2A Zoning District Study Advisory Committee and it recommends a limit on lot combinations within the city's R4C zoning district, a multiple-family dwelling district that surrounds downtown.
Ryan J. Stanton covers government and politics for AnnArbor.com. Reach him at ryanstanton@annarbor.com or 734-623-2529. You also can follow him on Twitter or subscribe to AnnArbor.com's email newsletters.