Posted on
Mon, Apr 1, 2013 : 6 p.m.
Chelsea man pleads guilty in sexual assault case
By John Counts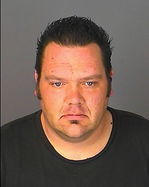 Courtesy of WCSO
The 37-year-old man charged with sexually assaulting a woman who was living with him in Chelsea took a plea deal Thursday, according to court records.
Michael Paul Radant pleaded guilty to two added charges of assault with intent to commit criminal sexual conduct in exchange for the dismissal of two third-degree criminal sexual conduct charges, court records indicate.
Assault with intent to commit CSC is a felony with a maximum prison sentence of 10 years. Sentencing is scheduled for May 2 in the Washtenaw County Trial Court.
Radant is accused of sexually assaulting a 37-year-old woman at his home in the 700 block of North Main Street in Chelsea last November. The woman, who is a long-time acquaintance of Radant's, said she had been staying with him in his basement apartment, but that the two were never romantically involved, according to court records.
At a preliminary hearing, the woman testified that Radant sexually forced himself on her in her bedroom.
Radant's family runs Ellie's Chelsea, a burger and sandwich shop located at 312 N. Main St. in the Clocktower Commons in Chelsea. He has been employed at the restaurant in the past.
Radant's attorney, Brian Montoye, could not immediately be reached for comment.
Radant is free on bond, according to jail records. His bond was set at $10,000 cash or surety at his fall arraignment. It was unclear if he posted the bond, or if the judge changed the bond as part of the plea deal.
John Counts covers cops and courts for AnnArbor.com. He can be reached at johncounts@annarbor.com or you can follow him on Twitter.