Posted on
Thu, May 2, 2013 : 4:10 p.m.
Chelsea man sentenced to 1 year in jail, 5 years probation in sexual assault case
By John Counts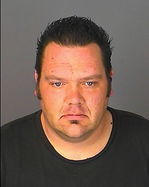 Courtesy of WCSO
The 37-year-old Chelsea man charged with sexually assaulting a woman who was living with him was sentenced Thursday to one year in jail and five years of probation.
A month ago, Michael Radant pleaded guilty to two added charges of assault with intent to commit criminal sexual conduct in exchange for the dismissal of two third-degree criminal sexual conduct charges.
Radant was accused of sexually assaulting a 37-year-old woman at his home in the 700 block of North Main Street in Chelsea last November. The woman, who is a longtime acquaintance of Radant's, said she had been staying with him in his basement apartment, but that the two were never romantically involved, according to court records.
On the night of Thursday, Nov. 15, the woman testified that she and Radant drank alcohol and watched television together before she received a telephone call and went into her bedroom to talk. Radant eventually followed her into the bedroom, where the alleged assault occurred on the woman's bed, court records indicate.
The woman reported the incident to Chelsea police early the morning after that, records indicate.
The woman, who no longer lives with Radant, addressed the Washtenaw County Trial Court Thursday before sentencing was passed. She said she hasn't been able to leave her apartment since the assault happened.
"I can't sleep without the sedatives prescribed to me," she said. "I don't trust people anymore. He took something from me I can't get back."
Radant already has served 113 days in jail, for which he will be credited. He was taken into custody following the sentencing and will serve out the balance of his sentence at the Washtenaw County Jail.
John Counts covers cops and courts for AnnArbor.com. He can be reached at johncounts@annarbor.com or you can follow him on Twitter.