Posted on
Sun, Jul 14, 2013 : 5:57 a.m.
Ellie's Chocolate Cafe in Chelsea returns to previous ownership
By Erica Hobbs
Ellie's Chocolate Cafe in Chelsea has returned to its original owners, Tom and Tina Diab and its original name, the "Gourmet Chocolate Cafe
Judy Radant, who owned and ran the restaurant at 312 N. Main St. with sons Michael and Steve, said the business was forced to close due to "financial issues".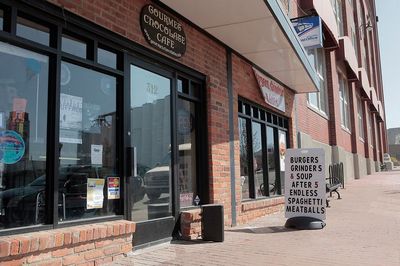 AnnArbor.com file photo
The change of ownership came in June, weeks after
Michael Radant
pleaded guilty
to two charges of assault with intent to commit criminal sexual conduct. He is serving a sentence of a year in jail and five years' probation.
Tom Diab said publicity about the case had affected Ellie's. "Instantly the business went down," he said, but declined to comment further.
The Radants expanded their burger restaurant "Ellie's Place" in January of 2012 to take over the next-door "Gourmet Chocolate Cafe" owned by the Diabs, renaming the restaurant "Ellie's Chocolate Cafe."
The restaurant is located in the Chelsea Clocktower Commons, managed by the McKinley property management firm. Jeff Holman, McKinley's vice president of Property Management, said Ellie's closed around June 15 and was reopened a few days later by the new owners.
He described the transfer as a "seamless transition."
"It was just one group turning it back to the other group and reopening the business," he said.
Holman said the community embraced the change and is happy to see the restaurant re-opened.
"It's probably too early to tell, all indications are that things are going well for the new owners," he said.
Judy Radant said she and her family have no future business plans.
Erica Hobbs is a freelance reporter for AnnArbor.com. Contact the news desk at news@anarbor.com or 734-623-2530.