Posted on
Wed, Oct 19, 2011 : 11:23 a.m.
Ann Arbor man dies from injuries following vehicle fire on I-94
By Kyle Feldscher
Courtesy of Janine Widzinski
The
Ann Arbor
man who was
severely burned after his van caught on fire
Tuesday morning on Interstate 94 near Chelsea died from his injuries at
University of Michigan Hospital
early Wednesday morning, according to state police.
Sgt. Chuck Bachmeier, of the Michigan State Police, said James Nicholas Skupski died at about 1:30 a.m. Wednesday from the injuries he sustained during the fire.
Skupski, 58, was driving his 2006 Dodge Caravan eastbound on I-94 between Dancer and Steinbach Roads when the van caught on fire. A number of passers-by stopped to help.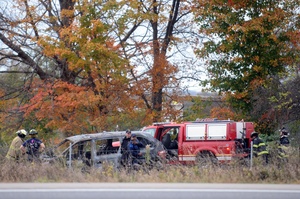 Melanie Maxwell | AnnArbor.com
Carlos Quintanilla, a former Marine who was returning to his home in Flint from a job interview, and an unidentified man pulled him from the vehicle.
Skupski was then transported to University of Michigan Hospital, where he was listed in critical condition Tuesday afternoon.
Quintanilla said Skupski had severe burns over the majority of his body when he and the other man pulled him from the vehicle. The two men used their jackets to help pull Skupski away from the burning vehicle.
Other bystanders, along with the unidentified man, used fire extinguishers and bottles of water to put out the flames and treat Skupski.
A nurse from the University of Michigan Hospital who used to work in the burn unit gave people instructions on how to help Skupski and assisted police officers when they arrived on the scene.
Skupski was moving his arms and giving state police troopers his wife's phone number before he was transported to the hospital from the crash site, witnesses said.
Police said Skupski was eastbound when he went into the center median before crossing back over the expressway and crashing into an open field on the right side of the highway.
Police said Skupski was a paraplegic, but were not aware if the Caravan was outfitted with special instruments to allow him to drive without using his feet. Skupski was the only person in the Caravan, police said Tuesday.
Bachmeier said the cause of the fire was still under investigation.
Previous stories
Kyle Feldscher covers cops and courts for AnnArbor.com. He can be reached at kylefeldscher@annarbor.com or you can follow him on Twitter.