Posted on
Fri, Aug 9, 2013 : 5:59 a.m.
City Council approves modified plan to close Main Street during Michigan football games
By Ryan J. Stanton
University Planner's Office
Ann Arbor City Council members Thursday night approved a modified plan for closing part of Main Street during University of Michigan football games this fall.
Ann Arbor Police Chief John Seto presented the plan that instead of shutting down all lanes from Stadium to Pauline starting three hours before each game would keep southbound lanes open until one hour before game time.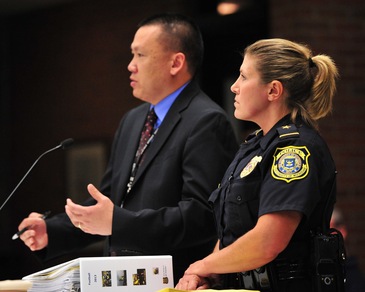 Ryan J. Stanton | AnnArbor.com
"That was mainly due to the fact that we heard suggestions that three hours was perhaps too long and there would be issues with residents getting into the neighborhoods for residential lawn parking," he said. "I felt this was a reasonable modification to address some of those concerns."
Seto said he also has decided there will be additional signs to make it clear to people that residential lawn parking is open.
He stressed that the street closure plan should not affect post-game traffic because Main Street would reopen at the end of each game.
The City Council voted 7-4 in favor of the revised plan, with Sabra Briere, Marcia Higgins, Sumi Kailasapathy and Margie Teall still not convinced.
"I'm going to respect all of my constituents who have asked us not to do this," Higgins said. "It impacts them tremendously."
Melissa Overton, the university's deputy chief of police, said several football stadiums close streets around their stadiums during games, including Ohio State and Wisconsin.
A representative from the U.S. Department of Homeland Security said thousands of people could be killed if a vehicle bomb were to detonate right outside the Big House on Main Street.
Council Member Chuck Warpehoski, D-5th Ward, said he thinks the chances of a terrorist attack are slim, but he can't help but wonder: "What if I'm wrong?"
Seto said the university, which proposed the street closure earlier this summer, would pay for extra police presence required. He said police will be evaluating the street closure after every game to see how well it's working.
The council requested that Seto conduct an evaluation after the first three games, hold another community meeting, and if there are issues to address, present recommendations Oct. 7.
"There are some things we know from a previous street closure in 2011, and some things I don't know, but I'm confident we can try to address those as they come up," Seto said.
The first home football game is Aug. 31.
Ryan J. Stanton covers government and politics for AnnArbor.com. Reach him at ryanstanton@annarbor.com or 734-623-2529. You also can follow him on Twitter or subscribe to AnnArbor.com's email newsletters.