Posted on
Thu, Aug 4, 2011 : 4:43 p.m.
Drivers, you're being warned: Ann Arbor is spreading word on pedestrian right-of-way crackdown
By Ben Freed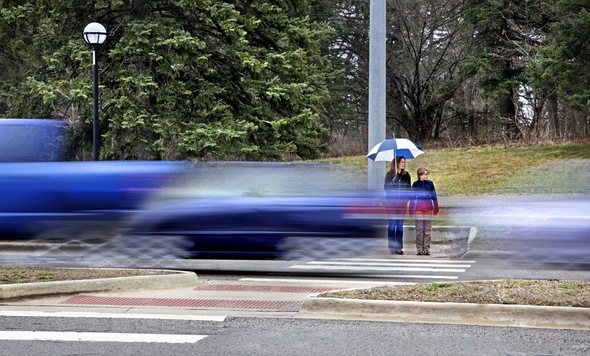 Courtesy of Aaron Kiley
The
City of Ann Arbor
is continuing the rollout of the
pedestrian safety ordinance passed in 2010
. The city announced this week that it is starting to distribute yard signs and other materials throughout the city to increase driver awareness of the ordinance.
Since passage of the ordinance, Ann Arbor drivers have been slow to stop for pedestrians at crosswalks as mandated.
Now Ann Arbor Police will begin targeted enforcement of the ordinance next month. They will hand out warnings in September, and tickets in October to drivers who do not stop for pedestrians waiting to cross the street.
The yard sign campaign is intended to ramp up awareness and prevent drivers from receiving tickets, which can carry a $100 fine and put two points on a driver's license.
The city is also currently working on crosswalk definition guidelines. If you're wondering what the exact definition of a crosswalk is (it's not simple), this website can help.
Also, check here for an AnnArbor.com report on the best and worst crossings in Ann Arbor. The video below is from that report, and was shot in 2009.
Ben Freed is a summer intern at AnnArbor.com. You can reach him by email at benfreed@annarbor.com or by phone at (734)-623-4674. Follow him on Twitter @BFreedInA2.