Posted on
Sat, Feb 23, 2013 : 5:58 a.m.
Blight beat: City of Ann Arbor to take action on 2 abandoned properties on city's east side
By Tom Perkins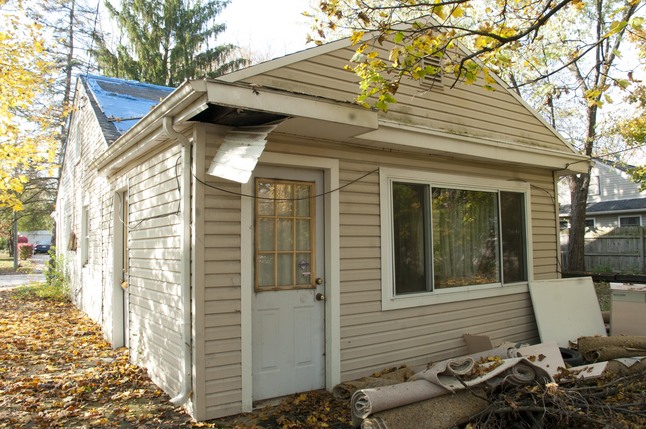 Tom Perkins | For AnnArbor.com
The city of Ann Arbor again is turning its attention to an abandoned home and a vacant lot on Pinecrest Avenue on the city's east side.
Building officials expected to address the properties late last year but were delayed by legal concerns in its dangerous buildings program and by the demolition process of six vacant homes on Main Street on the city's north side.
Ralph Welton, the planning and development department's chief development official, said the city's Building Board of Appeals is ready to start holding regular hearings on blighted properties citywide in March.
"We started working on these and other properties in the fall and some of it got sidetracked because of the Near North demos and also legal issues," Welton said. "In order to make sure that everything we are doing was right we had to delay. Everything should be up and running in March."
The two properties on Pinecrest will be among the first addressed, he said.
A home at 2365 Pinecrest Ave. has sat vacant since it was foreclosed on in 2006. LaSalle Bank now holds the mortgage and has mostly failed to maintain the property.
Among other issues at the house are a deteriorating roof that allows the elements to get inside the home. A tarp was placed over the roof, but the tarp has since shredded. Parts of the interior have been stripped, siding is falling off sections of the home and the soffits are deteriorating in spots. The backyard is strewn with debris and garbage.
The property has an assessed value of $66,000.
Another home at 2434 Pinecrest was demolished early last year after sitting vacant for nearly four years, but the property, which has a large cement slab on it, has sat untouched since then. Welton said the owners have not contacted the city.
Prior to the demolition, the property owner, Michael Coghlan, told AnnArbor.com he wanted to build a new home or sell the improved lot.
"We have been monitoring the properties but we have not heard from the owners at all," Welton said.
The hearings are essentially show cause hearings in which property owners must explain to the board why a building shouldn't be demolished or other legal action shouldn't be taken. If a property owner fails to appear or the board rules against an owner, then notice to demolish the building within 20 days is given.
Tom Perkins is a freelance reporter for AnnArbor.com.