Posted on
Sun, Oct 17, 2010 : 6:04 a.m.
Washtenaw County police agencies solve about 1 in 3 crimes; Ypsilanti has among highest clearance rates
By Tom Perkins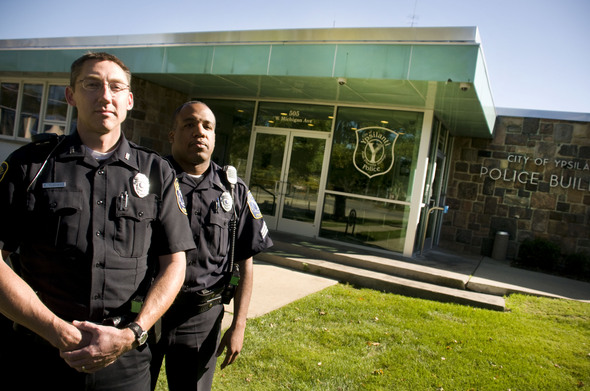 Tom Perkins | For AnnArbor.com
About 1 in 3 crimes is solved in Washtenaw County, a clearance rate that climbs slightly above the statewide average, a recently released Michigan State Police database shows.
The county's 10 police agencies that patrol the cities, townships, villages and universities have a combined clearance rate of 34.89 percent, while statewide the average was 31.6 percent in 2009.
The highest clearance rate went to the Michigan State Police Ypsilanti post, where 53.4 percent of cases were deemed solved last year. The lowest clearance rate was shown by the Washtenaw County Sheriff's Department, where 19.2 percent of crimes were cleared.
The figures reflect both serious and minor incidents. The clearance rate is calculated by dividing the number of crimes that are solved by arrest or were unfounded by the total number of crimes.
The statistics are of particular interest to Ypsilanti Township officials, who are exploring forming a police authority with the City of Ypsilanti. While the cost of policing has been an issue, officials say performance measures such as clearance rates are also being examined.
In 2009, the City of Ypsilanti Police Department posted a clearance rate of 39.9 percent, while the Washtenaw County Sheriff's Department recorded a rate of 20.4 percent in Ypsilanti Township.
A complete look at local agencies shows:
Michigan State Police Ypsilanti post: 53.4 percent
Chelsea: 44.6 percent
Milan: 44.5 percent
Ypsilanti: 39.9 percent
Eastern Michigan University Department of Public Safety: 32.1 percent
University of Michigan Department of Public Safety: 30.9 percent
Ann Arbor: 29.9 percent
Pittsfield Township: 29.9 percent
Saline: 24.5 percent
Washtenaw County Sheriff's Department: 19.2 percent
The figures come from the MSP's 2009 Michigan Incident Crime Reporting database.
Police officials underscored that clearance rates aren't the only measure of a department's success, and a number of variables play into how well an agency solves crimes. A jurisdiction's size, population density, demographics, types of crimes committed and police force size are factors often out of an agency's control.
A department's policing philosophy, how it allocates resources, emphasis on investigation and where it focuses its attention are contributing factors police chiefs can usually control.
RELATED CONTENT
Ypsilanti Police Chief Amy Walker attributed her department's success to its focus on community policing and her officers' dedication.
"I think that shows the hard work of the men and women of the Ypsilanti Police Department," she said. "Certainly I'm pleased with the clearance rate, and I think it speaks to the community policing philosophy — it really does take a village."
The state data is broken down into two incident types depending on severity. Group 'A' incidences are more violent crimes such as rape, murder, assault, burglary or car theft. Group 'B' is made up of less violent crimes, such as property damage offenses, embezzlement or drunk and disorderly.
Ypsilanti police reported Group A and B clearance rates of 23 percent and 76.7 percent, respectively, while the Sheriff's Department recorded clearance rates of 16.6 percent and 35.6 percent, respectively.
The Sheriff's Department faced more violent crimes, with 5,672 to the city's 2,267. Ypsilanti Township saw only 438 Group B incidents, while the city recorded 1,039.
Ypsilanti's 33 officers served 19,200 residents at 1 officer per 565 residents, while the WCSD's 48 deputies served 53,000 residents in Ypsilanti Township at 1 officer per 1,104 residents.
According to an MSP statistician, police agencies are given specific guidelines on uniformly recording and reporting crimes and clearance to the Michigan State Police and are provided training on the process bi-annually.
The Federal Bureau of Investigation uses the information to compile its Uniform Crime Reports on crime activity nationwide.
Ypsilanti Township Director of Police Services Mike Radzik said crime rates often make headlines, but clearance rates go largely ignored. He said Ypsilanti Township officials are considering several performance measures as they explore a joint department with Ypsilanti.
"Judging a police department solely on clearance rate statistics is not wise, however, ignoring the data isn't wise either," he said. "The police carry out other functions like maintaining peace and order, traffic enforcement, etc. Having said that, we have been examining clearance rates, along with other types of data and information."
Sheriff Jerry Clayton said there has been a history of poor record management at the Sheriff's Department, which he has sought to correct since being elected two years ago.
Clayton said he suspects the Sheriff Department's clearance rates would be higher if its statistics were better managed.
"The numbers are reported the way they are, but I think there's a misrepresentation in how they are managed," he said. "It's still our responsibility … but we're in the process of trying to reconcile those issues."
Officials said all solved crimes aren't always recorded as such. For example, if a person is arrested for one crime but detectives discover he or she is guilty of five other crimes, agencies don't always "clear" the other crimes.
Break-ins have been of particular concern in the eastern end of the county over the last several years. According to the MICR, the clearance rate on burglaries in the township was 5.8 percent, while 11.8 percent of burglaries were cleared in the city.
Walker said working in partnership with the community and engaging residents in the process has helped. She said it's reminiscent of the days when a police officer walked a beat and got to know the neighborhood.
"With the idea of always getting into a patrol car, you lost touch of the community, so we're going back to the classic way of getting to know the neighborhoods and residents in our community," she said.
Clayton said crime rate statistics show his department is effective in preventing crime.
In Ypsilanti Township, there were 72 crimes for every 1,000 residents in 2009, while in Ypsilanti, there were 171 crimes for every 1,000 people.
Countywide, for every 1,000 residents in 2009, Chelsea saw 55 crimes; Milan, 164; Saline, 68; Pittsfield Township, 63; and Ann Arbor, 63.
"When we start to look at the effectiveness of what we do, it's important to the office and myself that the level in crime is as low as it can be," Clayton said. "We are going to put as many measures in place as possible to prevent crime from occurring."
Clayton said the department's multi-pronged effort to clean up the MacArthur Boulevard area in Superior Township and West Willow in Ypsilanti Township is an example of the department's proactive policing. He said the Sheriff's Department undertook a number of measures, including engaging the community, stepping up patrol and setting up a special task force.
As with clearance rates, numerous factors contribute to a city's overall crime rate. Ypsilanti sees significantly more minor crimes because of the young student population living there. Traditionally, cities with a concentration of younger people near a university will see more crimes such as public intoxication, which are usually easier to clear.
The discussion on performance is part of a larger conversation over Ypsilanti Township contracting with Washtenaw County for deputies. Much of the focus has been on the roughly 90 percent increase in "per officer" costs in the last eight years.
The per deputy cost in Ypsilanti Township in 2009 was $156,000, while it was $143,000 per officer in Ypsilanti.
Ypsilanti Township Trustee Stan Eldridge stressed cost is not the only consideration as talks over developing a police authority move forward. The clearance rates are being considered by the city-township Joint Police Services Committee, but he added clearance rates aren't the only measure of success.
"I think it's important in some of the areas that we're looking at as a committee," he said. "A lower or higher clearance rate is just one piece of the puzzle in trying to determine if this is what we need to investigate as a municipality."
Tom Perkins is a freelance writer for AnnArbor.com. Reach the news desk at news@annarbor.com or 734-623-2530.