Posted on
Tue, Sep 14, 2010 : 6 a.m.
Ypsilanti, Ypsilanti Township agree to further explore a joint police department
By Tom Perkins
The City of Ypsilanti and Ypsilanti Township took the first significant step Monday toward forming a new police authority to serve the two municipalities.
The Ypsilanti City Council and Ypsilanti Township Board of Trustees met for a joint session to hear an initial report on the idea's feasibility. Each governing body will vote on seeking a proposal for a third party study of the idea at their respective Sept. 21 meetings.
Both municipalities have made cuts in public safety this year.
Ypsilanti Township contracts through the Washtenaw County Sheriff's Department for police service and was forced to contract for seven fewer deputies after a millage failed last November.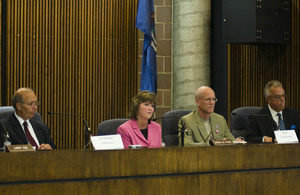 Tom Perkins | For AnnArbor.com
The township now has 31 deputies, down from a peak of 44 several years ago. It stands to lose two more positions if a millage being decided by voters next month fails. The township has been hit hard by the loss of its industrial tax base and the highest foreclosure rate in Washtenaw County.
Concurrently, the cost of one sheriff's "police service unit" has risen more than 90 percent from roughly $83,000 to $161,000 per PSU in a seven-year period.
Ypsilanti cut 2.5 police positions from its department this year and could be forced to make more significant cuts in the 2012 fiscal year.
The Police Services Committee — comprised of Ypsilanti city attorneys Karl and John Barr, City Manager Ed Koryzno, Police Chief Amy Walker, Ypsilanti Township Director of Police Services Mike Radzik, Trustee Stan Eldridge, Treasurer Larry Doe, township attorney Doug Winters and assistant attorney Angela King — has met monthly since March to look for any obvious legal, financial or structural obstacles to the process.
Finding nothing that would "preempt" a discussion, Eldridge said the municipalities should move forward. He called the city a "natural partner" since the township's boundaries encircle the city.
Koryzno said he felt the conversation was worth having when the township approached him with the idea early this year. He said his three concerns were sustainability, accountability and commonality.
Given the dire financial situation of both municipalities, all options must be explored, Koryzno said. He praised the Ypsilanti Police Department and said city officials are satisfied with how it is managed and accountable directly to City Council.
"It's a well-respected, professional, well-trained department … and we want to continue to have our own department," he said. "We do not wish to contract out for services at this time because when all it is all said and done, a new department would still be held accountable to elected officials."
Koryzno said Ypsilanti and Ypsilanti Township have more in common than the seven municipalities that were part of a similar study in 2007.
Should the township board and city council approve seeking an independent third party to conduct the study, Koryzno said it would make most sense to first request a proposal from the author of the 2007 study. Among the benefits in doing so are that he is familiar with the situation and wouldn't need to recollect information already gathered on Ypsilanti, Koryzno said.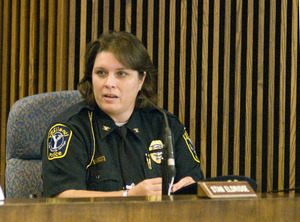 Tom Perkins | For AnnArbor.com
Eldridge listed several issues the township has with Sheriff's Department — most significantly a lack of involvement in controlling the price of a deputy. He also said the township has little involvement in police philosophy, hiring, deployment and receiving information in a timely manner.
"Our ability to have oversight is minimal to none, and that has been a leading factor in bringing us here today," he said.
Koryzno said the city isn't interested in contracting with the county, and Ypsilanti Mayor Paul Schreiber said it isn't in the city's best interest to have the township contract with it for police services. If the township decided it no longer wanted to contract for services, the city would be stuck with police infrastructure it couldn't use, he said.
An authority is a separate governmental entity with a board to which the police chief would report. Schreiber said the drawback of an authority is that they are difficult to dissolve and require a much stronger commitment — but it's still the best of the three options.
Though few details were provided on what a new authority would look like or how it could work, officials from both sides praised Walker and said they'd like her to stay in charge of whatever type of agency is formed.
Roughly 50 residents showed up for the meeting at the Ypsilanti Township Hall. Those who spoke during public comment asked questions and generally expressed support for the idea.
Ypsilanti Township resident Cheryl Blackburn said she's employed in Ypsilanti, and her contacts with the police force have all been positive. With the state of the economy, she said, the municipalities need to explore their options.
"We are all family, and I think we need to blend together," she said.
Ypsilanti resident Lee Tooson called the study a "positive" development.
"This is a win-win situation for both sides," he said. "We don't want to lose public safety. We want everybody in our city and everybody in our township to be safe."
Tom Perkins is a freelance writer for AnnArbor.com. Reach the news desk at news@annarbor.com or 734-623-2530.