Posted on
Wed, Sep 19, 2012 : 12:15 p.m.
Convicted killer's nephew to face trial in same fatal auto dealership beating
By John Counts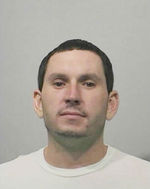 Courtesy of the Washtenaw County Sheriff's Office
The 32-year-old man accused in the beating death in which his uncle, Shane Roscoe, was convicted of murder in July will head to trial, a district court judge decided Tuesday.
Judge Richard Conlin found enough probable cause at a preliminary examination Tuesday to bind Jonathon Aiden over to circuit court on five charges related to the 2006 killing of 55-year-old William Kenney.
In July, Roscoe was convicted of breaking into his former place of employment, Jim Bradley Pontiac GMC in Scio Township on Aug. 18, 2006, stealing auto-related equipment and materials and beating Kenney, who worked at the dealership.
Prosecutors say Aiden, who is the son of Roscoe's sister, helped Roscoe hit Kenney on the head with a hard object and running him over with a vehicle. Kenny died a month later from the injuries. The weapon was never identified.
Aiden's preliminary examination began on Aug. 23, but was adjourned until Tuesday when many details about the fatal beating were revealed in the 14A-1 District Court.
The prosecution presented evidence that suggests Roscoe searched for news reports of the incident on his computer just hours after the killing and that Roscoe was in phone contact with Aiden immediately before and after the killing occurred. Phone records showed the two men were not in similar telephone contact before the incident, the prosecution argued.
Prosecutors and detectives from the Washtenaw County Sheriff's Office also presented evidence alleging Aiden made calls from a cell phone near the car dealership around the time of the murder.
The 2006 cold case homicide seems to have been revived in 2011 when Roscoe and his ex-wife, Kim, were going through a divorce and a bitter custody battle. Kim Roscoe, who had previously denied that her husband was involved in the killing, called Crime Stoppers at that time and changed her story, according to Tuesday's court proceedings. She testified at Roscoe's July jury trial and on the first day of Aiden's examination that Aiden and Roscoe were together the night of the murder.
"She seemed credible, even though she lied before," Conlin said as he explained his decision to bind over the case.
Aiden and Roscoe had been suspects from the beginning, however, police testified. Kenny survived a month after the beating before he died when a blood clot travelled to his lungs. During that time, police questioned him several times. Two detectives from the sheriff's office testified Tuesday Kenney said the suspects who beat him worked for the car dealership as mechanics at some point, as both Aiden and Roscoe had.
Out of 41 pictures of current and former car dealership employees, Kenney narrowed it down to five. Both Roscoe and Aiden were among the five. Police testified Kenney said Roscoe was "definitely" involved, and that Aiden "could be" involved. Kenney identified a third man and said he was "definitely" involved, but that man told police he was racing go-karts that night. The owner of the go-kart track confirmed the man was there.
Some of the more damning evidence presented by the prosecution involved computer and cell phone technology.
Det. Kevin Parviz, who works in computer forensics at the sheriff's office, went through Roscoe's computer after it was seized following a search of Roscoe's Pinckney home in 2006. In what Parviz said was a "lucky" turn of events, a Spyware program was installed on the computer that took snapshots of activity. Even if a user cleared the Internet history, as a user on Roscoe's computer attempted to do, the screen shots would be saved in a different file.
Assistant Washtenaw County Prosecutor Dianna Collins displayed the screen shots in court Tuesday while questioning Parviz.
Parviz testified Roscoe searched his own name, the name of the car dealership and Fox 2 News the morning after the beating. Parviz said the computer showed no signs of visiting that media outlet's website in the past. The sites most commonly visited on the computer ranged from those of a political nature (Roscoe ran for Putnam Township supervisor the same year as the killing) to pornography, Parviz testified.
The day after Kenney was killed, a user on Roscoe's computer read news articles from the Ann Arbor News on MLive.com about the beating. A user on Roscoe's computer also checked the death notices on the site, Parvis said.
Collins also had Det. Craig Raisanen break down the use of a cell phone believed to have belonged to Aiden at the time.
"(Aiden) had multiple phones at that time because he was in the business of selling marijuana," Raisanen said.
Using information from cell phone towers, Collins and Raisanen charted Aiden allegedly heading west from where he was staying near Taylor into the Ann Arbor area then up to Pinckney. The cell phone in question was used near the dealership soon after the beating, Raisanen said. The phone then traveled back toward the downriver Detroit area, according to the detective's testimony.
Still, when questioned, Aiden said he was in Florida at the time of the killing. He would neither confirm nor deny that the number associated with the cell phone was his.
"He denied being in Michigan, or anywhere near the Jim Bradley car dealership," Raisanen said.
Aiden's attorney, Steve Tramontin, made a motion to dismiss the case. He said there is no physical evidence against Aiden and that Roscoe's ex-wife changed her story only because they were in the middle of a custody battle. Aiden needed to be included in the scenario, he argued, because otherwise it would not have seemed plausible.
"She needed to fabricate that story," he said. "This is a completely circumstantial case. It's guilty by association."
Tramontin also cautioned against comparing Roscoe's case to Aiden's.
"These cases are very different," he said. "We have different defendants and different evidence."
Roscoe was sentenced to life in prison without parole in July.
Aiden had to be extradited to Michigan from Florida, where he was serving time for burglary. He now faces five charges: open murder, breaking and entering with intent to commit a felony, safe-breaking, conspiracy to commit breaking and entering and conspiracy to commit safe-breaking. The two conspiracy charges were recently added, prosecutors said.
Aiden was to appear before Judge Archie Brown at the Washtenaw County Trial Court Wednesday for a pretrial hearing. He remains in jail with no bond.
John Counts covers cops and courts for AnnArbor.com. He can be reached at johncounts@annarbor.com or you can follow him on Twitter.