Posted on
Thu, Jun 9, 2011 : 11:56 a.m.
Costco gets preliminary rezoning approval for store in Pittsfield Township
By Cindy Heflin
Costco got another green light for its plan to build a store in Pittsfield Township Wednesday night when the township's board of trustees unanimously approved its request to rezone 17 acres near South State and Ellsworth roads.
Supervisor Mandy Grewal said the board expects to give the rezoning final approval on second reading July 27 and approve a master plan that permits a large commercial project such as Costco in the area. The store would be near the northwest corner of the intersection.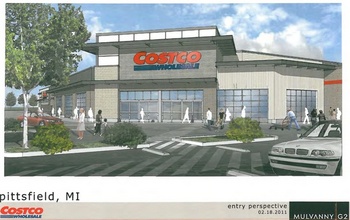 Township officials have said construction could start by late summer or early fall, and the store could be up and running by summer 2012. The 17 acres for the proposed development is now occupied by an industrial park.
Grewal said the board has no concerns about the project. "We've had a very positive reaction from the community," she said. "We are really being representative of the community and what the community wants us to do."
The township's Planning Commission voted April 20 to recommend the rezoning approval. It's been about a year since since Costco announced intentions to build a 148,000-square-foot store along with a gas station and 720 parking spaces on the site.
The next step is for the township's Planning Commission to review the preliminary site plan. A final site plan can be submitted after the board gives final approval to the rezoning.
Jack Frank, Costco vice president, previously said the store is expected to have between 200 and 250 employees, half of them full-time with the other half part-time.
The planning commission earlier said Costco's design plans must include a small pedestrian park or plaza near the corner of Ellsworth and Airport Boulevard. Grewal said today the township also would like to see Costco include charging stations for electric vehicles.
Costco is the largest membership warehouse chain in the United States with headquarters in Issaquah, Wash. The closest Costco is in Brighton, with two others in Livonia and one in Commerce Township.
Contact Cindy Heflin at cindyheflin@annarbor.com or 734-623-2572.