Posted on
Fri, Sep 7, 2012 : 2:51 p.m.
Ann Arbor man admits to giving former hockey coach heroin that caused fatal overdose
By Kyle Feldscher
Brendan Lathrop will serve between five and 10 years in prison after he admitted giving his friend Nicholas Belanger, a former high school hockey coach, the heroin that caused a fatal overdose.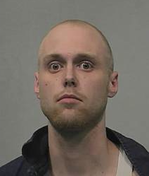 Courtesy of the Washtenaw County Sheriff's Office
Lathrop, 23, pleaded guilty to one count of delivery of a controlled substance causing death Friday afternoon in exchange for Washtenaw County prosecutors dropping a charge of delivery of a controlled substance more than 50 grams. As a part of a sentencing agreement, Lathrop will serve a maximum of 10 years and a minimum of five years in prison, Washtenaw County Assistant Prosecutor Blaine Longsworth said.
Washtenaw County Trial Court Judge Donald Shelton read Lathrop his rights and asked him if he was convinced the heroin he gave Belanger, who had been a coach at Ann Arbor Gabriel Richard High School, caused his death.
"I am, your honor," he said.
It was the culmination of a case that began after Belanger's Jan. 22 death. Belanger, 26, was found dead in his car outside Lathrop's apartment in the 2000 block of Pauline Boulevard.
The courtroom was half-full with Belanger's family and friends during the hearing Friday. Lathrop gave Belanger's parents a long look as he entered the courtroom and again as he exited.
Belanger's family and friends left the court without commenting on the case Friday.
Daniel Geherin, Lathrop's attorney, said the plea deal was something he had been working on since the charges were filed in April.
Despite the appearance of preparing for trial, Geherin said negotiations with the prosecution grew more fruitful as the Sept. 17 trial date came closer. Geherin had convinced Shelton to order the release of Belanger's medical records from Brighton Hospital, which Geherin had hoped would show past drug use that contributed to Belanger's death.
Geherin said his client never forced Belanger to use the drugs he provided.
"Mr. Lathrop and Mr. Belanger were friends. Mr. Lathrop never forced anyone to use heroin," he said, "and he's devastated by the loss of his friend."
The guilty plea to the charge of delivery of a controlled substance causing death is a rare one, Geherin said, but it gave him the ability to set an upper limit on how long Lathrop would be in prison. Had Lathrop pleaded guilty to the charge of delivery of a controlled substance more than 50 grams, he would have faced being in prison for up to 40 years.
Lathrop's mother was in court Friday, and Geherin said she has been shaken by the sight of her son in Washtenaw County Jail attire throughout the process. She left the court in tears Friday.
"Reality sank in for both sides today," he said. "She has to watch her son go to prison."
Shelton will formally sentence Lathrop at 1:30 p.m. Oct. 2. He will be held in the Washtenaw County Jail without bond until that date. He's been in the jail since a bond violation earlier this year.
Kyle Feldscher covers cops and courts for AnnArbor.com. He can be reached at kylefeldscher@annarbor.com or you can follow him on Twitter.