Posted on
Mon, Sep 17, 2012 : 12:55 p.m.
Trial ordered for Ann Arbor woman accused in fatal stabbing of father
By Kyle Feldscher
The woman accused of killing her father by stabbing him 25 to 30 times in June will stand trial after a preliminary exam Thursday, court records show.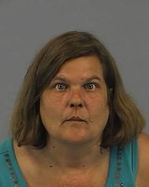 Courtesy of the Washtenaw County Sheriff's Office
Susan Wade, 48, is facing one count of open murder and was in the 14A-1 District Court in Pittsfield Township last week. She's accused of killing Ronald Mason on June 9 in the home they shared in the 1700 block of Covington Drive in Ann Arbor. Court records show a plea of not guilty was entered before the case was sent to the Washtenaw County Trial Court.
Wade was ruled competent to stand trial at a hearing on Aug. 30, records show. Her family told AnnArbor.com she has a past history of drug abuse and schizophrenia.
The Washtenaw County Public Defender's Office is representing Wade. At the Aug. 30 hearing, a motion made by Wade to dismiss the public defender's office was denied, according to court records.
According to police, Wade stabbed Mason repeatedly after midnight on June 9 when he was sleeping. That same day, Wade allegedly continued the attack when she returned to the bedroom and thought she saw Mason moving.
Wade's daughter was the one who eventually called police and reported Mason's death. Police said Wade barricaded herself inside the home before allowing her daughter to enter, showing her Mason's body. Wade was arrested at the home that same day.
It's the first alleged murder case to come out of Ann Arbor since 2009.
Wade faces a maximum of life in prison if convicted in the case. She has been charged with open murder, which allows a jury to decide if the crime fits first-degree or second-degree murder.
Wade is currently lodged at the Washtenaw County Jail without bond. She is scheduled to return to court for a pretrial hearing at 1:30 p.m. Oct. 23 in front of Washtenaw County Trial Court Judge Donald Shelton.
Kyle Feldscher covers cops and courts for AnnArbor.com. He can be reached at kylefeldscher@annarbor.com or you can follow him on Twitter.