Charge dismissed against man accused in bank robbery
Posted on Fri, Aug 3, 2012 : 1:30 p.m.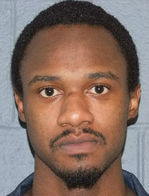 Courtesy of the Michigan Department of Corrections

A judge's ruling has effectively cleared a man accused of assisting in an Ypsilanti Township bank robbery last year.

The courtroom erupted in applause when Judge Melinda Morris announced her decision that essentially dismissed a charge of conspiracy to commit armed robbery filed against Andre Lafayette Wallace.

Wallace, who appeared in the Washtenaw County Trial Court Monday in state prison clothing and escorted by guards, was visibly pleased. According to Michigan's Offender Tracking Information System website, Wallace,24, is currently serving between a 1.5 to 15 years in prison for two counts of second-degree home invasion that occurred in Pittsfield Township.

There won't be any more time added for the count of conspiracy to commit a bank robbery due to the judge's ruling.

The robbery in question occurred at the Citizens Bank on Washtenaw Avenue the morning of March 22, 2011. At the preliminary examination, a teller testified that a man came into the bank at 10:20 a.m. with his face covered by a dark bandana and screamed, "Don't move!" according to court records.

The teller said the man had a paper bag on his hand and pointed it like he had a gun. The man hopped over the counter and took money from the tellers' drawers, then jumped back over the counter and went out the door. The teller saw the man ride away on a bicycle.

Whether or not Wallace had been part of the robbery plot was at the heart of Monday's debate. The prosecution alleged he was supposed to serve as a lookout for the robbery.

"(Wallace) said it was his expectation that he would get money for being the lookout," Det. Craig Raisanen of the Washtenaw County Sheriff's Office testified at the preliminary examination on May 29, 2012.

Wallace, who lived near the bank, was found near the scene soon after the robbery and arrested on an unrelated warrant. Wallace requested to talk to police about the bank robbery while being held in jail, according to court records.

Wallace told detectives he had given bank robbery advice to a 21-year-old Ypsilanti man — the main suspect at the time, according to Raisanen's testimony.

Assistant Washtenaw County Prosecutor Paul Barnett argued that there was an agreement to commit an act, even if "there may not have been a specific plan."

"He was planning on telling the perpetrator he was going to be the lookout," Barnett said.

Wallace's court-appointed attorney, Erane Washington, said her client had spoken about how to rob banks with the suspect in the incident, but they didn't have anything set in stone.

"I wholeheartedly disagree that there was a plan," she said. "There's absolutely no meeting of the minds here. There was no action taken by my client."

In July, Washington filed a motion to quash, which legally enables the defense to suppress evidence. Morris granted the motion, thus dismissing the case.

"There's nothing in this evidence that shows there was an agreement," Morris said.

The 21-year-old has not been charged and is no longer a suspect, according to Sgt. Geoff Fox of the sheriff's office. Since the case is still under investigation, police can't release any other details about it, Fox said.

The same bank was robbed again a month later on April 26, 2011.

Wallace is considered a habitual offender. In addition to his 2011 conviction, he was convicted on four counts of second-degree home invasion, two counts of uttering and publishing and forgery in 2003. In 2007, Wallace was convicted of larceny in a building.