Posted on
Mon, Jan 28, 2013 : 12:11 p.m.
Deputies investigating break-in at Dexter Township church
By John Counts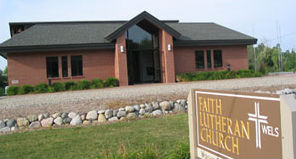 From www.faithdexter.org
Police are investigating yet another church break-in in western Washtenaw County.
Investigators can't be sure if the attempted burglary is related, but the church, Faith Lutheran, located at 9575 N. Territorial Rd. in Dexter Township, is in the same general area as churches in Lima, Scio, Bridgewater and Freedom townships that have been hit since November.
Deputies from the Washtenaw County Sheriff's Office were called to the church Saturday morning, Sgt. Geoff Fox said. The break-in is believed to have occurred sometime Friday night.
The suspect or suspects got in by breaking a window and then rummaged through closets and drawers, Fox said. At this point, it appears nothing was taken, according to police.
There are no suspects at this time. Police continue to investigate.
In December, police said there had been a rash of 45 church break-ins in an area spanning a wide swath of southeastern Michigan and even northern Ohio. Fox said it would be speculation to clump Saturday's Dexter Township church break-in with the others, but didn't discount that it could be related.
In Washtenaw County, an undetermined amount of cash donations were stolen Nov. 12 from St. Vladimir Orthodox Church in Lima Township, AnnArbor.com previously reported. The Washtenaw County Sheriff's Office announced back in November that at least four break-ins on the west side of the county were believed to be linked. Those break-ins occurred in October at Salem Lutheran Church in Scio Township, St. John's Lutheran Church in Bridgewater Township, Bethel United Church of Christ in Freedom Township and Clinton Assembly of God in Bridgewater Township.
If you have information on any of these incidents, please contact Crime Stoppers anonymous tip line at 1-800-SPEAKUP or the Washtenaw County Sheriff's Office confidential tip line number at 734-973-7711.
John Counts covers cops and courts for AnnArbor.com. He can be reached at johncounts@annarbor.com or you can follow him on Twitter.