Posted on
Fri, Dec 7, 2012 : 2:29 p.m.
Police release photos of burglars suspected in at least 45 church break-ins
By Julie Baker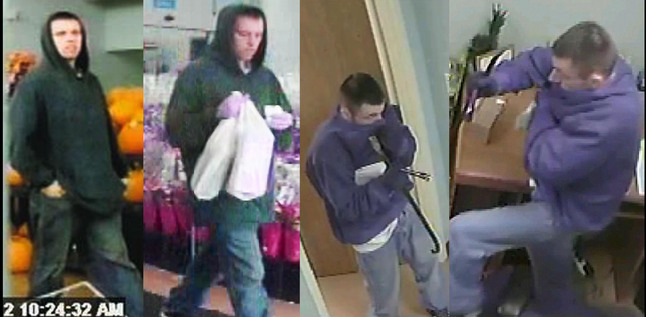 Courtesy of the Washtenaw County Sheriff's Office
Police are saying the burglars in a string of church break-ins in southeast Michigan and northern Ohio are suspected in at least 45 incidents since August.
The Detroit Free Press reports that the break-ins were reported in Lenawee, Monroe, Washtenaw, Hillsdale, Livingston and Genesee counties, as well as Fulton County, Ohio.
Police investigating the break-ins say they are likely connected. Authorities released security photos Friday of suspects believed to be involved. It's not clear from which incident or incidents the photos come.
Most of the churches targeted were in rural areas and didn't have security systems, and thieves got in by prying open windows and doors. They've ransacked offices, rifled through drawers and forced open safes. Officials said they've gotten away with cash, change or sometimes nothing, according to an Associated Press report.
In Washtenaw County, an undetermined amount of cash donations were stolen Nov. 12 from St. Vladimir Orthodox Church in Lima Township, AnnArbor.com previously reported. The Washtenaw County Sheriff's Office announced back in November that at least four break-ins on the west side of the county were believed to be linked. Those break-ins occurred in October at Salem Lutheran Church in Scio Township, St. John's Lutheran Church in Bridgewater Township, Bethel United Church of Christ in Freedom Township and Clinton Assembly of God in Bridgewater Township.
Cash and a laptop were stolen from only one of the churches in the October incidents.
On Nov. 9 in Northfield Township, police reported that an unknown subject forced his or her way into a church in the 2000 block of Northfield Township Road and ransacked the interior looking to find valuables. The only item known to be missing was a collection jar at the front doors with about $40 in change.
A door was forced open at the Word of Deliverance Church,1005 Midway St., in Ypsilanti Township Nov. 26, but nothing was reported stolen. Police said an alarm apparently scared off the would-be intruder or intruders.
If you have information on any of these incidents or recognize the photos, please contact Crime Stoppers anonymous tip line at 1-800-SPEAKUP or the Washtenaw County Sheriff's Office confidential tip line number at 734-973-7711.